We independently test and review everything we recommend. Our reviews are completely unbiased. When you make a purchase using our links, we may earn a commission. Learn more
CBD cigarettes sit somewhere between traditional CBD pre-rolls and tobacco cigarettes. They don't contain tobacco or nicotine, but the hemp-filled cigarettes contain enough CBD to give you a relaxing buzz after smoking that lasts for one or two hours. You don't get high, but you do get a pleasant sense of calm to carry you through the day – and they look pretty cigarette-like so you don't stand out too much either.
But which are the best CBD cigarettes out there? What should you look out for when you're picking some up?
Our experts looked through the massive range of CBD cigarettes out there on the market and conducted extensive first-hand testing of the best 10 contenders – ranging from $9.99 to $17.99 – to find the best options for stress relief on-the-go. (See how we test.)
6 Best CBD Cigarettes
We've collected our picks into four different groups to help you find the type of hemp cigarettes you're looking for, with options if you want to focus on something like price or taste, as well as an overall "best" CBD cigarette for general purposes.
Best Overall: Redwood Reserves
Available for $12.99 from Redwood Reserves
If you're shopping for the best CBD cigarettes and don't have any particular factor that's most important to you, Redwood Reserves offers a fantastic all-round option. Each one has 60 to 100 mg of CBD, very calming effects and manages to produce a terpene-rich flavor while having something of a traditional cigarette-like taste too. Overall they smoke efficiently, taste good and have very pleasant effects.
Pros & Cons
Pros:
60 to 100 mg of CBD per cigarette
Simple but effective design
Noticeable hemp taste
Excellent effects: strong relaxation with improved focus

Made with CBD-rich flower

, not hemp stalks or leaves
Oregon-grown and organic hemp
The flower is sourced exclusively from their own farm in Oregon
Good price of $12.99 per pack
Clean lab reports, including testing for pesticides, heavy metals and microbials
Cons:
Slightly harsh on the throat at first
"Smoky" taste might not be for everyone
Says "rich in" CBD, CBG and CBC but really only CBD is in substantial amounts
Quite a wide range of possible CBD doses per cigarette
Organically-grown flower, but not certified-organic
Lab report, though still valid, hasn't been updated since Dec. 2021
Effects
Effects: Intense calm, energy, focus and slight euphoria
Good For: Concentration, easing stress – ideal for work
Not Good For: Sleep or tackling pain (unless you smoke a lot)
---
Strongest Effects: Plain Jane
Available for $12.99 from Plain Jane
Plain Jane's "Hemp Rolls" (i.e. CBD hemp cigarettes) have a straightforward, unassuming design but smoke well and pack around 72 mg of CBD into each stick. Combined with the excellent performance and smoky/hempy taste (with enough terpenes for it to come across), they make great CBD cigarettes. The effects come on quickly and hit nicely, more notable than with other cigarettes and all for a very good price too.
Pros & Cons
Pros:
72 mg of CBD per cigarette (minimum 60 mg)
Available in Original and Menthol flavor
Packed well without overfilling
Smooth on the throat
Strong effects – relaxation and mood elevation

US-grown hemp

Good price of $12.99 per pack

Nice to see they offer a Money Back Guarantee

Lab reports available for potency
Cons:
Not "odorless smoke" at all (not that you would expect it to be)
Lab report isn't specific to the cigarettes (available for the flower)
No lab testing for impurities
A prominent cigarette-like taste alongside the hemp
Product page is quite vague about the strains used
Only very small amounts of other cannabinoids – it's basically just CBD
Not organically-grown
Effects
Effects: Full-body relaxation, slight head buzz, mood elevation
Good For: Anxiety, mood issues, pain
Not Good For: Sleep, more "casual" use
---
Best Tasting: Sugar (Crème Vanilla)
Available for $11.50 from Sugar
The hemp cigarettes from Sugar take the taste of the cigarettes to the next level. While the baseline flavor is like most others, you get a choice of Peppermint or Vanilla in addition to a more basic hemp-based flavor. The vanilla especially is excellent, adding a dessert-y note but still preserving the core taste. It smells better than it tastes, admittedly, but it still tastes pretty good.
Read our Creme by Sugar review
Pros & Cons
Pros:
Three flavors available – Peppermint, Vanilla and Original
50 mg CBD per cigarette
Smooth smoke – no burning or irritation

CBG in addition to CBD

Good price of $11.50 per pack
Clean lab results for pesticides, metals and mycotoxins, plus accurate potency
Cons:
Still tastes like smoke to a large extent – don't expect too much
Not much hemp taste in the Vanilla
Not ideal if you like a "throat hit"
Mid-range dose – not good if you want something strong
Also contains damiana – not necessarily a bad thing but it's not just hemp
Most recent lab report is from June 2021
Effects
Effects: Whole-body calm, energy and focus
Good For: Morning and afternoon pick-me-up, anxiety
Not Good For: Sleep and pain management
---
Best Value: CBD American Shaman
Available for $9.99 from CBD American Shaman
If you're looking for cheap hemp cigarettes, Shaman Smokes from CBD American Shaman are some of the best options out there. They contain 40 mg of CBD per cigarette, and have a little of the flavor of hemp, although it is mainly like smoking a cigarette. The downside is a bit of a weak throat hit and a tight draw, but overall they're effective and very affordable.
Read our CBD American Shaman review
Pros & Cons
Pros:
$9.99 per pack
Contains substantial amounts of CBG and CBC too
American-grown hemp

Several flavors on offer

Terpenes are noticeable
US Hemp Authority certified company
Lab reports available for potency and terpenes
Cons:
40 mg is a little on the low side for dosage
Weak throat hit
Feels a bit difficult to take a drag
Mainly a cigarette-like taste
Not lab tested for safety (e.g. pesticides, metals)
Mixed reviews on Better Business Bureau, though they're from over a year ago
Effects
Effects: Slight relaxation, focus
Good For: Casual pick-me-up, stress relief
Not Good For: Treating more serious issues (e.g. pain, anxiety, insomnia)
---
Best For Smokers: Oklahoma Smokes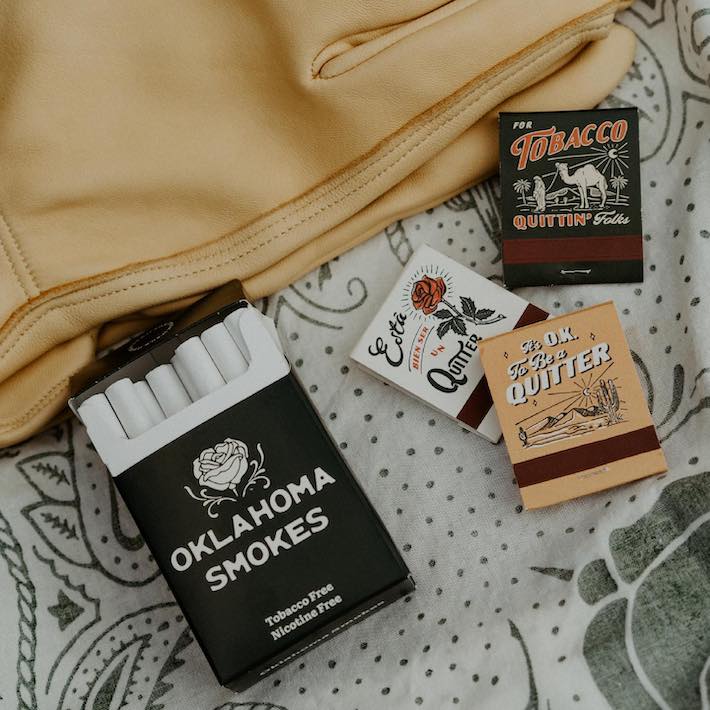 Available for $12.99 from Oklahoma Smokes
Oklahoma Smokes' CBD cigarettes use organically-grown, Californian hemp rich in CBD and CBG. The cigarettes themselves capture something of the authentic hemp taste and offer a smooth, satisfying smoking experience. The throat hit is good and the experience overall is a lot like smoking a cigarette, making it an ideal choice if you want to switch over. The 50 mg potency also produces a substantial effect.
Read our Oklahoma Smokes review
Pros & Cons
Pros:
50 mg of CBD per cigarette
Good price of $12.99 per pack (technically on sale)
Some terpenes come through in the flavor
Smooth smoke
Satisfying throat hit
California-grown organic hemp
Full lab reports available (including for pesticides, metals e.t.c.)
Cons:
Kind of boring design
Maybe too harsh for non-smokers
Still quite smoky in taste
Standard price of $15.99 would be a little steep
Doesn't ship to Iowa
Most recent lab report is from Nov. 2020
Effects
Effects: Strong relaxation and focus
Good For: Anxiety/stress management, improving concentration
Not Good For: Chronic pain
---
Best Organic: Neurogan
Available for $17.95 from Neurogan
Neurogan's CBD cigarettes are 100% organic and really hit the spot when it comes to effects. They're full spectrum, and with 60 mg of CBD in each they're super relaxing from a few minutes after you smoke. Admittedly, the lab report only shows CBD, THC and CBG, but it definitely packs a punch. The price is a little steep and the flavor is on the cigarette-like side, but they're enjoyable nonetheless.
Pros & Cons
Pros:
US-grown organic hemp
Strong calming effect
CBD with small amounts of CBG and THC
60 mg CBD per cigarette
Burns well
100% recyclable hemp packaging
Lab results available for potency
Cons:
Quite expensive at $17.99 per pack
More of a cigarette taste
A little harsh on the throat
Doesn't ship to California
No test results for safety (e.g. pesticides)
Effects
Effects: Whole-body calm, creativity and focus
Good For: Dealing with anxiety or stress, especially at work
Not Good For: Pain relief, anyone looking for hemp flavor
---
CBD Cigarettes Tested, But Not Recommended
Wild Hemp
Available for $12.99 from CBD.co
The hemp cigarettes from Wild Hemp are popular but didn't make the cut for this list. Although they do smoke well, burning evenly and being fairly smooth on the way down, the taste is very much like a cigarette and the effects didn't hit the spot for me. Despite the 75 mg of CBD advertised, it's a bit underwhelming, only producing mild relaxation and focus after smoking. It's not awful by any means but there are better options.
Pros & Cons
Pros:
75+ mg of CBD per cigarette
Good design
Smokes effectively
Smooth on the throat
Good price of $12.99
Lab report available for potency and terpenes
Cons:
Flavor is too cigarette-like, no hemp taste
Effects are very mild for the dosage
Lab report is old (October 2020)
Lab report shows inaccurate CBD strength (higher than advertised, likely variable)
Not tested for safety
Effects
Effects: Mild relaxation, focus
Good For: Casual use (e.g. for stress), during a workday and smokers
Not Good For: More serious issues (e.g. pain or anxiety), evening relaxation or non-smokers
---
How We Tested the CBD Cigarettes
The first stage of the selection process was looking through everything we could find (and using what we already knew) about the 20 most popular CBD cigarettes on the market.
We looked at things like reviews, lab reports (whether they're available and what they say), how transparent companies were about the source and quality of the hemp, dosage and price to help us narrow the field down to 10 contenders. From here, we conducted first-hand testing.
The first-hand testing was largely focused on the effects of each of the hemp cigarettes, but also paid special attention to how well they smoked and how enjoyable they were overall. Here are some of the things we considered during our testing:
Do the promised flavor notes come through?
Is the smoke harsh?
Does the cigarette burn evenly?
Does it leave you smelling like an ashtray?
For the effects, the main part of the evaluation took place for the hour after smoking one. We made notes on how quickly the effects were noticeable, what they were and how long they lasted for.
All of these notes were combined, and more cigarettes were tested as needed to pick a winner for each category. It became particularly obvious during testing that this is the best way to divide the contenders – Sugar's Crème Vanilla, for example, tasted better than the competition but the effects were mild to moderate. If you're not looking for a powerful CBD experience, they're perfect, but if you are then there are better options. In essence, there is no "best" CBD cigarette, just the best for you. Read more about our review process.
---
Guide to Buying the Best CBD Cigarettes
If you're new to hemp cigarettes, it might seem like all of the options are essentially the same and all you have to do is pick one and smoke. But there are a few specific things you should consider before you hit "Buy," so here is what to look out for and what to avoid.
What to Look for…
Cannabinoid content: Since you're buying the CBD cigarette for the CBD, it's important to look at exactly how much you get. Most commonly this is between 60 and 100 mg. Whether you want a high or low dosage, you'll need to check the listing in the online store to be sure.
Lab reports: Any company you use should have lab reports available for its products. For CBD hemp cigarettes this usually just shows the potency, but ideally the analysis will cover things like pesticides too.
US or European hemp: Standards for hemp are not universal, and if you want to ensure you're getting a quality product, you should buy US or European. In practice, the US is generally the best approach unless you're in Europe, but quality standards are high either way.
Good reviews and testimonials: It's always good practice to check reviews before you make a purchase, and it's no different if you want the best CBD cigarettes. Check third-party sites and customer reviews to get the full picture before you buy.
Flower-based cigarettes: The highest quality CBD cigarettes use flower, not a combination of flower, stalks, stems and other parts of the plant. This isn't always clear from online stores, but if you want the very best, companies that use flower are ideal.
What to Avoid…
Additives: Any CBD cigarette that has anything other than pure hemp isn't worth trying. There should be no nicotine, tobacco, flavorings or anything else in the mix.
Unverified health claims: If you're saying that your CBD cigarettes help treat some illness, you should have evidence to back it up. If a company makes claims without backing them up, it's better to avoid them.
No information on hemp source: You should be able to find out where the hemp comes from, if you can't: why not? The answer probably isn't good, and there are other options out there.
No lab reports: Lab reports are a sign of transparency. If the company doesn't provide them, ditch them for one that does.
What are the Effects of CBD Cigarettes? What are they Good for?
CBD cigarettes have the same effect as other forms of CBD: they're a non-intoxicating product that promotes relaxation and calm without the "high" you associate with smoking cannabis.
If you've never had CBD before, but want to know what hemp cigarettes might feel like, the best way to describe it is as an intense wave of calm and a sense of well-being. CBD makes you feel relaxed, fuzzy and pleasant, helps you stay grounded, and depending on the amount can even perk you up or help you fall to sleep.
CBD cigarettes are good for basically anything you use CBD for, although it's important to note that the scientific evidence varies for each condition, and often more data is needed to draw a firm conclusion. That said, there are several conditions that CBD cigarettes are likely to be really helpful:
Anxiety: Anxiety is the most common reason people use CBD, and CBD cigarettes are a fantastic way to stay on top of this issue. One cigarette will keep you calm for a couple of hours, if not a little longer.
Chronic pain: Although THC appears to be part of the story when it comes to cannabis' role in pain relief, many people use CBD for this purpose and the evidence suggests it really does help. This is especially true for inflammatory pain.
Sleep difficulties: Higher doses of CBD can help you go to sleep, and smoking hemp cigarettes before bed is a great way to address this issue. Other cannabinoids like CBN can really help with this too.
Depression: While there isn't much evidence on this, many people use CBD as a way to lift their mood. As well as generally feeling pleasant, helping with things like anxiety and getting a good night's sleep makes it beneficial for many people struggling with depression.
Quitting smoking: Although smoking to stop smoking might not seem the most logical method, CBD is non-addictive, and smoking some each day is likely to be better for you than smoking a pack of cigarettes. There is also some initial evidence suggesting that CBD could help.
What are CBD Cigarettes Made Of?
CBD cigarettes contain pure hemp. This is basically cannabis in that it's the same plant, but it's very much composed of lower-quality cuts than the majority of the cannabis or even CBD flower you'll see.
It's tobacco-like in consistency, but of course it contains no tobacco (or nicotine) at all. This makes the finished product look a lot like tobacco cigarettes, but the aroma is slightly like that of cannabis because the cigarettes still contain the terpenes that give weed its flavor.
The good news is that this is it. In comparison to most other CBD products, although it's likely risky to inhale hemp smoke, at least there are a very small number of ingredients.
Do CBD Cigarettes Contain THC?
According to the 2018 Farm Bill, CBD products class as "hemp" and can be legally sold provided they contain less than 0.3% delta-9 THC. This means that yes, CBD cigarettes do contain THC, but not very much.
In practice, 0.3% delta-9 isn't going to get you high – for example, in a half-gram CBD cigarette, the maximum allowable delta-9 is 1.5 mg. This isn't enough to get you high or really even be noticeable.
If you're looking for THC, you'll have to consider delta-8 cigarettes or go to a legal state. Really, stopping hemp from containing enough THC to get you high is the main purpose of the 0.3% cut-off, so this is a feature, not a bug.
Do CBD Cigarettes Contain Nicotine?
CBD cigarettes are completely nicotine-free. They're made from pure hemp, so there's no tobacco at all (despite how some may look) and therefore they don't have any nicotine. This means there is no risk of getting addicted to hemp cigarettes, since CBD itself isn't addictive.
Are CBD Cigarettes Safe?
It isn't safe to smoke anything, so on that basis alone CBD cigarettes are not safe. In comparison to tobacco cigarettes, it's unlikely that CBD cigarettes will be as dangerous. That said, being safer than tobacco is quite a low bar.
Overall, smoking CBD is an effective way to get CBD, and it isn't addictive, so if you minimize the amount you smoke, you can rest assured you probably won't experience health impacts from using CBD cigarettes.
However, don't lose sight of the main point: smoking anything is bad for you, and if you can avoid it you should. Vaping CBD, using edibles or taking tinctures are alternative ways to get your dose with less risk.
It's worth noting that we don't have much evidence of exactly what happens with CBD cigarettes. However, the evidence from cannabis shows that there will likely be consequences for your lungs in particular, although it will be less than the corresponding damage from cigarettes.
What Are the Benefits of Smoking CBD Cigarettes?
Despite the risks, there are a few notable benefits to smoking CBD. The most important and obvious is the efficiency of the dosing and the rapid onset of effects.
Edibles, for example, can take an hour to really take effect, while smoking will produce an effect essentially immediately. It's also very efficient in terms of the amount of CBD you consume and the effects. It passes to your bloodstream through the lungs, so basically the entire amount gets where you want it to be.
Additionally, it's a pretty convenient format for CBD because it doesn't take long to get your dose. All you have to do is step outside for 10 minutes and smoke, then you're good to go for a couple of hours. If you don't like tinctures, this gives it (and vaping) many advantages over the alternatives.
Can Smoking CBD Help You Quit Smoking Tobacco?
The jury is still out on whether smoking CBD hemp cigarettes can help you quit smoking tobacco, but there are some positive early results. Two studies in particular are often cited to support this idea.
The first study looked at how CBD affected the "attentional bias" to smoking-related cues, comparing an 800 mg dose of CBD with placebo. The results showed that while the placebo led to increased attention on tobacco cues (when the participants had been abstinent overnight), CBD diverted attention away from these cues and produced results similar to non-abstinent smokers. CBD also reduced the "pleasantness" of cigarette images.
The second study is a bit more direct, but small. Researchers split 24 smokers (who wanted to quit) to either receive a CBD inhaler or a placebo inhaler, to use as needed during cravings. The results showed that the 12 who had the placebo inhaler smoked the same number of cigarettes overall, while those using the CBD inhaler reduced the amount they smoked by 40% after a week.
Both of these studies show that there is definite promise for CBD, and there are also more general indications that cannabinoids may be useful for helping people quit smoking. The CBD cigarette format is really perfect for this – not only might the CBD help, it's a "replacement" habit that should make it easier for smokers to transition. This is analogous – although not identical – to a major benefit of nicotine vaping. It gives a "replacement" behavior in addition to a chemical to help fight withdrawal.
CBD Cigarette vs. Hemp Cigarette: What's the Difference?
Most commercially-sold CBD is derived from hemp, so it's no surprise that there is some confusion surrounding terms like CBD or hemp cigarette. Most sources point out that these are exactly the same thing. CBD comes from hemp, and so any CBD cigarette is a hemp cigarette.
However, some argue that a true "hemp cigarette," is made from hemp fill, essentially containing other plant material in addition to the CBD-rich flowers. It's described as the "brick weed" of the hemp world.
Hemp cigarettes might also be sold in packs of 20, much like tobacco cigarettes, while CBD cigarettes come in smaller packs and generally have higher doses of CBD. In practice, though, these terms are used interchangeably. The best way to be sure of what you're getting is to look at the CBD dose: if it's between 60 to 100 mg of CBD, you have a CBD cigarette.
You can also look for comments like this (from Redwood Reserves) on the store page: "Made with real CBD flower buds – no hemp stalks, leaves, or other additives"
CBD Cigarette vs. CBD Pre-Roll: What's the Difference?
The difference between a CBD cigarette and a CBD preroll is largely about form.
A "cigarette" looks like a tobacco cigarette, with a uniform cylindrical body and a precise, machine-cut tip. A pre-roll is modeled after pre-roll joints, so they're more cone-shaped, with a cardboard filter and a twisted end. However, it's more likely that you'd get a CBD flower filling in a pre-roll and a lower-grade hemp in a CBD cigarette.
Of course, it's possible that you will find some differences between the contents of some specific pre-rolls and CBD cigarettes, but broadly speaking they're the same. The best advice is to check the ingredients and dosage on each carefully.
Conclusion
CBD cigarettes might be quite new and are hard to place, falling somewhere between an alternative to tobacco cigarettes and a way of taking CBD, but there are plenty of good options if you want to try them.
The big benefit is that – from a distance, at least – they look just like cigarettes and won't turn any heads, but really they pack in enough CBD to keep you chilled for the next hour or two. Don't expect the world – they do smell a little smokey and a little hempy – but they're ideal for an occasional pick-me-up or calm-me-down moment, especially if you usually smoke cigarettes.
Related Picks: