Our product research team independently tests and reviews everything we recommend. When you make a purchase using our links, we may earn a commission. Learn more
Related Picks: Best CBN Gummies for Sleep
When looking for the best CBN oils on the market, sometimes, it felt like swimming through subpar products just to get the ones that really worked. But, I didn't want you to have to do that, too. Thus, after testing dozens of CBN oils, I've come up with eight brands that you simply cannot beat. 
Most people turn to CBN oils to help with things like relaxation, sleep, and mental relief. And, while many oils just made me feel drowsy and fatigued, there were a handful of brands that really made me feel better. One in particular — NuLeaf Natural's CBN Oil — encompassed the beauty of this unique cannabinoid to its fullest. Compared to other products I've tried, this CBN oil was by far the most potent — and most effective.
8 Best CBN Oils for Sleep
The best overall CBN oil, from potency to effects and even natural flavor.
Effects Felt During Testing
Effects: Relaxed, positive, comfortable, level-headed
Good For: Experienced consumers, promoting relaxation, reducing pain and stress
Bad For: New consumers, morning consumption
What's Good
High potency
Clean extraction techniques
Full-spectrum, whole-plant extract
Quick onset of effects
At 1,800 mg of full-spectrum CBD, NuLeaf Naturals CBN oil is impossible to beat. The potent blend kicks in quickly and provides strong full-bodied effects that I had never felt from CBN before. NuLeaf Naturals prides itself on its green, gentle extraction methods that don't include any harsh solvents. Plus, their whole-plant extract adds another level of quality and purity reassurance. Simply put, this brand embraces cannabinoids like no other — and my body absolutely appreciated it.
NuLeaf Naturals is a brand that I've tried before and always enjoyed. However, they really stepped it up with their CBN oil. At 1,800 mg, I was immediately enticed to try this potent, full-spectrum oil. So many other CBN oils I've tried have boasted high milligrams but still produced somewhat mild effects. In fact, I was beginning to think that CBN just wasn't for me. But, then I discovered the powerful effects of the brand's CBN oil.
I took one dropper full at the end of my workday and noticed that I was feeling a bit calmer after just 10 minutes. 10 minutes. From there, my body followed suit, and it was apparent that the relaxing characteristics of CBN were getting to work. My muscles felt more comfortable and I was able to better sink into my evening routine without worry or discomfort. After about 30 minutes, I was ready to completely decompress, even feeling a bit sleepy — but in the most positive, ethereal way.
I will say, though, the flavor of this oil is a bit strong; however, it blends wonderfully within drinks if you're wanting to hide the hemp notes. In terms of their lab reports, NuLeaf offers up-to-date, extensive copies on their website for all customers to see. You don't have to buy a product to test its quality first — which is what so many brands seem to be doing nowadays. With NuLeaf, you can give yourself added reassurance before even adding your CBN oil to the cart.
Lastly, if you're newer to the world of cannabinoids, I'd highly suggest starting with the more mild, less expensive 300 mg CBN oil. They also offer a middle-ground option at 900 mg.
---
#2: Strongest Effects: Slumber
If you want a non-psychoactive cannabis experience, why not give some of the strongest CBN a try – meet Slumber.
Effects Felt During Testing
Effects: Mentally and physically calming, serene
Good For: Promotes relaxation, keeping you asleep
Bad For: Those with more serious sleeping conditions
What's Good
Ideal for those who want to avoid THC
Offered in three different potencies
Guarantees money back after 30 days
Flavorful terpenes found in every bottle
What's Bad
Only comes in 1 oz. size
Taste could improve
Touted to be an alternative to OTC and prescription sleep aids, Slumber has crafted a CBN oil that seems to prove this down to the very last drop. But don't expect it to make you fall asleep like I did. Instead, this premium formula really shines on keeping you asleep once you do finally doze off.
Each bottle contains 300 mg of CBN and while there aren't any other cannabinoids present, well-known botanical compounds such as terpenes like linalool and beta-caryophyllene work to enhance their therapeutic effect.
After dosing 45 minutes before bed, I did feel a slight calm and once I was finally asleep, I was able to achieve a full night's rest without that lethargic feel typical of most CBN oils. So, if you have sleeping troubles, Slumber is a good option to replace the hard edge of a long day with relaxed feelings – move over melatonin.
---
The best CBN oil for getting you a good, restful night of sleep.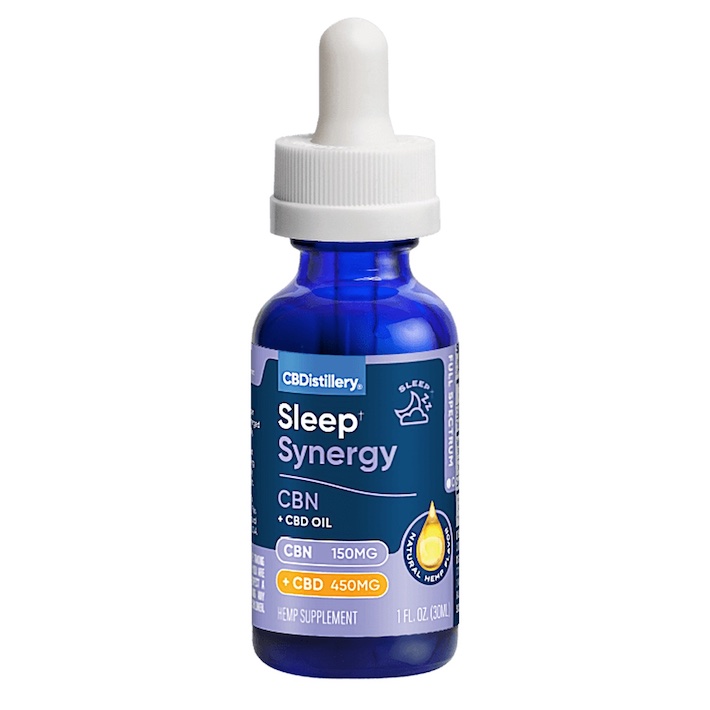 Effects Felt During Testing
Effects: Relaxed, sleepy, comfortable, ready for bed
Good For: Bedtime, those who struggle to fall or stay asleep
Bad For: Morning consumption, those who want high doses of CBN
What's Good
Ideal for promoting sleepiness
Affordable
Potent CBD and CBN blend
Reduced stress and anxiety
What's Bad
Slightly low CBN amount
Strong hemp flavor
When you're looking for the best CBN oils, you're going to find that most of them claim to be the best sleep formula out there. But that's certainly not the case for most brands. CBDistillery, though, is the exception. This high-quality brand offers a CBD + CBN tincture that's perfect for quieting the mind, supporting the body, and helping you drift off into a peaceful night's sleep. The tincture contains 150 mg of CBN and 450 mg of CBD to create a potent — but not too powerful — dose of sleepiness.
Out of all the CBN products I tried for sleep, none of them beat the effectiveness of CBDistillery's Sleep Synergy CBN + CBD tincture. Even though the amount of CBN within the tincture wasn't as strong as some of the other blends I've tried, I think it was the balance of CBD that made the experience so beneficial. Though the flavor of this tincture was quite strong, the residual taste washed away quickly with a few swigs of water.
I consumed this oil about an hour before I wanted to go to bed. After about 15 minutes, I noticed that my mind was no longer reeling and I was simply relaxed — something that doesn't happen often. From there, it felt as though my muscles weren't as tired and sore as they were previously, and everything just felt a bit heavier (in the best way possible, of course.) CBDistillery claims that a 2019 customer survey reported that 89% of consumers found this oil to be helpful with sleep. Honestly, I agree wholeheartedly.
This oil is affordable, potent, and works beautifully. While the taste could improve and they could potentially add a bit more CBN, this was the best CBN oil I found for sleep alone.
---
#4: Best THC-Free CBN Oil: 3Chi
If you want to avoid THC, we've got a great option for you: 3Chi's broad-spectrum CBN oil.
Effects Felt During Testing
Effects: Relaxed, calm, reduced pain
Good For: Lowering pain levels, reducing anxiety, distracting from discomfort
Bad For: Morning consumption, those who enjoy THC
What's Good
Potent THC-free option
Strong CBN formula
Affordable
Various strength options
What's Bad
Boring packaging
Strong aftertaste
3Chi describes their CBN oil as making you feel "comfortably numb" and I found that to be quite accurate after a dose. 3Chi's CBN oil contains 1,000 mg of broad-spectrum CBN. So, you get all the beauty of minor cannabinoids and terpenes but without any THC. Even without the THC, this oil was still quite potent, making me feel more comfortable and less stressed overall. 3Chi uses high-quality extraction procedures, elaborate third-party testing, and pure ingredients to ensure an accurate, powerful dose of CBN every time.
It's not always easy to find a broad-spectrum oil that actually works. Thankfully, 3Chi has you covered. Typically, I tend to gravitate towards full-spectrum products because of their potency and efficacy. However, I found that two doses of 3Chi's CBN oil was absolutely perfect for my stress and anxiety levels. The brand describes this oil as helping you feel "comfortably numb" referring to the oil's effects on pain and stress relief. Lemme tell you, I definitely picked up on this, too.
I decided to take this oil towards the end of my day to see if it could help me unwind. After fighting through the strong aftertaste of the oil, I began picking up on subtle effects only a few minutes after consumption. At first, I noticed that my pain was a bit more subdued; then, I was able to focus a bit better on the tasks at hand. Unlike other CBN oils, this one didn't make me too sleepy or relaxed to work, either. I continued with my end-of-the-day work and felt accomplished and happy about my day. Plus, I wasn't filled with pain or stress, either.
If you don't want to try 3Chi's 1,000 mg option, you don't have to. They also offer two lower strengths — 250 and 500 mg — for those who are a bit less experienced.
---
Rare Cannabinoids' CBN oil only contains two ingredients. And yet, it's more than effective at helping you feel cool, calm, and collected.
Effects Felt During Testing
Effects: Calm, stress free, relaxed, comfortable
Good For: Before bed, reducing stress and pain
Bad For: Morning consumption
What's Good
Pure, quality ingredients
No additives
Strong relaxing effects
Great for before bed
What's Bad
CBD isolate – no entourage effect
The Single Extract Rest CBN Oil by Rare Cannabinoid Company is potent, high-quality, and as pure as it gets. The brand uses as few ingredients as possible to create a pure, natural substance. Yet, the flavor of the hemp was still subdued and easy to consume. At 500 mg, the oil is potent but not overwhelming, creating a nice balance of relaxation and support. They also offer a 1:1 blend of CBN oil with full spectrum Hawaiian CBD for the entourage effect.
Rare Cannabinoid Company is a wonderful brand to turn to when looking for cannabinoids other than the typical THC and CBD. Their single extract CBN Oil is a perfect example of that. This oil contains a potent, concentrated amount of CBN isolate to give you an accurate experience with the minor cannabinoid. The brand combines the CBN simply with coconut oil and nothing else, creating a pure, nearly flavorless CBN oil.
The potency of this oil is nice. It isn't overwhelmingly strong, but it also isn't super subtle, either. The effects were prominent and kicked in within about 15 minutes. My body felt heavier and my mind was no longer focused on the stressors of the day. Instead, I was filled with relaxation. The oil didn't make me feel incredibly sleepy, either, which I appreciated. Instead, I was able to fully decompress and relish in the fact that my day was over.
My only qualm with this oil is that it is a CBN isolate, so you're not getting any other effects than the ones that CBN produces. Thus, the lack of entourage effect may be the reason this oil felt a bit more gentle than others. Still, at 500 mg and under $60, this oil was worth it. The brand also encourages customers to mix and match their single extract oils for an all-encompassing effect or use their ready blends. Their blend of CBN with full spectrum Hawaiian CBD is also under $50.
---
#6: Most Luxurious CBN Oil: Neurogan
For those customers who want the best CBN experience possible — no matter the price — then Neurogan's CBN Calm Oil is the perfect choice.
Effects Felt During Testing
Effects: Calm, collected, relaxed, comfortable, happy
Good For: Anxiety relief, promoting calm and happiness
Bad For: Beginner consumers
What's Good
Extremely potent
High-quality ingredients
Powerful, fast-acting results
What's Bad
Very pricey
Not good for beginners
Neurogan offers a CBN oil that's more potent than any I've tried — and any I've come across. This top-shelf oil contains 4,000 mg of cannabinoids — 2,000 mg of CBD and 2,000 mg of CBN. This means that you're getting over 30 mg in each dose. Thus, this potent oil is not for beginners. Neurogan's CBN Oil is the perfect choice for experienced consumers looking to step their CBN game up.
Neurogan's CBN Calm Oil literally made me look twice when I saw how many cannabinoids they packed inside. At 4,000 mg, this oil isn't for beginners. (Sorry, guys.) However, for those of you experienced with the cannabinoid and need something a bit more powerful, this oil is for you. I found that the flavor of it was subtle and palatable — it wasn't overwhelming of hemp and didn't leave a greasy feeling on my tongue, either. The effects of this CBN oil kicked in quickly: I noticed that I felt more calm after just 10 minutes.
If you want to try an oil that is this potent, you have to be okay with spending some money. This oil will cost you $109.95, or even less if you subscribe to their shipping services. However, I would argue that this price is worth it for such a potent, calming oil. I was very happy that Neurogan's oil wasn't so potent that I was just exhausted, either. Instead, I felt more level-headed, calm, and happy about my day overall. If it wasn't so pricey, I would rely on this luxurious oil every day.
---
#7: Best Priced CBN Oil: Plain Jane
At 1,000 mg, most CBN oils will run you a pretty penny. But at Plain Jane, that's simply not the case.
Effects Felt During Testing
Effects: Relaxed, happy, comfortable, stress-free
Good For: Promoting calm, reducing stress
Bad For: Promoting sleepiness
What's Good
Extremely affordable
Pleasant full-bodied effects
Good for reducing stress
Nice packaging
What's Bad
Poor flavor
Limited product information
If you're looking to try some high-quality CBN oil but don't want to break the bank, Plain Jane's CBN Oil is the perfect solution. This potent oil comes at 1,000 mg and only costs a mere $35.99. Sometimes, prices that low can be a bit of a red flag. However, that wasn't the case with Plain Jane. I found that, though the oil didn't taste good, it did provide nice full-bodied effects that I enjoyed at the end of my day.
Out of all the CBN oils I tried, Plain Jane offered the highest milligrams — and best experience — for the lowest price. Their 1,000 mg CBN oil is only $35.99 and presents a nice dose of CBN effects throughout the body. Consumer beware: the flavor of this oil isn't the best, and the texture lingered in my mouth longer than I'd like. I'd suggest taking your oil with a swig of flavorful beverage to make the experience more palatable.
Plain Jane's CBN Oil took about 20 minutes to kick in, but I noticed that my muscles felt more comfortable after a while. From there, the effects faded upward and I was more calm in the mind about 30 minutes in. While I didn't feel too sleepy, I was happy to feel so relaxed with such an affordable CBN option. It's brands like this that make minor cannabinoids more accessible to the public.
Unfortunately, do keep in mind that their COAs don't test for harmful ingredients. Thus, you want to consume these products with caution. If you're concerned, you can always reach out to the brand directly to see if they can provide further information.
---
Out of all the CBN oils I tried, CBD American Shaman offers the one with the best bioavailability.
Effects Felt During Testing
Effects: Sleepy, relaxed, reduced pain
Good For: Promoting better sleep
Bad For: Morning consumption, super experienced consumers
What's Good
Water-soluble formula for advanced bioavailability
Quick onset of results
Utilizes potent blend of minor cannabinoids
Good for promoting better sleep
What's Bad
Low CBN amount
Poor packaging
Finding a high-quality CBN oil is hard enough; but finding one with enhanced bioavailability can sometimes feel impossible. Amazingly, CBD American Shaman has it figured out. They offer their CBNight Oil, which comes with a water-soluble formula. The cannabinoids easily break down within the body, offering effects quicker than any blend on this list. If you're tired of waiting around for your CBN to kick in, this bioavailable oil is the right one for you.
CBD American Shaman is the perfect brand to turn to when you're looking for advanced bioavailability. They offer water-soluble blends for most of their CBD oils, so it was no surprise when they released their CBN-rich water-soluble tincture, as well.
If you don't like waiting for the effects of your CBN, or you're looking for a more straightward experience, this oil is a wonderful option. The flavor of the oil could be better, but the quick onset of effects will immediately make you forget about the hemp notes. I picked up on subtle CBN effects after just five minutes, and it felt like the whole dose kicked in after just 10.
Thankfully, the effects didn't fade away as quickly as they came, either. Instead, they lasted for a few hours, leaving me feeling a bit sleepy, but very content and relaxed.
---
CBN Oils We Considered But Not Included
With how many CBN oils we tried, there was bound to be some honorable mentions. Here are some CBN oils that we definitely liked, but simply weren't the best CBN oils we came across.
---
How We Tested the Best CBN Oils
Finding the best CBN tincture wasn't an easy process. In general, CBN oil is still something that's gaining traction on the market, so finding reputable brands — based on criteria like test results, personal reviews, and certifications — proved difficult.
But, once we found about 20 CBN brands, we got to work narrowing them down based on qualities like credibility, reputation, and transparency. The brands that scored lowest on these factors were immediately booted until we got down to just 10 CBN oils.
To determine the best results, I tested each product for seven days straight, at the same time every day. I tried these oils at the end of my work day each day to see just how calming, sleepy, or relaxing these products truly were. It is important to note that I am an extremely experienced cannabis consumer, but don't have much history of CBN consumption. Thus, I kept in mind both my tolerance and background when considering potency and efficacy.
During testing, I was basing my scores off of the following criteria:
Efficacy
Flavor
Quality (test results, ingredients)0
Price
Overall experience
After each dose, I gave myself about 30 minutes to fully soak in the CBN. During this time, I took notes, checking in with my body to see how (and if) things were changing, improving, or even getting worse. I would ask myself questions pre-consumption like, "How is my body feeling right now? Where is there tension? Can you focus, or are you distracted?" Then, I would ask the same questions after this 30-minute period to get my results.
Learn more about how we test and review products.
---
What is CBN?
CBN is short for cannabinol, and it is one of the various cannabinoids found in the cannabis plant variety. As the hemp or marijuana plant begins to age, THC starts to break down and transform. During this process, the cannabinoid loses its psychoactivity entirely, making it just therapeutic for consumers. Over time, it will become CBN.
Is CBN legal to buy online?
Yes, CBN is legal for sale and consumption in the US. As long as your CBN product comes from hemp that doesn't contain more than 0.3% THC, it is federally legal under the 2018 Farm Bill.
Does CBN get you high?
No. Even though CBN is technically an aged form of THC, it does not contain any psychoactive properties. No matter how much you consume, CBN will not get you high or leave you feeling intoxicated. Instead, people consume the cannabinoid purely for therapeutic reasons.
What's the difference between CBN and CBD?
Both CBN and CBD are non-psychoactive cannabinoids that have strong medicinal potential. However, they are two very different cannabinoids with completely unique chemical structures. Technically, the cannabis plant directly produces CBD, while the plant only produces CBN as THC oxidizes. CBD is also going to be much more abundant than CBN, which is why you won't find as many CBN products on the market as CBD.
These two cannabinoids also present different effects. For example, CBD is wonderful for helping with pain, digestion, and anxiety, CBN is strongly regarded for its benefits on sleep.
What are the common effects of CBN?
Many people turn to products like CBN oil to help with sleep, pain relief, and anxiety. The cannabinoid is currently being looked into for its neuroprotective properties, as well. Most consumers find that CBN makes them feel more relaxed, calm, and comfortable. Pain and stress-relief are common effects of CBN.
Final Thoughts
At first, I was slightly skeptical about CBN oil and how much it would help. But, after trying so many products, I've quickly come to realize that these blends may be perfect for those who either need help with sleep or anxiety reduction. While most of these products didn't taste amazing, I was blown away by the efficacy of this unique cannabinoid.
No matter what, always take the time to research a brand's third-party lab-test results and reputation. With a cannabinoid as rare as CBN, it's crucial to ensure you're buying the best CBN oil possible — from the best brands out there. This way, you, too, can experience the relaxing, supportive effects of CBN.
You may also like:
---
Editor's note: We updated this list on September 27, 2023, to add a new product recommendation from Slumber.