We independently test and review everything we recommend. Our reviews are completely unbiased. When you make a purchase using our links, we may earn a commission. Learn more
Related Picks: Best Delta-10 Cartridges
Finding the right delta-10 gummies for you isn't always the easiest process. While some D10 gummies may sound or look appealing, once you actually try them, you're let down by medicinal flavors or lack of effects.
So, to help save you from some unfortunate trial and error, we've come up with a list of the top six delta-10 gummies on the market today. After thorough analysis and a whole lot of research, these six brands came out above and beyond regarding their infused sweet treats.
We analyzed 20 brands and extensively tested six delta-10 gummies, ranging from $24 to $75, to find the strongest and safest options. (See how we test.)
6 Best Delta-10 Gummies
After careful analysis and testing, we've narrowed down our top picks for the best delta-10 gummies you can legally buy online right now:
Best Overall: Botany Farms
Botany Farms are building quite the following, especially their delta-10 THC gummies which don't disappoint on potent effects and fruity flavors all in one small treat.
Available for $25 from Botany Farms
Microdosing just got even tastier with these Botany Farms delta-10 THC gummies. With flavors like Blue Raspberry, Pineapple, Watermelon and Mango, no matter which one you choose, they all were made to offer a gentle cannabis experience without feeling bogged down or sluggish.
These bite-sized gummies may be consumed any time of day, but if you are new to cannabis, the brand suggests consuming ½ gummy for starters and if you need a little more, you can finish it. Such makes these the perfect product to dose on the go, wherever you go – just be sure to not overdo it THC newbies because they come with 30mg delta-10 THC per gummy.
Read our full Botany Farms review
Pros & Cons
Pros
Potent blend at 300mg; 30mg delta-10 THC per gummy 
Available in four fruity flavors: Blue Raspberry, Pineapple, Watermelon, Mango
Stellar branding
Offers a good dose of euphoria and energy
May be useful for small social gatherings
No hemp aftertaste
Cons
Not lab tested for contaminants (view COA)
Coated in a lot of sugar
Texture could be improved
---
Best Full-Spectrum Blend: TRĒ House
TRĒ House's delta-10 gummies not only have D10, but they include D9 and HHC, too.
Available for $34.99 from TRĒ House
The full-spectrum blend within TRĒ House's delta-10 gummies is the perfect combination for some potent, stimulating effects. These Blue Raspberry gummies are great for providing a full-body buzz that lasts for hours, so be prepared to feel euphoric all day long.
The actual flavor of these gummies is impressively tasty, and they don't have any strange aftertaste. If you are looking for an energizing, stimulating, and creativity-inducing gummy, then TRĒ House's delta-10 chews are perfect for you.
Pros & Cons
Pros
Potent blend of Delta-10 (10mg), Delta-9 (5mg), and HHC (5mg) per gummy
Delicious Blue Raspberry flavor
Gets to work quickly (about 45 min) and has long-lasting effects
Great for providing a boost of energy and creativity
Very affordable at $34.99 for 400mg
Eye-catching branding and high-quality packaging
Vegan and gluten-free ingredients
Cons
Weird consistency
Only one flavor option
Effects may be too strong for new consumers
May create drowsy effects as high starts to fade
Unable to ship products to AK, AR, CO, CT, DE, HI, IA, ID, KS, LA, MS, MT, ND, NE, NV, OR, RI, UT, VT, and WA
Not lab tested for impurities (view COA)
---
Strongest Effects: Mellow Fellow
The Mellow Fellow brand offers the strongest effects out of all the delta-10 gummies on this list.
Available for $12.99 from Mellow Fellow
If you have a high cannabis tolerance and need delta-10 gummies that actually work, Mellow Fellow has the infused treats for you. While most brands cap their gummies around 20-25mg, Mellow Fellow's have a wonderful 30mg of cannabinoids in each, making them perfect for those who need a bit of a stronger dose to get the effects you need.
And, if you have chronic conditions, two of these potent chews will have you feeling blissed out and comfortable in no time. Keep in mind that these gummies contain delta-10, delta-9, and CBN, not just delta-10.
Pros & Cons
Pros
Super potent blend of 30mg of cannabinoids: Delta-10 (18mg), Delta-9 (9mg), and CBN (3mg)
Great for inducing feelings of calm and pain relief
Effective for those even with high tolerances
Huge selection of edible options including rainbow belts, sour gummy worms, and candy rope
Affordable price of $12.99 for 500mg
Great chewy, sugar-coated texture just like regular candy
Cons
Slight hemp-like aftertaste
CBN makes the edibles much more relaxing than stimulating
May be too calming for some consumers
Effects took 90 minutes to kick in fully
Not vegan, uses gelatin
Not lab tested for contaminants (view COA)
---
Tastiest Selection: Just Delta
Whether you want gummy bears, peach rings, or sour worms, Just Delta has them all, giving you the best selection of delta-10 gummies possible.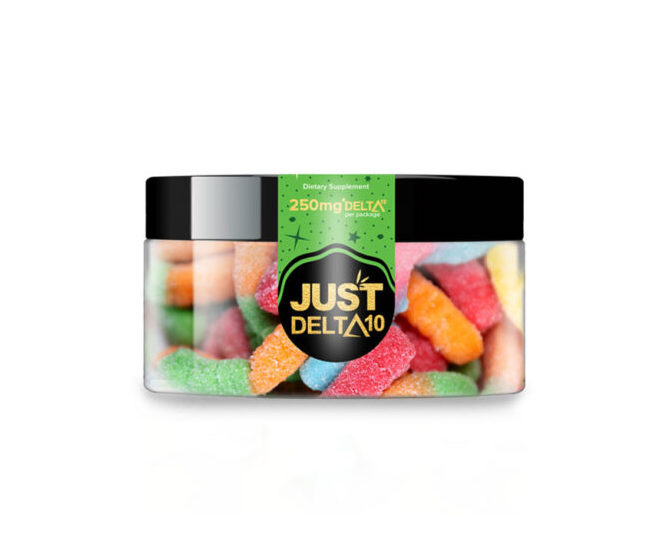 Available for $24.99 from Just Delta
Just Delta's impressive selection of delta-10 gummies is perfect for those who may not know exactly what they're looking for just yet. You can choose between various gummy products like rainbow belts, sour bears, sour worms, watermelon rings, and more; they even have these gummies available in different sizes, so you can stock up with 1,000mg or 250mg depending on what you'd prefer.
Plus, these gummies not only look like your typical candy, but they taste like them — no medicinal flavors whatsoever.
Pros & Cons
Pros
Huge selection of tasty gummy products
No hemp or medicinal aftertaste
250mg or 1,000mg options to choose from; 25mg per gummy
Good for reducing pain and stress
Helps to boost mood and provide long-lasting euphoria
Effects weren't too mild nor too strong
US Hemp Authority Certified
Cons
Some gummies have a slightly tough texture
Not much information regarding cannabinoid breakdown
Very little product information available in general
No customer reviews on website
Not lab tested for contaminants (view COA)
---
Best for a Stimulating High: Hyper
The delta-10 gummies from Diamond CBD's Hyper line is perfect for getting you feeling, well, hyper!
Available for $59.99 from Diamond CBD
The Hyper line of delta-10 THC gummies from Diamond CBD is a great way to naturally stimulate your energy and mood, helping you feel more buzzed and on top of the world. (And the effects last for hours, too.)
They offer these gummies in a few different options, including peach rings, blue raspberry rings, watermelon and lime bears, and even more. Each gummy contains 25mg, and you can stock up on these gummies by buying the XL 60-count option if you're interested.
Pros & Cons
Pros
Large selection of gummy options to choose from
Various size choices ranging from a 15-ct all the way up to a 60-ct container
Ideal for providing a sativa-like high
Good for those struggling with mood or motivation
Great to consume during the day for a pick-me-up
Offers good discounts on the products
Cons
---
Best Flavor: Urb
Urb's delta-10 gummies are flavorful, vibrant and have a pleasant mouthfeel that makes eating cannabinoids that much more appetizing.
Let's face it, edibles can be either gross or good, there's really no in-between. But when it comes to delta-10 THC gummies from Urb, you can count on big flavors and even bigger effects. Each bag of gummies comes with its own unique flavor profile that combines several delicious tastes, so you don't have to waste time choosing – they even have vegan options.
Made for cannabis enthusiasts and sweet lovers alike, these infused psychoactive gummies won't make you drowsy, but instead, you'll feel vibrant and stimulated enough to socialize or do something active. Priced at $9-$20 per bag, you can get some of the best deals on the market with just a few clicks.
Pros & Cons
Pros
Available in a range of fruity flavors and sour tastes
Creative packaging
Vegan options
Range of potencies
Great for socializing and stimulation
Pleasant textures
Cannabinoid-rich
Lab tested for potency and impurities (view COA)
Cons
No customer reviews on a number of products
Effects may be too high for those with low tolerances
Not pure delta-10, gummies are blended with D8/D9
---
How We Tested the Delta-10 Gummies
When we picked our top six choices for delta-10 gummies, this was done through extensive analysis to help portray the most accurate results. To give you an inside look at how we chose these six great brands, we've broken the criteria the team relies on when analyzing cannabis products like these.
Here are the criteria we use for these delta-10 gummies, specifically:
Company Transparency: On a scale of 1-10, how transparent is the brand when it comes to its product quality? Are the COAs and ingredients readily available? Are the ingredients high quality? Is the brand upfront about additives or impurities?
Flavor & Texture: On a scale of 1-10, how appealing are the gummies' flavors and textures? Do they remind you of a typical candy? Do they have any strange consistency or aftertaste?
Potency: On a scale of 1-10, how potent were these gummies (especially compared to how they were advertised)? Did the high take too long to set in? How long did it last? Would these products be better for beginners or more advanced consumers?
Value: On a scale of 1-10, are these gummies worth their price? Do they use high-quality ingredients and have quality packaging? Are they affordable or overpriced? Would you spend your hard-earned money on the product?
After looking at these factors, we were able to narrow down our list and not include anybody who didn't average at least a 7. From there, we looked at the brands that made the cut and analyzed them further for their individual strengths, as well as smaller details like COA accessibility, detailed labeling, and more. 
Learn more about CBD Oracle testing methodology.
---
Guide to Buying the Best Delta-10 Gummies
Now, let's answer some of your most frequently asked questions about delta-10 gummies and all they have to offer.
What Are Delta-10 Gummies?
Delta-10 gummies are gummy candies that professionals have infused with delta-10 extract. Delta-10 THC is a cannabinoid found in the cannabis plant that produces a mild high that's similar to the effects of a sativa strain.
What Are the Benefits of Delta-10?
The benefits of delta-10 THC are still being looked into today; however, many consumers find that delta-10 THC is wonderful for boosting moods without inducing feelings of paranoia or anxiety. It also may prove beneficial for those with mental illnesses like depression or PTSD because of its uplifting yet calming results.
The delta-10 cannabinoid may also be great for those who are feeling slightly down or are in a creative rut.
What Are the Effects of Delta-10 Gummies?
Delta-10 gummies will have unique effects on each person. But, many consumers report that delta-10 THC gummies help them feel more uplifted, creative, and stimulated. These gummies are known for providing gentle feelings of euphoria that are great for helping with motivation. Because of this, delta-10 THC gummies are often consumed in the morning or daytime, as they help get your mind and body feeling ready to tackle whatever your day throws at you.
What Are the Strongest Delta-10 Gummies?
The strongest delta-10 gummies on this list come from Mellow Fellow. Their hefty blend of cannabinoids has the highest concentration on this list, and it helps consumers feel extra relaxed and comfortable while still happy and uplifted.
Do Delta-10 Gummies Get You High?
Yes, delta-10 gummies do get you high. Delta-10 THC is a psychoactive cannabinoid that produces a mild high; the potency of D10 tends to be about half as potent as delta-9 THC. So, while the cannabinoid won't get you as high as delta-9 THC, it still will get you high with its intoxicating effects.
What's the Difference Between Delta-8 and Delta-10 Gummies?
Delta-8 and delta-10 are two totally different cannabinoids in the cannabis plant. Both of these cannabinoids are THC derivatives, but they have different chemical makeups which give them slightly different results in the body.
RELATED: Delta 8 vs Delta 10: Which Is Stronger?
Delta-8 and delta-10 THC are both psychoactive cannabinoids that are about half as potent as delta-9 THC. However, delta-8 THC tends to produce more relaxing, "indica-like" effects, while delta-10 THC is known for being more energizing and similar to a sativa. So, delta-8 THC tends to be better for those seeking sleep support or deep relaxation, while delta-10 THC is ideal for those struggling with depression, mood disorders, or even just motivation.
Do Delta-10 Gummies Show Up on a Drug Test?
Delta-10 THC itself won't show up on a drug test, but it will make you fail a drug test. This cannabinoid metabolizes into the same THC metabolite in the body as delta-9 THC, and that's the metabolite that drug tests are looking for. So, having delta-10 THC will cause you to test positive for marijuana.
Are Delta-10 Gummies Legal to Buy?
Yes, delta-10 gummies are legal to buy online or in-store by 21+ adults in most states as long as they come from hemp and do not contain more than 0.3% delta-9 THC by dry weight. The 2018 Farm Bill legalized hemp and hemp-derived products that meet those standards, making products like delta-10 gummies federally legal in the United States.
Unfortunately, some states have placed bans or regulations on hemp-derived THC or THC isomers, making delta-10 THC products illegal. Always double-check the laws in your area before making a purchase.
Your Go-To Delta-10 Gummies
At CBD Oracle, we're dedicated to helping you find your ideal delta-10 gummies, no matter what your preferences are. If you want something sweet, sour, mild, or extra-strong, we've found the best delta-10 THC gummy options for you. Each brand on this list goes above and beyond to prove their product quality and company transparency, allowing customers like me and you to enjoy their infused treats time and time again.
The next time you're hoping to get your hands on some tasty, potent delta-10 gummies, check out one of the brands on this list and experience the true beauty of the delta-10 cannabinoid.
Related Picks
---
Editor's note: We updated this list on September 20, 2023, to remove one of our initial recommendations from Koi which has been discontinued. Additionally, we included two new products from Botany Farms and Urb.