Each CBD balm recommended was independently tested over 4 weeks by our product research team. If you make a purchase using links included, we may earn a small commission.
Best CBD balms | How we tested | Brands to consider | FAQs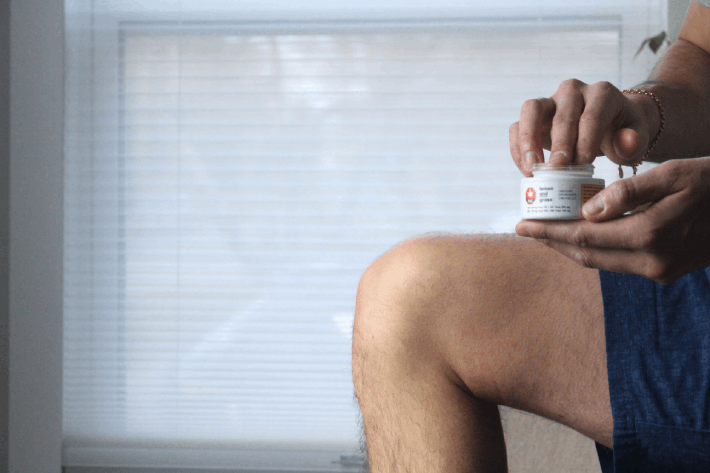 There is an abundance of topical CBD remedies on the market today, but how can users be sure the salves and balms they're choosing are highly effective, therapeutic quality?
Our expert examined over 20 popular salves and balms to determine the best CBD balms at a number of price points and found sometimes the best products are the ones that arrive with the least fanfare, the simplest formulations, and often, the most relatively moderate price tags.
Here are the 13 best CBD balms and salves we tested and recommend:
---
There are a vast amount of CBD salves, balms and topicals on the market today that call themselves the "best". So many in fact, that for someone living in chronic pain or searching for relief from chronic inflammation and pain, the abundance can feel truly overwhelming.
In order to determine which of these could potentially be the best CBD salve, a user might have to audition an assortment of products, and considering the average price points, that journey could get pretty expensive long before the users experience their desired results.
CBD balms and salves can address areas of specific pain without entering the user's bloodstream.
Our endocannabinoid system features receptors in our skin cells, and while CBD topicals don't necessarily address systemic issues, they can certainly help when applied directly to arthritic joints, inflamed dermal patches, or overworked muscle groups in recovery by reducing inflammation and providing mild pain relief directly through the skin.
How We Tested the Best CBD Salves and Balms for Pain Relief
Over the course of a month, we tested over 20 different CBD balms and salves for our own well-developed assemblage of chronic ailments, including:
Recurring tendonitis in both wrists
Joint inflammation in the knees and ankles
A heat wave induced flare up of painful dermatitis
Overworked muscles that come from intense physical labor
After reviewing our data and comparing our results we found that many commercial CBD salves, regardless of cannabinoid percentages, were effective in treating most of these conditions.
What our preferences essentially came down to were ease of use, texture, fragrance and staying power. Here's what we came up with.
Best CBD Balm Overall
Charlotte's Web CBD Balm Stick
Best for multiple, across the board applications
Available for $39.99 from Charlotte's Web
The Score: 9
Of all the CBD salves and balms tested, Charlotte's Web stood out for its ease of use, its mild, neutral perfume and the efficacy of its 525mgs of CBD in treating each of our trackable physical issues: chronic joint pain, an outbreak of dermatitis, and recovery post workout.
The housing makes for mess free application and the balm itself absorbs quickly and without a greasy residue. One daily application kept my joint pain smothered, my tendon issues quiet, and essentially erased a hot-weather skin inflammation that even prescription lotions couldn't diminish.
This CBD balm quickly became not only the most favored of the testing batch, but the product against which many other products were measured.
The Good
Full spectrum extract
Chronic pain relief
Chronic inflammation relief
Quick activation
Skin softening
Long lasting, targeted relief
Sheer, mess-free application
The Bad
No ingredient list on package
Scarce product details
Effects
Effects felt: Superficial pain relief, recovery support, skin smoothing and rejuvenating, preventative against daily strains and overworking muscle groups
Best for: Superficial pain relief, relief from dermatitis, and an easing of chronic inflammation for users with sensitivities to sticky, oily textures or vaporous perfumes
Not good for: Smaller nooks and crannys
Review
Medicating hands and wrists with CBD balms is pretty hit or miss. Sure, you may feel pain relief, but you may also have greasy finger crotches for a few hours, which can be majorly uncomfortable for those who work with their hands. My initial impression of Charlotte's Web was excitement over how light and evenly absorbed the balm was when applied to the sharp pains in my wrists and knuckles. Activation was relatively quick, especially when the balm was applied in tandem with a few tension relieving stretches; within 10 minutes of applying the balm to my hands, they were supple, smooth, and essentially pain free.
The experience was similar when used on my knees and ankles, and when applied to irritated skin, positive results could be seen in as few as 24 hours. After applying the salve intermittently to my dermatitis for only three days, the flare up had cleared entirely.
While other CBD balms and salves used over the course of testing had more intense fragrances, oilier applications, or less of an across-the-board efficacy, Charlotte's Web delivered dependably uniform results in a package that, head to toe, couldn't have been easier to use.
Lab Result
Fully tested for potency, residual solvents, heavy metals, and pesticides, see the COA.
---
Also Great
Papa & Barkley Releaf Balm
Best for multiple, across the board applications
Available for $29.99 from Papa & Barkley
The Score: 9
This balm has been highly recommended to me many times, and I understand the appeal. Of all the CBD balms tested, this one bore the closest resemblance to something a kitchen witch would have in her boudoir apothecary.
It has the authentic jade green hue of a whole plant infusion, which is a big positive, and its semi-greasy application absorbs quickly, with the familiar botanical perfume of a honed family recipe.
The Good
Whole plant infusion (solventless extraction)
Full spectrum extract
Tendonitis pain relief in wrists
Inflammation relief in knees and ankles
Itch relief
Skin softening
Mild, aromatherapeutic fragrance
Long lasting, targeted relief
Great for recovery or as a preventative
The Bad
Messy application
Container depth and shape
Effects
Effects felt: Superficial pain relief, recovery support, skin smoothing and rejuvenating, preventative against daily strains/overworking muscle groups.
Best for: Folks prioritizing purity and simplicity for restorative and preventative health, itch relief when mess is not an issue, inflammation and pain relief. I did not audition this product for menstrual cramp relief, but it is suggested by the brand.
Not good for: Application to large muscle groups. Folks on a budget.
Review
Papa and Barkley's CBD Releaf Balm definitely has the crunchy, organic feel of something made by a friend, rather than a manufactured balm, which was a vibe we welcomed after auditioning other more over-formulated products.
The only drawback was the obnoxiously small container the salve is contained in. Application necessitated either a tool (we used an inch wide silicone basting brush or small rubber spatula to great effect) or greasy fingertips. Additionally, the pot is small enough to alienate acrylic nail wearers entirely, unless they too have an additional application tool.
The application and too-small housing were the only drawbacks to this product. We loved it for treating tendonitis flare ups, sore muscle groups, and inflamed joints but especially liked applying a smear to the base of our skull and back of our neck in the morning to keep us from feeling strained after driving, reading or working at a computer for prolonged periods.
For pain associated with inflammation, Releaf Balm soothes and aids recovery, but the application felt just a little too messy for comfort when used to treat my dermatitis, especially under clothing. The oily application lingered a bit before total absorption and though it relieved the itching immediately and cooled the area comfortably, the application was simply not ideal.
After massaging a dose into my partner's shoulders after a long workday, we discovered the balm's potential as a kind of protection against the inevitable daily neck strain of modern life.
A modest application of this hemp balm to the base of the skull and the trapezius muscles at the beginning of the day was enough to keep those areas relaxed and mostly free from tension regardless of the intensity of the deskbound or warehouse bound workday. Calming notes of lavender, invigorating eucalyptus and sweet peppermint offered, in sheer applications, a very mild entourage effect.
Lab Result
Fully tested for potency, residual solvents, heavy metals, and pesticides, see the COA.
---
Best CBD Balm Sticks for Large Muscle Group Recovery
FAB CBD Body Salve
A contemporary, botanical effigy to Icy/Hot for active bohemians
Available for $63.20 from FAB CBD
The Score: 7.3
FAB CBD Body Salve is an extra-strength heating/cooling salve in a firm, easily applied balm stick. We appreciated this salve's portability and ease of use, and users reportedly laud the salve's brisk, menthol aroma, though its intensity can limit the salve's uses.
The salve absorbs quickly and provides targeted relief, and its full spectrum extracts are well complimented by an assortment of organic oils and beeswax. The branding is simple and straightforward, and the stick is available in a portable 1oz stick or a more substantial 2.5oz stick.
The Good
Full spectrum extract
Organic
Easy application over larger areas
Muscle pain relief
Inflammation relief
Targeted relief
Quick absorption
High CBD dosage
The Bad
Powerful perfume may be limiting to sensitive users
Effects
Effects felt: Superficial pain relief, recovery support, relief from skin inflammation
Best for: Folks medicating sore spots on the go, athletes in need of targeted relief, folks who go bananas for a menthol so intense it might make your eyes water
Not good for: Anyone sensitive to menthol vapor
Review
I have a legitimate appreciation for this CBD salve. It has the silky application and firm constitution of a skillfully formulated, deeply therapeutic hemp salve. But when the menthol vapors hit me, they literally made my eyes water. This not only limited how and where I could use this salve, it led me to several minutes of eye-watering, semi-paralyzing optical discomfort.
After an hour of reading, my jaw and temples were sore from sitting in concentration, so I applied this salve to the hinges and edge of my jawline. While massaging it into my skin, the vapors became so intense I had to squint my eyes shut and resign myself to temporary blindness until the initial vapor blast had run its course.
Despite the intensity of the blast, the brisk cool of the menthol tickling the underlays of my dermis felt amazing. It was a kind of interior massage that eventually unfurled into the gentle warmth provided by the inclusion of cinnamon oil. This topical CBD salve feels effervescent against the skin and provides targeted cooling and heating pain relief with sharp efficacy. But, the fragrance, for me, was borderline debilitating in its intensity.
When used in areas with less proximity to my face, the results were noteworthy; it kept my cleared dermatitis at bay, aided in recovery post workout, and provided targeted pain relief, albeit superficial. As a massage balm, the fragrance was too intense to hover above, so my partner and I would apply it quickly to each other's hard-to-reach lower and mid back areas with zero fanfare. But, hey, if you have the optical fortitude to withstand this level of intense menthol blasts, this might be the topical panacea you're looking for.
Lab Result
Tested for potency, heavy metals, and pesticides – not tested for residual solvents, see the COA.
---
CBDMEDIC Active Sport Pain Relief Stick
Isolated CBD for a universal appeal
Available for $29.99 from CBDMEDIC
The Score: 6.8
For the formerly cannabis adverse folks who are indulging their curiosity, CBDMEDIC's pain relief stick is a low stakes introduction to the curative properties of a CBD enhanced recovery salve.
The packaging is considerably more drugstore counter than contemporary chic, but therein lies part of its appeal. In fact, its drug facts panel lists CBD hemp oil under inactive ingredients.
This product uses isolated CBD hemp oil, so it feels as suitable for use on your elderly grandmother whose wrists are aching after her golf game as it does for the junior highschooler whose sore legs after soccer practice are distracting enough to warrant some manner of pain relief.
The Good
Universal appeal
Easy application over larger areas
Muscle pain relief
Inflammation relief
Quick absorption
Dermatologist tested
Targeted relief
The Bad
Powerful perfume may be limiting to sensitive users
The packaging lists CBD as an inactive ingredient
Effects
Effects felt: Superficial pain relief, recovery support, pain preventative when used pre-workout
Best for: Sports enthusiasts of all ages, distinctions and preferences who are medicating to recover from superficial injuries or over worked muscle groups
Not good for: Folks who favor a more bohemian formulation
Review
CBDMEDICS's Pain Relief Balm Stick feels like it was formulated for active, sporty lifestyles. It glides on easily and absorbs quickly, but like many other sports balms in the CBD topical space, this stick relies heavily on menthol and camphor. Users who've grown accustomed to the scent profile of topical analgesics like Icy/Hot or Salonpas might find comfort in this familiar aroma.
When used on my wrists after a long night of work, I found this balm stick to be supportive in overnight recovery, but the menthol perfume lasts a bit long for my comfort, especially in an overnight situation when the vapor feels nigh inescapable. My partner had similar feelings; the balm was effective in aiding recovery, but the smell is an acquired preference.
Menthol vapors aside, the universal appeal of this CBD sports stick feels especially appealing to forward thinking parents with ultra-active kiddos or older community members who are looking for ways to stay comfortably active without the aid of pharmaceuticals. It's not a stylish wand of cleverly branded contemporary hemp salve, but that makes it more accessible to those more confident in therapeutics that feature a drug fact panel on their packaging than more fashionable packages of bohemian topicals.
Lab Result
Fully tested for potency, residual solvents, heavy metals, and pesticides, see the COA.
---
CBDistillery Relief Stick
Isolated CBD for active lifestyles
Available for $45 from CBDistillery
The Score: 6.7
The wide, firm CBD balm stick glides on with ease, absorbs quickly, and is especially effective in treating the larger areas on the back, buttocks, thighs and legs after aggressive workouts or long periods of physical labor.
The peppermint-menthol aroma was a bit stronger than we found preferable, but for users who dig a powerfully icy balm, the terpene profile of the CBD Relief Stick is likely to be appealing.
The Good
Easy application over larger areas
Muscle pain relief
Inflammation relief
Quick absorption
High CBD dosage
Targeted relief
The Bad
Powerful menthol aroma
CBD isolate rather than full spectrum
Effects
Effects felt: Superficial pain relief, recovery support
Best for: Use in recovery, whether from labor or recreational fitness. Users with an affinity for minty menthol vibes will appreciate the familiar, toothpaste-brisk perfume.
Not good for: Users with a sensitivity to menthol vapors
Review
After long periods hunched over a notebook, computer or household chore I have a specific knot that develops between my spine and shoulder blade. When I apply this CBD balm stick alone, I get a superficial relief that allows me to continue my work, but when applied in tandem with a therapeutic massage or intentional stretching sesh it can aid in an acute relief that more effectively addresses the issue at its core.
This hemp balm stick is made with a cannabis isolate, and the percentage is considerably higher than the median of the testing group, most of which are full spectrum. It wasn't terribly effective treating a test patch of dermatitis, but I suspect this product is most effective for muscle recovery and the kind of short-term, targeted relief that will let me finish an onerous activity relatively unscathed.
Both my partner and I were reluctant to continue the use of this balm on our hands and knuckles – the menthol perfume was just too powerful, we preferred to apply it to places we didn't have to smell, like our sore mid-lower back, knees and feet.
Lab Result
Fully tested for potency, residual solvents, heavy metals, and pesticides, see the COA.
---
Best Potted CBD Salves
Lazarus Naturals Relax + Unwind CBD Balm
A delicate herbal balm great for minor aches and pains associated with deskwork
Available for $16 to $42 from Lazarus Naturals
The Score: 9.2
Oregon brand Lazarus Naturals features three distinct varieties of their full spectrum, 3000mg CBD balms: Relief + Recovery, Relax + Unwind, and a Fragrance Free version for those who prefer no complimentary aroma.
Their Relief + Recovery balm is exceptional for its inclusion of capsaicin, which is well balanced with the menthol, mango, basil and mint terpenes that support this product's entourage. As a potted balm, use is limited to finger smears unless an external tool, like a rubber spatula or silicone paint brush is used to remove and apply the product.
The Good
Full spectrum Hemp
Organic
Easy application over small areas
Superficial pain relief
Inflammation relief
Quick absorption
High CBD dosage
The Bad
Potentially Messy application
Toothpaste-y perfume
Not suitable for inflamed skin
Effects
Effects felt: Superficial pain relief, recovery support, skin smoothing and rejuvenating
Best for: Targeted relief on small muscle groups, like the ones around wrists, hands and knuckles and folks who appreciate a desktop balm for a quick hand massage.
Not good for: Applications to larger areas of overworked muscles
Review
I'd had remarkable results with Lazarus Naturals CBD fruit tarts. After sharing them with a friend suffering with chronic migraine, they switched from OTC pain relievers to using Lazarus products exclusively. Similarly, the CBD balm has an inarguably therapeutic efficacy.
I kept the tin at my desk for an entire hurricane of a workweek and found the tin to be a practical application when used to medicate my tendonitis. Medicating larger areas was more involved, and the shallow tin seemed to be more suited to airy fingertip applications anyway.
The Relief + Recovery CBD balm was excellent for hand, wrist, and finger recovery, but was avoided for my dermatitis – capsaicin (hot pepper) has no place relieving a prickly heat rash. As a massage balm, this salve is also effective. It has a waxy heft that lubricates a deep muscle rub, and once the surface is worked over a few times over, becomes oily enough for even dispersal.
The fragrance is inoffensively minty, and subtle enough to use on the temples, jawline, or forehead to counter a burgeoning tension headache.
Lab Result
Fully tested for potency, residual solvents, heavy metals, and pesticides, see the COA.
---
Aspen Green Pain Relief Body Balm
An extra strength dose of Full Spectrum CBD for active lifestyles
Available for $90 from Aspen Green
The Score: 7.8
On the more sportier side of things is Aspen Green's CBD Body Balm, a firm, waxy balm geared toward athletic recovery. Aspen Green's formulation is extra strength, featuring 1000mg of organic, full spectrum hemp extract, but not a tremendous amount of botanical ingredients to support the cannabinoids.
Regardless, for users focused on CBD pain relief and recovery with less concern over entourage effects and lingering perfumes, Aspen Green's balm is an effective tool to add to your recovery toolkit. Its potted application makes it a bit tricky for larger applications, but with an additional tool (or an affection for greasy mitts), the balm can be applied without much mess.
The Good
Extra strength dosage
Full spectrum hemp extract
USDA Organic
Clean lab results, free of toxins
Easy application over small areas
Superficial pain relief
Inflammation relief
Quick absorption
The Bad
Potentially messy application
Hemp-y perfume
Very expensive
Effects
Effects felt: Superficial pain relief, recovery support, strain preventative pre-workout
Best for: Athletic types who aren't terribly concerned with a complex, botanical formulation as much as they are with a straightforward, extra strength dose of CBD.
Not good for: Folks in search of more complex, entourage assisted effect. Anyone on a budget.
Review
A series of unfortunate accidents to the right side of my body (a few moped crashes that damaged my knees, a fall down a flight of stairs that dislocated my shoulder, and a tumble from a hot tub platform onto the back of my neck) have left me with chronic pain issues that need constant management.
Conversely, my partner topically medicates as a preventative for overworked muscles and for overnight relief after rigorous work. He medicates new trauma and I medicate old trauma, but Aspen Green was one of the few products that we found mutually easy to use.
My fitness plan revolves around managing the nerve damage done over the course of my decade of crash landings, and CBD body balms are an indispensable tool in that recovery when used for self-massage and after deep stretching.
My partner, on the other hand, medicates for recovery post intense physical labor. Our needs are rarely addressed equally by the same product, but Aspen Green's essential formula seemed to comfort us in equal measure. The ingredients are straightforward, and though there doesn't seem to be an overwhelming focus on terpene balance or entourage effect, the product is basic enough for what felt like universal use.
Aspen Green's appeal was rooted in the basic vibe of its formulation. Instead of a multifarious balm with layer upon layer of grassy plant extract, this was just a very forthright CBD balm. For folks who want to medicate without all the fanfare of a heirloom herbal recipe, try this balm.
Lab Result
Fully tested for potency, residual solvents, heavy metals, and pesticides, see the COA.
---
Plain Jane CBD Salve
A straightforward panacea capable of deep pain relief
Available for $14.99 from Plain Jane
The Score: 5.5
Oregon based Plain Jane is a trusted purveyor of hemp in all manner of CBD products. Their hemp flower is exclusively sourced from sungrown Southern Oregon farms and their product line is diverse enough to include items for a wide swath of users.
Their potted CBD salve is, as expected, a straightforward blend of botanical oils in a shea butter carrier that speaks to ancestral remedies and heritage plant medicine without being too pedantic about it. A 2oz pot contains 300mg of full spectrum hemp extract as well as camphor, arnica, menthol and myrrh all blended in a butter yellow, mildly minty wax.
The Good
Full spectrum Hemp
Easy application over small areas
Superficial pain relief
Inflammation relief
Quick absorption
The Bad
Lack of info on the package
Effects
Effects felt: Deep cranial pain relief, recovery support
Best for: Targeted relief on small muscle groups around wrists, hands and the base of the neck and folks who appreciate a lightly scented desktop salve for a quick hand or neck self-massage.
Not good for: Applications to large areas of overworked muscles
Review
I have an affinity for Plain Jane products, they are always superb quality with minimum pretense. This hemp salve is what I expected; efficient, lasting, high-quality, and straightforward. It applies with a relative sheerness that becomes oilier as the salve itself is massaged in its tin. It absorbs quickly with minimum lingering scent, and leaves skin feeling supple and velvety. Targeted relief can be felt within 10 or so minutes, but when used for more intense pain expect a longer buffering time.
Midway through product testing I was beset with my bi-yearly hormonal migraine. I massaged Plain Jane's topical CBD salve liberally to my temples, jaw, neck and even my scalp. THC therapies have been tremendously useful in treating these aberrant events, but I resigned myself to commit to the salve until the pain became too unbearable.
Maybe 30 or so minutes after the initial application, the pressure beneath my skull began to abate. Within an hour the stabbing pains behind my eyes mellowed to a dull gnaw. I felt like my whole head had been anointed with cannabis oil, but the greasy sheen was worth it.
I was able to sleep about an hour after I had absolutely greased my head in this salve. The next day, the migraine continued to diminish with another, less aggressive application, and by the end of the day, the migraine was conquered.
As with other potted CBD salves, this application is best reserved for small areas, unless an additional tool is used to remove and apply the salve.
Lab Result
Only tested for potency – not tested for residual solvents, heavy metals, pesticides, see the COA.
---
Best CBD Balms for Skincare
Joy Organics CBD Salve
For the opulent boudoir of deep pocketed plant medicine enthusiasts
Available for $54.95 from Joy Organics
The Score: 6.7
The delicate lavender/eucalyptus aroma of this firm, waxy CBD salve makes it a delight to wear in areas where one can experience the aromatherapy as well as the targeted relief of CBD.
The effect the product has against the skin, however, makes it stand out among a field of popular CBD salves. When worn on the temples and base of the skull, it offered a tempered, long lasting relief from tension, and the bonus was how creamy our skin felt once the relief had evaporated into relaxation.
The Good
Full spectrum extract
USDA Organic
Targeted relief
Inflammation relief
Quick absorption
Skin softening
Skin soothing
The Bad
High price point considering volume
Potentially messy application
Effects
Effects felt: Superficial pain relief, recovery support, skin smoothing and rejuvenating
Best for: An opulent boudoir where small skin applications of CBD extracts are part of a larger skin care routine, as well as targeted relief for occasional pain/inflammation in confined areas of the body.
Not good for: Folks on a budget
Review
I used Joy Organics CBD salve as part of my aftercare after an especially painful migraine. When applied to the pressure points along the base of my neck, along my hairline, and behind my ears it provided a supportive relief and general easing of tensions. The following day the skin that had been massaged with Joy Organics salve was softer and more luminous than the rest of my skin.
The application however, presented familiar issues. The pot felt just a bit too deep with an opening just a bit too narrow to not absolutely pack the space under my nails with salve. A wider, shallow tin would have serviced this hemp salve more efficiently, especially for more substantial applications.
Because of the size and shape of the container, I felt Joy Organics CBD Salve was best employed as part of a skin care routine. It's easy to integrate into a post-shower moisturizing practice or a bedtime ritual. When used on my partner's dry, cracked heels, they reported an immediate relief, and within 5-6 applications, the skin texture and integrity improved substantially. Based on the short term effects, with regular use we expect his feet to return to near-baby levels of softness before the end of the year. But with such a prohibitive price point, when the cracks return they might just be permanent.
Were the housing more application friendly and the price point more budget aware, this product would be an absolute fave. As it stands, it is relegated to a luxury item, which may or may not have been Joy Organics' intention.
Lab Result
Fully tested for potency, residual solvents, heavy metals, and pesticides, see the COA.
---
Sisters of the Valley CBD Salve
For users for whom cannabis and spirituality go hand in hand
Available for $43 from Sisters of the Valley
The Score: 5.3
There is an undeniably homemade energy to Sisters of the Valley's CBD Salve. From the diminutive, lip balm sized tin, to the laser print sticker labels, everything about this salve feels authentic to the product, which is delightful considering the collective responsible for the product.
Sisters of the Valley are a collective of self-identified Beguine Sisters who take lifetime vows, work together, pray together, and are dressed to identify their enclave. Perhaps best identified by their contemporary habits, these modern day weed nuns are doing "God's" work by "healing the world through plant based medicine. And their salve indeed proved a miracle for soothing dry, summer-parched skin.
The Good
Made by Weed Nuns
Easy application over small areas
Superficial pain relief
Inflammation relief
Quick absorption
Skin softening
Saged to the moon cycles, bottled under the full moon
The Bad
Potentially messy application
Small container limits application to small areas
No ingredient info on package
Effects
Effects felt: Superficial pain relief, recovery support, skin smoothing and rejuvenating
Best for: Beauty applications, facial rejuvenation, targeted relief in very minute areas
Not good for: Nun haters
Review
Sisters of the Valley is a small, spirituality based community of women in Northern California who've taken vows to spread the healing power of plant medicine. Their topical CBD salve is a testament to their commitment. The formulation is almost entirely cannabis-infused coconut oil, buffered only by a drizzle of calendula and lavender oils.
This cannabis salve arrives in a tin that's about the size of a pot of lip gloss or eye shadow, and feels like it ought to be exclusively applied by fingertip, which led us as users to reserve this salve for almost cosmetic applications. I applied small amounts to my sore fingers and hands during work hours and felt an expected relief, but was more enthusiastic about how supple my skin felt after the application.
The effects of this salve felt similar to a luxury beauty oil, and when used on my face, left me feeling supple and soft – plus the fragrance was sheer enough to be untroubling when I used it to lubricate my T zone. Its size makes it an easier addition to a skin care suite than a therapeutic suite; it would get lost in my medicine cabinet but is right at home with my serums and night creams. I'm not entirely sure vanity was a consideration when the sisters conceived this delicate CBD salve, but I'm content to use this salve as a post-shower beauty balm exclusively.
Lab Result
Only tested for potency – not tested for residual solvents, heavy metals, pesticides, see the COA.
---
Best CBD Balms for Specialized Preferences
NuLeaf Naturals CBD Balm
For absolute purists who prefer a brickish balm
Available for $39.20 from NuLeaf Naturals
The Score: 6.8
NuLeaf Naturals CBD Balm is a two ingredient topical with an ultra firm constitution. The simple formulation features only shea butter and full spectrum hemp extract, and is soothing, fast absorbing and free from fragrance.
NuLeaf's product line is primarily focused on wellness across the minor cannabinoid spectrum, and their organic products are heralded as highly effective expressions of each distinct cannabinoid.
The texture is decidedly rigid, which feels authentic to its unadulterated shea butter base, and, if your digits and/or tool of choice can massage the balm enough for it to become pliable, the organic CBD offers considerable relief from minor pain and inflammation.
The Good
Organic
Full spectrum extract
Targeted relief
Inflammation relief
Quick absorption
Skin softening, soothing
The Bad
Combatively rigid texture
Effects
Effects felt: Superficial pain relief, recovery support, skin soothing
Best for: Absolute purists on a hiatus from making salves in their own kitchens
Not good for: Massage therapy, application by hand
Review
For folks who keep shea butter in their skincare rotation, there is some potential appeal in incorporating this CBD balm into the routine. The formulation is simple enough to be used for both therapeutic and cosmetic purposes.
I tested this balm on my hands and wrists and found it to be indistinguishable, texture wise, from the shea butter in my boudoir. The effects were expectedly soothing, though wrestling the balm from its pot can be challenging for those with delicate fingertips or high maintenance manicures.
Lab Result
Fully tested for potency, residual solvents, heavy metals, and pesticides, see the COA.
---
Elixinol Active Hemp Balm
For folks who want to feel slick all day long
Available for $39.99 from Elixinol
The Score: 6.7
Wellness focused brand Elixinol has a great reputation among fitness fanatics, wellness warriors and cannabis enthusiasts alike. Anyone who appreciates wholesome formulations among a curated array of specialized products, from botanical capsule blends to liposome tinctures, can find something of value in Elixniol's product line.
Their hemp balm features a blend of copaiba oil and ucuuba butter, and offers users a very particular texture. Folks searching for an oiler balm that spreads like melted butter and leaves an ultra-long-lasting sheen will appreciate this juicy, exotic, formulation.
The Good
Full spectrum extract
Targeted relief
Inflammation relief
Skin soothing
Effects
Effects felt: Superficial pain relief, recovery support, skin soothing
Best for: Sultry types who appreciate a long lasting, slippery sheen
Not good for: Anyone averse to long lasting, slippery sheen
Review
This hemp CBD balm delivers a complex skin care formulation that features calendula, grapeseed and rosemary extract in addition to its unique carrier oils: copaiba oil and ucuuba butter.
Relief can be felt relatively quickly post application, as I found after an application to my inflamed knee after a marathon walk, but users should have a specific preference for a topical of this unique texture before committing to a pot.
This CBD oil balm spreads like a viscous oil and absorbs in a way that may not feel completely satisfactory to all users. On the other hand, sensual users who relish a distinct oily sheen against their skin might delight in this topical as a skin care option, a topical remedy, or even an effective, albeit inarguably messy, massage oil.
Those folks might want to keep towels and/or tarps ready pre-application depending on how frivolous they intend to be with their rubs; it's not hyperbole to say this balm's absorption is stunningly gradual, and a little goes a long way, so apply with discretion.
Lab Result
Fully tested for potency, residual solvents, heavy metals, and pesticides, see the COA.
---
Koi Naturals Healing CBD Balm
For wearers of similarly potent aftershaves and colognes
The Score: 6.5
Koi Naturals is a therapeutic hemp brand that prides themselves on the full traceability of each of their products. Transparency is key to this company's mission, and their CBD balm is formulated in accordance with that ethos.
More than 12 essential oils plus an additional fragrance all support Koi's formulations of either 500mg or 1000mg full spectrum CBD muscle balms. The resulting product is imbued with a powerfully unique perfume that appeals to a very select group of users.
The Good
Targeted relief
Inflammation relief
Quick absorption
Skin softening
Skin soothing
Effects
Effects felt: Superficial pain relief, recovery support
Best for: Folks nonplussed by a potentially rapacious perfume
Not good for: Aromatherapy (arguably)
Review
My experience with Koi was limited to one round of applications to my wrists, as I found the perfume too potent and discordant for comfort. Your experience may vary.
Both the 500mg and 1000mg CBD balms absorb quickly, and offer a targeted relief that arrives swiftly and lasts for a while. And for those intrigued by a powerfully scented balm, Koi's fragrance is a deeply woody, dramatically floral, aggressively botanical musk that bends sharply masculine.
The additional essential oils may support the healing functions of this balm, and, depending on your preferences, the perfume may be a powerful aromatherapeutic, as many users report in their reviews.
Lab Result
Fully tested for potency, residual solvents, heavy metals, and pesticides, see the COA.
Other CBD Balms We Considered
The following CBD salves and balms each come highly rated and recommended but did not arrive within our established testing window, and thus were not auditioned for this best CBD salves and balms roundup. Each, however, met our strict purity and quality criteria for testing.
Lord Jones
Neurogan
Mary's Nutritionals
Foria Wellness
Healist Naturals
CBDfx
Mr. Moxey's
Highline Wellness
Life Elements
Mineral Health
Tommy Chong's CBD
Apothecanna
Beam CBD
Cannuka
Endoca
Envy CBD
Hemp Bombs
Kiara Naturals
Naternal
Onyx + Rose
Plant People
Spruce
Wildflower
Verma Farms
B Great
Social CBD
Also Organics
How We Tested the CBD Balms
Nowadays, CBD is a known therapeutic compound with a wide swath of user benefits, but for most of recorded history, the cannabinoid was almost exclusively a dermal panacea. Whether soothing the superficial trauma of warriors in training or treating conditions like eczema and psoriasis, CBD has always been an effective tool for epidermal symptom management as well as prompt, healthy healing.
The best of today's balmy CBD iterations utilize ancestral medicine, complementary botanicals, high tech extraction methods and contemporary manufacturing methods that upgrade ancestral methods to state-of-the-art levels of efficacy. Not every hemp balm or salve is cut from the same cloth, but that just means that there's truly something for everyone.
We spent over 7 weeks researching, evaluating, and testing the best CBD salves and balms for pain relief and filtering weeks of data in order to confidently recommend our top choices to readers. My partner and I use cannabis and hemp daily as part of our wellness routines, as well as part of our botanical apothecary. Our expertise was developed over decades of daily user experience as well as the extensive research necessary to contribute to such platforms as Weedmaps, A Proper High, The Potlander, and Travel Oregon.
Choosing and testing the best CBD salves and balms
We've intensely examined over 20 CBD-infused salves and balms based on input from reviewers, editors, customers, and select fitness enthusiasts. CBD Oracle's Selection Criteria enabled us to thoroughly investigate each company's credibility, transparency, and online reputation. My partner and I each tested these products over at least 4 application sessions to experience each products' effects in full.
Each CBD salve and balm was tested over the course of several weeks in order to fully experience the efficacy in preventative, recovery, and restorative applications. We focused on deep muscle recovery, intense skin inflammation, superficial skin care and as a pain preventative pre-workout. We used each product on freshly cleaned skin and refrained from using any OTC pain relievers during testing sessions. Our ratings were made in accordance with Oracle's established rating criteria, and data was compared after each testing session.
As a physically active family, the appeal of CBD salves is rooted in a universal therapeutic potential we can each partake in, regardless of age or ability. My partner's intensely physical labor job also provided a rich field for product testing in both preventative and restorative applications.
Over the course of testing of the best CBD balms, here is what was considered:
Effectiveness
Efficacy looks different for everyone. Personally, I hoped for superficial pain relief, relief from painful, itchy skin inflammation, recovery support and hopefully, luminous, supple skin.
Value
Some brands tout thousand mg, full spectrum CBD doses close to $100 for a 2oz jar, while others seem to work exceptionally well with less than half that dose at a quarter of the price. We set out to examine the efficacy differences between higher priced, higher dosage CBD balms and salves and the more reasonably priced, moderately dosed CBD balms and salves.
Ease of Use
Some product packaging can limit use to specific areas of the body or else necessitate additional application tools to avoid mess, while other products have a broader appeal. How each salve was potted or packaged significantly affected its useability; we set out to break down how.
Aroma
Fragrance is critically important to CBD balms and salves that are re-applied daily, and regardless of efficacy, some hemp balms are far more wearable than others based on scent alone. Mentholatum is a hard perfume to wear every day.
Credibility
Lab results, source materials, and third party user reviews are all considered in order to avoid incorporating subpar, cheaply formulated products into the testing group.
What is a CBD balm?
A CBD balm or salve is typically a fragrant topical used to soothe sore, overworked muscles and/or minor skin inflammations. CBD salves and balms are generally produced by infusing a carrier before including various botanical ingredients such as peppermint oil, tea tree, eucalyptus, or other commensurate therapeutic plant oils into the formulation.
Who is CBD balm good for?
CBD balms and salves have a vast variety of potential uses. As an analgesic, CBD balms offer temporary relief from strains, sprains, arthritis, backaches, bruising and more. Furthermore, many CBD salves can be used to treat headaches, minor burns, bug bites, and painfully dry skin. Topical CBD therapies are appropriate for all ages.
Does CBD balm really work? What are the effects?
CBD topicals are particularly effective in that they bypass both the CB1 and CB2 receptors of endocannabinoid systems. Instead, CBD topicals interact with the neurotransmitter that blocks signals for pain and itch. CBD does not deliver psychotropic effects, in fact, many folks use legal CBD to ease chemotherapy-based discomfort, calm arthritic joints and even alleviate complicated skin problems.
CBD balm vs CBD salve: What's the difference?
The primary difference between CBD salves and balms is their textures, though the textural differences can be pretty negligible. Technically, salves are a bit looser and pliable than balms, but balms glide easily in a stick form. In terms of efficacy, both CBD balms and salves deliver commensurate results.
CBD balm vs CBD cream, CBD lotion, CBD body oil
The difference between oil-based CBD salves and balms and creamier butters and lotions, is that CBD creams and lotions utilize both water and moisturizing agents in their bases. Salves and balms contain no water and are formulated for an oil or wax base. Balms, salves, and lotions with commensurate cannabinoid doses will deliver similar efficacy, though lotions offer measured additional skincare.
How to apply CBD balms?
Most CBD salves and balms can be applied with fingertips before being massaged into the skin. Several CBD balm sticks glide on to the skin with the ease of a deodorant stick, saving hands from lingering oiliness. Silicone spatulas and basting brushes are also handy ways to apply a potted balm without risking a grease stain.
How much do CBD balms cost on average?
There are CBD salves and balms at a variety of price points, though the average cost for a reputable brand's 2oz pot of 400-600mg salve starts around $25, but many CBD topicals can reach up to $100, depending on their formulations.
Can you buy CBD salves and balms online?
The 2018 Farm Bill has made all derivatives, isomers, and cannabinoids in hemp legal, provided the final product has less than 0.3% Delta-9 THC. The CBD contained in these balms and salves can be produced independent of THC or in full spectrum varieties with less than 0.3% THC. Many of these products are available for purchase in a number of states, but the user's responsibility is to familiarize themselves with local and state laws regarding the sale and purchase of cannabinoids.
Users should only purchase items from reputable companies with easily accessible lab results.
The Best CBD Balms and Salves; Final Thoughts
CBD salves and balms can be integral tools in an active individual or family's recovery toolkit, but even the best CBD balms and salves are not a panacea for chronic pain when used topically. While many of these products can spot-treat superficial pain or support recovery, substantial injuries should be addressed by a medical professional.
CBD salves are useful for far more than just physical recovery, they interact with the endocannabinoid receptors in our skin to soothe, rejuvenate, and invigorate skin cells. That they are so incredibly supportive of physical recovery is just one facet of these product's value as therapeutic topicals.
I encourage each user to explore the products in their budget to find something that appeals to each of your senses, because there are enough formulations out there to appease an infinite variety of needs and whatever your needs, the best CBD Salve or Balm for you is just a few clicks away.
Related Picks
---
Editor's note: We updated this list on September 26, 2023, to remove two of our initial recommendations from cbdMD and Bloom Farms which have been discontinued.