Our product research team independently tests and reviews everything we recommend. When you make a purchase using our links, we may earn a commission. Learn more
Related Picks: Best CBD Vape Pens
Once you've picked up a rechargeable battery with a 510 connection, you're free to explore the world of CBD cartridges. There are a lot of choices out there, though, so finding the best CBD vape cartridge for your needs isn't especially easy.
The pre-filled cartridges come with a variety of CBD dosages, terpene profiles and mixtures of cannabinoids, as well as different designs that impact their performance. Poor-quality cartridges might burn your throat on the inhale or not deliver CBD effectively enough to calm anxiety on-the-go or get you to sleep, so finding a good one is crucial.
Getting a bit of experience with different cartridges is really helpful, but if you don't know where to start, we've put together some suggestions for the best CBD cartridges out there.
How we tested the carts: This list is based on extensive first-hand testing, after we narrowed the list of contenders to a shortlist of 15, we tested each one for a day of use (or more) to bring it down to the final list. As well as the overall performance, we paid special attention to the effects, flavor, the smoothness of the draw, whether the contents are backed by lab results and how it stacks up in terms of price. We've also split the results into categories to make it easier to find the best CBD vape cartridge for your needs. (See how we test.)
10 Best CBD Vape Cartridges
We've organized our picks into some useful categories. These will help you find the best CBD vape cartridge for your specific priorities, and also acknowledges that it's difficult to choose a "best" option for everyone. Our picks are:
Best Overall: Cheef Botanicals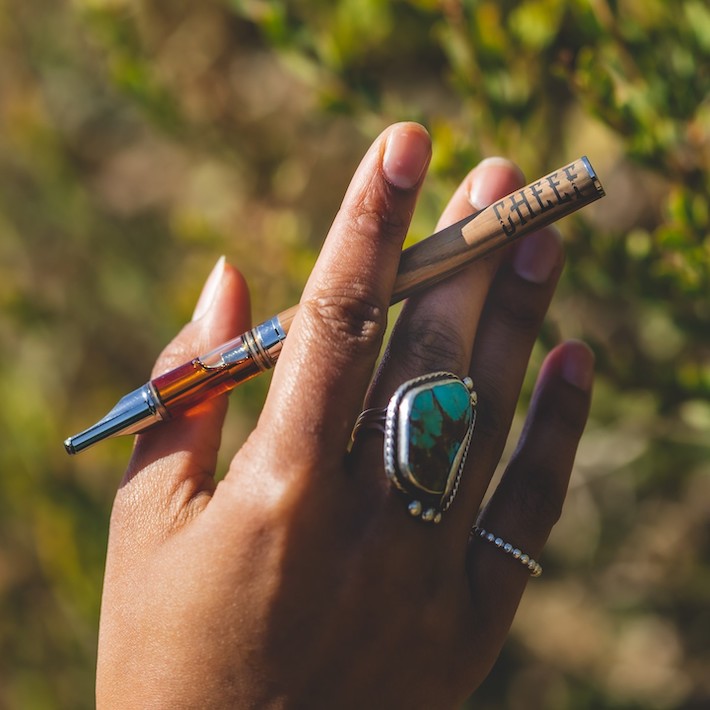 Available for $24.95 at Cheef Botanicals
Cheef Botanicals' CBD cartridges offer a smooth, CBD-rich vaping experience for a good price. The cartridges use a broad-spectrum hemp extract (basically with everything but THC), and natural terpenes provide the flavor. The result is a surprisingly delicious vape cartridge – we tried Cactus Cooler most recently but there are 20 different blends available – which hits smoothly with no burn.
The effect from the 200 mg cartridge is fast-acting and long-lasting, deeply calming and generally fuzzy and pleasant. The extra cannabinoids add richness to the experience, so it feels a lot like being high except without the "high" part. You won't giggle but you'll definitely chill.
Read our full Cheef Botanicals review
Pros & Cons
Pros
200 mg or 400 mg cartridges available
Great flavor with well-chosen terpenes
Smooth vape with no burning or irritation
No MCT, PEG, PG or VG
Lab tested for potency
Impressive selection of flavors
Responsive vape
Calming effect
Cons
Only tested for potency
200 mg cart testing suggests dosing can be a little off
Not the strongest carts out there
Expensive at lower doses: $24.95 for 200 mg ($0.12 / mg), $39.95 for 400 mg ($0.10 / mg)
---
Best for Anxiety: Tonic
If you're looking for a hard-hitting, full spectrum vape cartridge, the Zone from Tonic is one of the best options out there. The Zone CBD cartridge boasts 600 mg of CBD, with a genuinely full spectrum mix that incorporates CBC, CBN, CBG and CBL in addition to CBD and THC.
It's also flavored by terpenes, which give the vape a pine and citrus taste that evokes elements of the taste of hemp while still remaining distinct. The effect is great: it goes down smoothly and brings about a deep, whole-body relaxation that keeps going through much of the day.
Pros & Cons
Pros
Full spectrum CBD cartridge
Terpene flavoring
600 mg of CBD in each
Smooth vapor
Very relaxing and chilled effect – great for anxiety
Full lab reports/COAs available
No MCT, PEG, PG or VG
Well-executed flavor
Great packaging
Cons
A bit expensive – $50 per cart without a subscription
CBD levels can vary substantially
---
Strongest CBD Cartridge: Just CBD
Available for $29.99 at Just CBD
Northern Lights strain from JustCBD is a CBD cartridge with 1,000 mg of cannabinoids, including around 800 mg CBD. It's a broad spectrum mix, so there are other cannabinoids but only very small amounts of THC. The cartridge is nicely designed, with a wooden mouthpiece that's both comfortable and classy.
The CBD vape cartridge gives a pleasant, fuzzy feeling, leaving you feeling very relaxed after just a few long puffs. Maybe due to the dosage and other cannabinoids, but it has a more "high"-like effect than others, stoking creativity and being slightly stimulating too. It's also really affordable, especially considering the potency.
Pros & Cons
Pros
1,000 mg cannabinoids with 800 mg CBD
Broad-spectrum extract
Excellent cartridge design
Really smooth vape – no burning
Full lab reports/COAs available
Flavored by terpenes – natural hemp taste
No PEG, MCT, PG or VG
Excellent price of $29.99 ($0.04 / mg)
Cons
Only hemp-inspired flavors
Variable CBD content
CBG and CBDV only other cannabinoids in substantial quantities
---
Best Full Spectrum: Secret Nature
Available for $55 at Secret Nature
The Forbidden Fruit CBD vape cartridge brings realistic terpene flavors in combination with a full-spectrum mix of cannabinoids. Secret Nature produces 100% plant extract based vape cartridges, offering 54% CBD and smaller amounts of CBDV, CBC and CBG, with less than 0.3% THC in the mix too.
The effects definitely feel full spectrum, with a kind of hazy, relaxing euphoria coming pretty soon after you start puffing. The flavor is very much like cannabis, with a small amount of irritation from the terpenes but generally offering a smooth vape. It's an especially awesome option for a full spectrum vape cartridge.
Read our full Secret Nature review
Pros & Cons
Pros
Full-spectrum extraction
54% CBD + other minor cannabinoids (1,200 mg total)
Terpene-based flavor – all natural
No PEG, MCT, PG or VG
Great for relaxation
Good selection of flavors
Calming, slightly euphoric effect
700 mg or 1200 mg carts available
Great price of $55 for 1,200 mg ($0.05 / mg)
Extracted from organic hemp
Lab tested for potency and impurities like pesticides and heavy metals (view COA)
Cons
Slight burning on the inhale, but still smooth
Very weed-like flavor – not bad but not for everyone
Flavor can become muted after a few puffs
Effects might not be strong enough for some
---
Best Organic Extract: Kiara
Kiara's CBD oil vape refill cartridges are full-spectrum and contain nothing but organic-grown Swiss hemp, and earn our pick for best organic CBD vape cartridges on the market. Each cartridge contains 550 mg of CBD, along with CBG, CBN, CBC and THC, with the entourage effect and substantial CBD dose producing strong calming effects soon after vaping.
The brand never uses additives, PG or VG, MCT oil, vitamin E acetate or anything that isn't natural hemp in its cartridges, making it the perfect choice if you're looking for a hard-hitting natural CBD vape.
Pros & Cons
Pros
Made from organic hemp
No additives whatsoever in the cartridges – just pure hemp
550 mg of CBD per cartridge
Full spectrum – including CBG, CBN, CBC and THC
Strong effects – whole-body calm and relaxation
Natural terpene flavor
Good price per cartridge – $39 ($0.07 / mg)
510-threaded cartridge
Lab tested for both potency and safety (view COA)
Cons
Only one flavor available – natural
Could be smoother to vape
COA shows slightly more THC than advertised
Hemp is grown outside of the U.S.
---
Best Value: Plain Jane
Available for $29.99 at Plain Jane
The Girl Scout Cookies CBD cartridge from Plain Jane is a full spectrum CBD vape cartridge advertising 750 mg of CBD. The cartridge uses terpenes for flavor, so the mint of the "Girl Scout Cookies" is subtle in comparison to the stronger, weed-y notes. However, with such a substantial dosage of CBD, you do feel the effects pretty quickly.
The main result for me was relaxation, with not much else, but this makes sense because the only other cannabinoid present in substantial amounts is CBG. It isn't the very best CBD vape cartridge out there, but the flavor is good, the vapor is smooth and the effects are pleasant.
Read our full Plain Jane review
Pros & Cons
Pros
750 mg of CBD advertised
Terpene-based flavor
No PEG, MCT, PG or VG
Calming effect
Very smooth vape
Great price of $29.99 for 750 mg ($0.04 / mg)
Lab report/COA available – potency and solvents covered
Good vapor and flavor from the cart
Cons
Lab report shows a much lower quantity of CBD (likely in error, but still)
Flavor is more pure hemp than girl scout cookies
Full spectrum is a little misleading
Not strong enough for some users in practice
---
Best Tasting: Bloom Farms
Available for $22 at Bloom Farms
Bloom Farms is one of the biggest names in the CBD industry, and their Blackberry option is one of the best CBD vape cartridge options on the market. The flavor comes through better than you'd expect, with the berry notes from the naturally extracted blackberry essence blending nicely with the terpenes.
In terms of effects, it really packs a punch for something with just 250 mg of CBD, with a blissful, euphoric feeling hitting after a few long puffs and continuing through much of the day (with the occasional top-up). It's genuinely broad-spectrum, also incorporating CBN, CBG and CBC alongside the CBD.
Read our full Bloom Farms review
Pros & Cons
Pros
Broad-spectrum extraction
250 mg+ of CBD
Natural flavors and terpenes
Very smooth vape
Blissful and euphoric effect
Full lab reports/COAs available
Impressive flavor and performance
No PEG, MCT, VG or PG
Cons
Not as strong as many options
A little on the expensive side ($0.09 / mg)
Just 0.5 ml in the cartridge
Lab report shows much higher CBD level than advertised
---
Smoothest Vape: Extract Labs
Available for $34.99 at Extract Labs
The Blue Dream CBD carts from Extract Labs offer an exceptionally smooth vape with full spectrum CBD, incorporating CBT and CBG in combination with up to 0.3% THC. Blue Dream has a subtle yet terpene-rich flavor, with some element of blueberry but largely a natural hemp flavor.
The effects are really pleasant, with a soft wave of relaxation carrying you for several hours after dosing – I find five or six puffs work really nicely. For me, the best thing about Extract Labs' full spectrum vape cartridge is how smoothly it goes down – there is no irritation and no burning, just pure, smooth vapor.
Read our full Extract Labs review
Pros & Cons
Pros
Full spectrum extraction
500 mg of cannabinoids – CBD, CBT and CBG
Flavored by terpenes
Very smooth vapor
Blissful and relaxing effect
Good price of $34.99 per cart
Full lab reports/COAs available
Full terpene breakdown available
No MCT, PEG, VG or PG
Cons
Lab report shows no detectable THC – not full spectrum
CBD potency is variable
Not as much CBD as other options (250 mg minimum)
---
Best THC-Free: Try The CBD
Available for $49.99 at Try The CBD
The Pineapple Express CBD cartridge from Try The CBD takes inspiration from the cannabis strain of the same name, and packs 600 mg of broad spectrum CBD per cartridge. It has around 62% total cannabinoids, and incorporates CBC, CBN and CBG in addition to CBD, with no detectable THC.
The CBD oil cartridge tastes great, with elements of sweetness alongside the woodier terpene notes, and the effects are just what you're looking for. It's more uplifting than many CBD carts, perfect for a mid-day pick-me-up while still providing a relaxing undertone.
Pros & Cons
Pros
600 mg of CBD per cartridge
Broad-spectrum extraction (THC-free)
Large selection of 10 strains
Terpene-based flavor
Substantial amounts of CBC, CBN and CBG
Uplifting effect but still calming
No PEG, MCT, PG or VG
Full lab reports/COAs available
Cons
A little expensive – $49.99 per cart ($0.08 / mg)
Lab report shows only 540 mg of CBD per cart
Performance isn't as good as some contenders
---
Best for Sleep: 3Chi
The CBD oil cartridge from 3Chi is a broad-spectrum vape cartridge that contains up to 850 mg of cannabinoids and 500 mg of CBD. The result is a cartridge that hits you quickly, relaxing you almost immediately and leaving you with a lingering blissful feeling for hours.
The combination of cannabinoids definitely contributes to this, with the Sleep blend (for example) focusing mainly on CBN, CBG and CBC aside from CBD. The cartridge is flavored by terpenes, giving it a natural hemp flavor but balancing them nicely so it doesn't burn the throat or irritate you at all on the way down.
Pros & Cons
Pros
1 ml cartridge with 850 mg of cannabinoids
Up to 500 mg CBD
Broad-spectrum extract
Calming and blissful effect
Great for sleep without making you overly drowsy
Smooth vapor
Natural, terpene-based flavor
No VG, PG, PEG or MCT
Lab reports available – including both safety and potency
Reasonable price of $19.99
Cons
Usually no THC at all – not ideal if you want full spectrum
Variable cannabinoid content
Different blends have relatively similar effects
---
How We Tested the CBD Cartridges
We tested the CBD cartridges first-hand, vaping with each for at least a day to get a feel for how they compared. First, we made a big master list of all of the notable CBD carts out on the market. This list covers some less reputable (or actively criticized) carts, though, so we removed those along with any that didn't meet some basic requirements (if they didn't have a COA up at all, for instance). We also have a lot of experience across our staff, whether from reviewing or personal use, so we also cut some based on our previous knowledge.
After we worked it down to a shortlist of 15, we started the focused testing. This involved using each cartridge for at least a day, comparing them to each other directly as well as just continuing through a normal day with it by my side. Through testing, the focus was mainly on the effects, documenting how each cart felt in comparison to the "standard" CBD mix, as well as the performance from a vaping perspective and the flavor. Another area of focus was the smoothness of the vape, because some terpene-heavy blends can burn or irritate your nose and throat on the way down.
This is essentially the process we used to find the best CBD vape cartridge. This first-hand testing made it easier to identify the main benefit of each individual cartridge to put them into groups, while still giving us the space to choose a "top ten" of sorts.
Learn more about how we test every product we recommend.
---
Guide to Buying the Best CBD Vape Cartridges
The list above gives you some carefully pre-chosen cartridges that perform well and are loaded with great CBD vape liquid, but what are the things you should keep an eye out for if you're choosing a cartridge yourself? Is there anything you should avoid? And how long does a cartridge last? Do they have enough THC to get you high? Here's a run-down of the basics of CBD carts.
What to Look For…
Is it full spectrum, broad spectrum or isolate? This is a way of describing the mixture of cannabinoids in the cartridge. Isolate is just CBD, broad spectrum is other cannabinoids too but no THC, and full spectrum includes THC. There isn't a "best" option here, but generally a broad or full spectrum vape cartridge is recommended because of the "entourage effect."
Check the strength: The strength of CBD carts can vary quite a lot – even on this list the options range from 175 to 800 mg – so it's important to know what you're getting. As a general rule, an "average" approximately 1 ml cartridge will contain between 300 and 500 mg of CBD. If you're new to CBD, it's best to start at a lower amount (even below 300 mg) and work up. If you're experienced or know you'll need more, choose one of the higher options. In any case, it's crucial to check this.
Think about terpenes: Most CBD vape cartridges use natural cannabis terpenes for flavor, but there is more detail than that. Different components have different aromas, and you can start to predict a flavor you'll like by the terpenes used. For example, pinene has a pine-like aroma and I personally don't enjoy it in large amounts – if I avoid that, I'll probably enjoy what I buy.
Source of the hemp: If you're shopping at a new store or considering something other than the most reputable options, it's better to double-check where the hemp comes from. Generally US or European hemp is good quality – in the US, Colorado in particular has the ideal conditions.
Cartridges with lab reports/COAs: All reputable products should be backed by a third-party lab report. Ideally this should cover residual solvents, pesticides, metals and mycotoxins, but at very least the potency should be verified.
510 threading: The most "standard" type of connection for CBD cartridges is called 510 threading. Chances are, if you have a battery, it will have this threading, and so you should get a 510 thread CBD cartridge in almost all cases.
Reputable companies: This is easier said than done, but it helps to go for something from a reputable company. For example, if you pick up a cartridge from someone like Bloom Farms, you'll have a better chance of getting something good than if you bought from some unknown site that looks like it was built in the 90s. The best way to identify these is using forums like reddit and checking with reviewers, YouTubers and websites like CBD Oracle.
What to Avoid…
Oils, MCT or vitamin E acetate: These are all things you shouldn't vape. For example, you cannot vape ordinary CBD tinctures, because they're likely suspended in MCT. This – and similar chemicals – can cause lung problems if you inhale them long-term.
Cartridges without lab reports: If there's no lab report, you just have the company's word on what's in there. It's probably fine, but why buy from them when so many other companies give independent proof?
Limited information: If you're shopping for a CBD vape cart but the site doesn't make something clear – like the amount of CBD, where the hemp comes from, what other cannabinoids are in there, and so on – this is a red flag. In some cases it's forgivable (maybe a company doesn't need to go into detail about extraction methods on the product page, for instance), but overall it's a bad sign. Transparency should be the standard.
Solvent-based extractions: This is more of a guideline than a hard rule. Although high-quality ones can be good, CO2 extraction is effective and since it leaves no potentially harmful residue, it's much safer. Cartridges from ethanol extractions with a lab report confirming no residual solvent are totally fine, though.
Do CBD Cartridges Get You High? What Do the Effects Feel Like?
CBD is the main non-psychoactive cannabinoid in the plant, and so CBD cartridges will not get you high. The exception to this is full spectrum cartridges with substantially more than 0.3% THC (in legal states). CBD itself won't get you high, but delta-9 or delta-8 THC can, as can alternatives like THC-O.
The effects of CBD cartridges are very pleasant, though. Generally, this is described as relaxation or a "blessed out" feeling – it brings about a general calm. This isn't a CBD cartridge "high," but if you imagine the sensation but without the euphoria, giggling and kind of out-there creative thinking, you get the idea. Depending on your dose, the precise combination of cannabinoids and your personal reaction, it might also make you feel refreshed, and in larger amounts (and with CBN particularly) it can help you sleep.
How Much THC is in a CBD Cartridge?
There isn't much THC in a CBD cartridge. The 2018 Farm Bill limits "hemp" products (like CBD) to 0.3% delta-9 THC. This means in a 1 gram cartridge there will be 3 mg of THC. In contrast, many have 500 mg of CBD, and 10 mg of THC is a standard dose for edibles.
While you could produce a bigger CBD cartridge and have more THC – approaching recreational doses – the concentration is always limited. For edibles this isn't such a problem because you can easily eat more, but for vaping there is a limit to how quickly you can get through the liquid.
Without going into too much detail, it's essentially not possible to get high from vaping CBD cartridges because of this. Maybe in some extreme situation and with a lot of willpower it would be possible, but it wouldn't exactly be easy.
How Much is a CBD Cartridge?
A CBD vape cartridge can cost from $20 or so up to $60, with most falling in the $30 to $40 range. However, cartridges don't all contain the same amount of CBD, so it's often better to consider the price per mg of CBD. With this metric, most cartridges fall in the range of $0.05 to $0.20 per mg.
If you're looking for a cheap CBD cartridge, the cheapest in this list (Plain Jane and JustCBD) cost just $0.04 per mg. This is the equivalent of getting 500 mg of CBD for $20. The most expensive in this list (Cookies CBD) costs approximately $0.18 per mg, which would put 500 mg at $90.
Can You Buy CBD Cartridges Online?
You can buy CBD cartridges online. This is because the 2018 Farm Bill legalized low-THC hemp at the federal level, and CBD is a hemp product. All of the options on this list can be bought online, although you can find them in brick and mortar stores if you prefer.
How Long Does a CBD Cartridge Last?
The amount of time a CBD cartridge will last you depends on how much CBD you use per day. The most common daily dose is between 20 and 40 mg. This means that a 500 mg cartridge will last most people somewhere between 12 and 25 days. However, some people (especially with issues such as anxiety) can take much bigger doses, easily one-fifth to half a 500 mg cartridge per day.
If you want to really estimate how long it will last, you'll need to know roughly how much you use per day. Divide the total amount in a cartridge by this and you can find a result specific to your situation.
What is the strongest CBD cartridge?
Just CBD has the strongest CBD cartridge, with 800 mg of CBD per 1000 mg cartridge, as well as 200 mg of other cannabinoids.
Which CBD cartridge is the best for anxiety?
Tonic's CBD cartridge is the best for anxiety. It contains 600 mg of CBD and is a full-spectrum extraction, bringing on full-body relaxation and effectively easing anxiety.
Conclusion – A Whole Spectrum of Options
Whether you're looking for something earthy and weedy, made with full-spectrum hemp extract and enough terpenes to make someone think you're smoking a joint, or just something with pure CBD with a simple flavor, there are more than enough good options out there. You might have to experiment a little to find the right cartridge for your preferences, but the industry has grown enough to have something for everyone.
If you aren't sure or you're new to CBD, stick to one of the choices above, but if you've learned enough already, treat them as suggestions and head off to find your perfect CBD cartridge.
You may also like:
---
Editor's note: We updated this list on September 22, 2023, to include a new product recommendation from Kiara.