We independently test and review everything we recommend. Our reviews are completely unbiased. When you make a purchase using our links, we may earn a commission. Learn more
Since CBD first gained popularity, we've continued to learn more and more about what this cannabinoid can do for our health and wellness. Not too long ago, researchers began discovering just how beneficial CBD could be for our intimate lives, too. The cannabinoid can help with things like inflammation and pain, which can bring enhanced comfort and more enjoyment during sex.
CBD is also known for promoting stimulating properties, giving you heightened responses to even the lightest touches. That's why, today, you can find products like CBD lube all over the market. But, you don't want to try just any CBD lubricant — you want to stick with the best of the best.
We analyzed 27 brands and tested four popular CBD lube products, ranging from $40 to $50, to find the best options. (See how we test.)
4 Best CBD Lubes
Below, we've compiled a list of the top four CBD lubes on the market today that are best for taking intimacy to a whole new — much more comfortable — level. Let's start with our number one choice, Foria.
| | | |
| --- | --- | --- |
| Best Overall: | Foria | $44 |
| Best for Pain During Intimacy: | Kush Queen | $49.99 |
| Best Arousing Effects: | Quim | $48 |
| Best for Increased Sensitivity: | Kiskanu | $40 |
Best Overall: Foria
Foria's Intimacy Sex Oil with CBD is affordable, potent, and great for people of all genders.
If there's anyone who knows how to do CBD and sex well, it's Foria. Foria Wellness focuses mainly on women's health and how CBD can help enhance that, from the bedroom to the workplace and everywhere in between.
Their Intimacy Sex Oil contains a strong 400 mg of broad-spectrum CBD oil that's wonderful for reducing aches and pains, lowering tension, and enhancing overall arousal. If you want better orgasms and more comfortable, pleasing sensations, then Foria's CBD lube is an incredible choice. You can apply this lube anywhere, including your most intimate areas.
Pros & Cons
Pros
Produces strong effects with 400 mg of broad-spectrum CBD
Great for reducing aches and pains
Lowers muscle and joint tension
Helps increase arousal and stimulation
Promotes effects within minutes
Cons
Very oily consistency
Some oils are slightly grainy in texture
Can be a bit messy to use
Some consumers may not like the blatant "sex oil" label; not as discreet as others
---
Best for Pain During Intimacy: Kush Queen
If you experience pain during intimacy, Kush Queen's CBD lube may be a wonderful choice for your sex life.
Available for $49.99 from Kush Queen
Kush Queen's CBD lube may be a little pricey, but it's worth the money to get the total relaxation and pain relief that you get from the product itself. This lubricant is easy to apply, comes in a convenient pump form, and can be used with any condoms or toys that you desire.
While some consumers find this lube to be good for enhanced sensations, many discover ultimate comfort and bliss after application. Kush Queen's CBD lube is best for helping to lower tension in areas like the pelvic region to make sex more comfortable and enjoyable from start to finish.  
Read our full Kush Queen review
Pros & Cons
Pros
Great for reducing pain and lowering tension
Helps make sex more enjoyable and much less painful for those who struggle with pain during penetration
Easy to apply and doesn't make a mess
Absorbs beautifully into the skin (and other areas)
Produces almost instant results
Cons
Very pricey at $49.99
Effects may not be strong enough for most consumers
Only 30 mg of CBD total
Not good for enhancing arousal
---
Best Arousing Effects: Quim
Quim's Smooth Operator CBD lube is sure to have your blood flowing.
If you're looking for a CBD lubricant that's going to make you feel comfortable and aroused, then Quim's Smooth Operator CBD lube is the one for you. This lubricant is known for increasing blood flow while also relaxing pelvic muscles, allowing you to feel both comfortable and reeling to go.
Quim uses 100 mg of CBD in their lube, making it great for those who want more noticeable, long-lasting effects. This lube is latex-safe and can be used on (or in) any part of the body.
Pros & Cons
Pros
Wonderful for enhancing arousal through increased blood flow
Helps reduce muscle pain and tension
Provides quick results, within about 5-7 minutes
Comes in luxurious, high-quality packaging
Water-soluble and aloe vera-based for ultimate soothing results
Cons
Expensive at $48 for 100 mg CBD
Slightly messy application
May not be strong enough for those with chronic pain or high CBD tolerances
Quim's other (cannabis) intimacy products are only available to CA customers
---
Best for Increased Sensitivity: Kiskanu
If you want every touch to feel like an explosion, try out Kiskanu's CBD lube intimacy oil.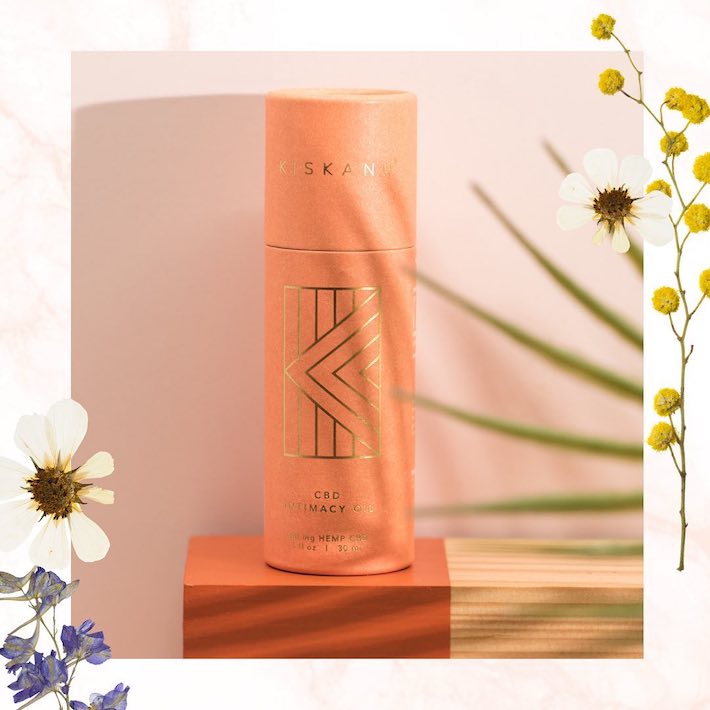 Available for $40 from Kiskanu
From packaging to the actual texture of the lubricant, everything about Kiskanu's Intimacy Oil screams luxury. This high-quality CBD lube is ideal for those looking to experience increased sensitivity and have every touch feel more enhanced than ever before.
Kiskanu's CBD lubricant is a wonderful option for both couples and when you're enjoying yourself solo, simply because of the powerfully increased sensitivity that this 250 mg CBD lube can bring.  
Pros & Cons
Pros
Great for both couples or solo nights
Excellent for increasing sensitivity and enhancing arousal
Comes in beautiful, high-quality packaging
Not too messy
Can be used as a massage oil
Affordable at just $30 for 250 mg CBD
Cons
Not great for lowering pain levels or tension
Very thick texture and consistency
Few customer reviews on their website
May stain
---
How We Tested the CBD Lubes
With a product like CBD lubricant that goes on and in some of the body's most sensitive, intimate areas, it's crucial not to settle for brands or products that don't go above and beyond quality-control standards. In order for us to come up with our list of the top four best CBD lubes, we had to ensure that these brands exceeded our expectations and always put their customer's health and safety first.
In order to do that, we curated a list of criteria that we felt a good CBD lubricant should follow. Then, we looked at the most popular CBD lube products on the market and evaluated them using our criteria, judging them on a scale of 1-10 in each category. If they didn't score a 7.5 average or above, they simply weren't included in the list.
Here are the criteria we used when finding the best CBD lubricants on the market:
Ingredients: Does the brand use organic, natural ingredients to make their CBD lubricants? Do they include safe ingredients or ones that are chemical-based? Would you want to put the formula in your body?
Texture/Consistency: Is the texture/consistency of the lube something that's easy to apply? Does it make a mess or stain sheets? Does it absorb into the skin well?
Effects: Does the CBD lube work well? Does it help enhance sexual situations? Does it help lower pain or promote comfort?
Quality: Does the brand offer detailed, full-panel lab-test results for these CBD lubricants? Are the COAs updated and do they come from accredited labs?
Once we found the brands that made the cut, we analyzed the top four for their biggest strengths. And that's how we came up with our subcategories and rankings.
Learn more about CBD Oracle's ranking methodology.
---
Guide to Buying CBD Lubes
You probably have some questions about CBD lube, and we don't blame you. Here are some of your most frequently asked questions answered. 
What Is CBD Lube?
CBD lube is a lubricant that's been infused with Cannabidiol (CBD) extract that is designed for sexual use. You use this kind of lube like you would a typical lubricant, only it helps promote stronger, more unique effects than non-infused lube. CBD lube is known for helping people reduce pain during sex, enhance arousal, and more. 
How Is It Made?
Professionals make CBD lubricant by crafting lubricant and then infusing the formula with some sort of CBD extract. Some manufacturers will use broad-spectrum extract, while others choose full-spectrum CBD extract, instead.
What Are the Effects of CBD Lube? 
The effects of CBD lube will vary from person to person, as well as from brand to brand. However, many people find that CBD lubricant is great for reducing pain and inflammation, especially in pelvic areas. This can be wonderful for those who experience pain or discomfort during sex.
RELATED: What Are the Medical Benefits of CBD?
Others find that CBD lubricant is good for enhancing arousal and stimulation, as it increases blood flow and helps you feel more excited (if you get what I'm saying). 
How to Apply CBD Lube
You will apply CBD lube like you would regular lubricant. Simply rub the formula onto your or your partner's intimate areas and then get physical as you would normally. Within minutes, you should start to notice the effects of your lubricant work.
Make sure to check your product's suggested use instructions to ensure that you can use the lube with condoms or toys before actually beginning your fun night.
Keep in mind that CBD lube is going to be slippery, so you don't want to use this stuff in places like the shower where you could fall or hurt yourself. 
Is CBD Lube Safe to Use With Condoms and Toys?
Yes, most CBD lube is safe to use with condoms and toys. However, you always want to double-check with the lubricant that you're looking at, as some brands may not be latex-safe. 
CBD Lube vs. THC Lube: Which Is Right for You? 
CBD lubricant is going to be best for those who want more supportive, therapeutic effects from their sexual experience. CBD lubricant is going to likely lower your aches and pains, promote relaxation, and help you feel more at ease. If you struggle with painful sex or feel comfortable during the situation potentially because of past experiences, CBD lubricant is a great way to feel more at ease. 
RELATED: CBD vs. THC: Benefits and Side Effects
On the flip side, THC lube is best for those who want much more enhanced sensations, as the THC cannabinoid is great for enhancing blood flow and stimulating the body. You may find that your intimate areas are more sensitive with THC lubricant than with CBD lube. So, if you simply want to take your sex life to a new level, THC lube is a wonderful option. 
CBD Lube vs. CBD Intimacy Oil: What's the Difference?
In most cases, CBD lube and CBD intimacy oil are the same things. Most intimacy oils are just labeled as such, but they tend to be lubricants that you can use like you would a regular lube. However, some intimacy oils may only be intended for external use, not internal, for things like massages and such. 
So, always check the intended use of your product before going to town to ensure that you have the right product that you need. 
Can You Use CBD Oil as Lube?
You can use CBD oil for lube if the product states that it is intended to be used as such. While some CBD oils may likely be okay to use as lubes and be put on genitals, this isn't always the case. Certain ingredients (like flavors or essential oils) may be inside your CBD oil, and things like that can easily irritate sensitive areas. If your CBD oil is simply hemp extract and coconut oil, you should be fine to use it as a lubricant. But, it's always best to stick with products that are specifically designed for sexual use.  
Enhancing Your Night With the Best CBD Lubes
Finding the right CBD lubricant for you can definitely be a fun, pleasing process. However, as we've stressed, you don't want to try out brands that aren't putting your health and safety first. That's why the next time you're hoping to take your sex life to a new level, it's best to stick to one of the top-quality brands we have listed above. All four of these brands go above and beyond to create the best, most arousing CBD lubes in the industry, keeping sexual pleasure at the forefront.
Whether you're looking for something to ease your pains, enhance your arousal, or do both, we've got you covered. These CBD lubes are sure to help you feel a whole lot more than just pleasure.
Related Picks