We independently test and review everything we recommend. Our reviews are completely unbiased. When you make a purchase using our links, we may earn a commission. Learn more
CBD is a cannabinoid that's packed full of all sorts of benefits — including pain relief. With anti-inflammatory and analgesic properties, CBD offers a great option for people who suffer from stubborn aches and pains.
Topicals like CBD creams are one of the best products to use to help with either pain relief or help with skin complications like dryness or redness, as they're easy to apply and provide concentrated, targeted effects in the areas that need it most. And we've got a list of the top eight strongest CBD topicals to choose from. 
These high-potency CBD formulas are going to be ideal for those with mild to moderate pain issues. If you need something stronger for chronic pain, opt for a dispensary-grade THC-rich cannabis topical. But, if you do not have access to cannabis products in your state, then these strong hemp-derived CBD creams will be the next most powerful options.
We analyzed 70 brands and tested 15 popular CBD topicals, ranging from $30 to $140, to find the strongest options for targeted pain relief. (See how we test.)
8 Strongest CBD Topicals
Here are our top picks for the most potent CBD creams, lotions, and balms for targeted pain relief and reducing inflammation.
Neurogan CBD Cooling Cream
Neurogan's 16,000 mg CBD cream is easily one of the most potent topicals you'll ever apply.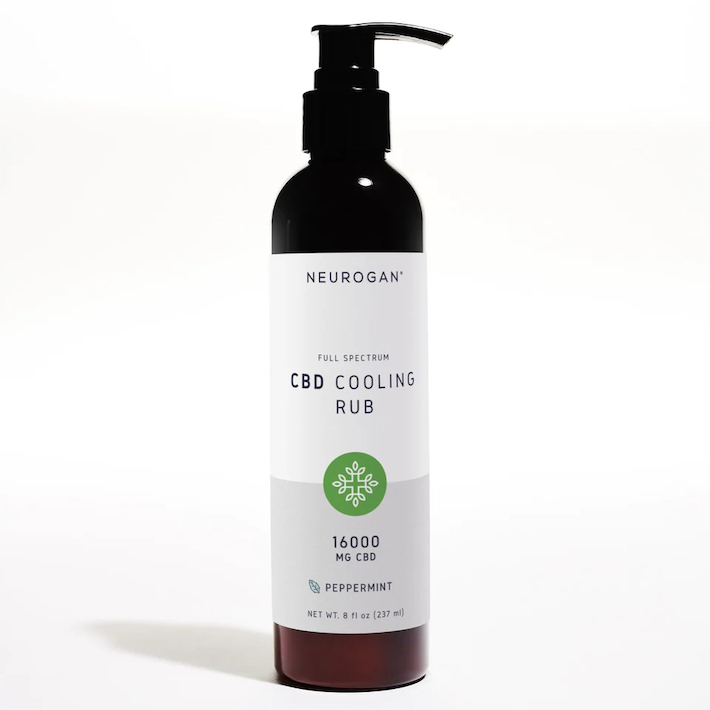 Available for $124.95 from Neurogan
When it comes to high-potency, powerful formulas for aches and pains, Neurogan and their 16,000 mg full-spectrum cream have you covered. This CBD cooling rub is highly rated and for good reason: many people find this topical easy to apply and they love how quickly the powerful effects kick in.
At 16,000 mg, even the most stubborn aches and pains can subside and you can feel a bit of relief. This well-made topical comes in two refreshing scents, too: Orange & Lemon, as well as Rosemary & Lavender.
Pros & Cons
Pros
High-potency full-spectrum formula
Potent enough for even the most experienced consumers
Extremely well priced
Works beautifully to reduce deep-seated aches and pains
Helps hydrate the skin, leaving it feeling soft and velvety
Cruelty-free and gluten-free
Comprehensive third-party lab results for potency and purity (view COA)
Cons
No fragrance-free options
No THC-free options for those who need it
Slightly thin, watery texture
Packaging and labeling could be higher quality
Ingredients are not certified organic
---
Game Up Power Balm
Game Up's 9,200 mg Power Balm is not only incredibly potent, but it has the best application, too.
Available for $69.99 from Game Up
You'll never complain about rubbing some of Game Up Nutrition's Power Balm on your achy and sore muscles. This CBD balm smells delicious and is made of organic ingredients like cannabidiol, beeswax, and coconut oil, as well as a bit of menthol, too.
This balm applies on the body beautifully, not leaving behind any weird residue or texture. The formula absorbs quickly, and you don't have to worry about it rubbing off on your clothes or staining. In general, this balm is ideal for post-workout recovery, as it helps with sore, aching muscles and joints nearly immediately.
Pros & Cons
Pros
Ultra high-potency CBD balm
Applies beautifully and quickly blends into the skin
Smells nice and light; not overpowering
Good for those who don't want THC
Great for post-workouts and achy, sore muscles
Ideal for lowering inflammation
Cons
Made with CBD isolate; no other cannabinoids or terpenes
No full-spectrum options
No other strength options
Needs to be reapplied frequently for results to continue
Not third-party tested for contaminants (view COA)
---
Extract Labs CBD Muscle Cream
Extract Lab's full-spectrum muscle cream is one of the most potent on the market because of its strong blend of THC and CBD.
Available for $89.99 from Extract Labs
Inside Extract Lab's full-spectrum Muscle Cream is 2,000 mg of CBD and 100 mg of THC. Together, this creates a super-strong formula that is perfect for reducing inflammation, lowering pain levels, and even helping with sleep at night.
This muscle cream penetrates deep into the muscles, allowing for targeted, concentrated relief that absolutely everyone deserves. Easily applied, this cream goes great in any bag as your go-to topical product, whether you're at the gym, work, or school.
Read our full Extract Labs review
Pros & Cons
Pros
Strong blend of 2000 mg CBD and 100 mg THC
Full-spectrum formula allows for fuller, more prominent relief
Great for reducing strong aches and pains
Helpful for those with arthritis
Helps lower inflammation and swelling
Hundreds of five-star reviews
USDA-certified organic
Made with only eight natural ingredients
Ships internationally and offers a 60-day money-back guarantee
Fully lab tested for potency and contaminants (view COA)
Cons
Cream is slightly greasy
Menthol addition is very strong; may be overpowering to some
Expensive for the size of the product
No non-THC options for those who want it
---
Martha Stewart Super-Strength CBD Cream
Even Martha Stewart herself has a high-potency, strong CBD cream for your aching joints to enjoy.
Available for $99 from Martha Stewart CBD
The Super Strength CBD cream from Martha Stewart is packed full of 7,500 mg of broad-spectrum CBD extract for your aching, sore muscles to enjoy. Not only that, but buyers also enjoy the hydrating, soothing properties that this super-strength cream brings.
In general, though, I felt that this cream was best for reducing muscle discomfort and muscle stiffness, so if you're having trouble not feeling as mobile as you once did, this CBD cream may be a great option.
Read our full Martha Stewart CBD review
Pros & Cons
Pros
High-potency broad-spectrum CBD cream option
Great for reducing muscle soreness and stiffness
Good for improving mobility
Helps hydrate and soothe the skin
Smells amazing; not overpowering or artificial
Made with a cruelty-free formula
Lab tested for potency and purity (view COA)
Cons
Contains various unnatural ingredients
Few customer reviews on their website
Not as potent as some consumers may need
No full-spectrum options available
---
cbdMD Freeze Roller
cbdMD's Freeze Roller topical is the perfect option for easy, no-mess application and a whole lot of pain relief.
Available for $79.99 from cbdMD
The Freeze Roller from cbdMD is the perfect CBD topical for those who don't want to deal with any messy residue or cream. This topical rolls onto your skin flawlessly, as it comes with a massaging roller ball attached that dispenses the topical as you roll.
At 3,000 mg of broad-spectrum extract, this topical is quite potent, and may work well for those with arthritis pains, especially in the hands and wrists. You can take this topical with you anywhere you go, as it will never make a mess and you can apply it instantly with no hassle.
Pros & Cons
Pros
Available in various strengths, including a hefty 3,000 mg option
Affordably priced at $0.03/mg
Easy, no-mess application
Great for on-the-go use
Helpful for intense aches and pains, especially in hard-to-reach areas
Hundreds of five-star reviews
Lab tested for potency and contaminants
Cons
Not a cream option for those who prefer it
Cooling element is very strong; may be overpowering for some
Contains various non-organic ingredients
No THC options for those who want it
---
Aspen Green Muscle Relief Cooling Cream
Aspen Green's Muscle Relief Cooling Cream is made specifically to help ease the aches and pains in your muscles, giving you a soothing, cooling experience.
Available for $84.99 from Aspen Green
Inside Aspen Green's Muscle Relief Cooling Cream is 1,000 mg of full-spectrum CBD extract, used specifically to provide well-rounded, powerful effects when applied. This topical is made with 100% natural, food-grade ingredients and is free of plasticizers, artificial preservatives, and synthetic ingredients.
Aspen Green even uses a purified water-based formula for easy, better application and quick absorption. Altogether, you'll be pleasantly surprised by the amount of pain relief and relaxation that this CBD cream can bring, even with one of the lowest mg amounts on the list. (Just goes to show that numbers aren't everything!)
Read our full Aspen Green review
Pros & Cons
Pros
Uses a potent full-spectrum formula for better results
Helps to relieve deep-seated aches and pains, as well as workout knots
Gentle cooling sensation that's great for non-sensitive areas
Toxin-free, cruelty-free, and free of synthetic ingredients
Easy to apply
Water-based formula makes for quick absorption
High quality packaging and container
USDA-certified organic
Extracted from organic hemp grown in Colorado
Fully lab tested for potency and purity (view COA)
Cons
One of the pricier topicals on this list at $84.99 for 1,000 mg
Only one strength option available
No THC-free option
Effects fade quickly and re-application is necessary
---
Level Select Sports CBD Cream
If you're an athlete looking to experience some enhanced workout recovery, Level Select's CBD Sports Cream may be the right choice for you.
Available for $49.99 from Level Select
Level Select offers their high-quality CBD Sports Cream in three different strengths: 900 mg, 1,200 mg, or 1,800 mg depending on how strong of topical you need. The 1,800 mg option is great for those who suffer from severe pain and discomfort within the muscles and joints, as the formula is strong and incredibly fast-acting. In fact, Level Select uses nano-technology to shrink CBD cannabinoids, increasing their bioavailability and making it quicker and easier for your body to absorb the goodness.
Pros & Cons
Pros
Made in three different strengths
Affordably priced at just $49.99 for 1,800 mg
Great for post-workout recovery
Ideal for lowering pain and inflammation in muscles and joints
Good for hydrating and soothing the skin
Non-greasy and fast-absorbing
Fully lab tested for potency and contaminants such as pesticides, heavy metals, and solvents (view COA)
Cons
No THC options
No fragrance-free options
Mint scent is very strong and slightly off-putting
Relief is not long-lasting
Ingredients are not organic; some are not natural
---
Hometown Hero Delta-8 THC Roll-On
Hometown Hero's delta-8 THC roll-on may not be primarily CBD, but it sure does help with pain relief and muscle relaxation.
Available for $60 from Hometown Hero
Okay, we know: this isn't a CBD topical. But, it is a super powerful cannabinoid topical that's wonderful for those looking for enhanced pain relief.
This roll-on includes 1,000 mg of delta-8 THC paired with menthol to create a cooling, relaxing result. Hometown Hero's delta-8 Roll-On works quickly and doesn't make any sort of mess when applied. And, even though delta-8 is technically psychoactive, you don't have to worry about experiencing psychoactive effects because of the topical application. Instead, you just get enhanced, powerful relief that's quite different from your typical CBD experience.
Read our full Hometown Hero review
Pros & Cons
Pros
Includes 1,000 mg of delta-8 THC
Delta-8 creates powerful, unique pain relief and relaxation
Easy to apply; no-mess application
Nice cooling feature that isn't too powerful
Nearly instant relief
Donates a portion of each sale to a veteran-based charity
Fully lab tested for potency and contaminants such as pesticides, heavy metals, and solvents (view COA)
Cons
No CBD option
Not good for those wanting to avoid THC
Not available in every state
Not as potent as some of the stronger CBD options on this list
---
How We Tested the CBD Topicals
Curating this list of the top eight strongest CBD creams and balms wasn't something that we took lightly. In order for us to come up with these results, we had to first look at all the top brands and their CBD topical options. Then, we analyzed these products using strict criteria to see how they held up among each other in certain categories.
We rated them in these categories on a scale of 1-10, then averaged their scores. If a brand didn't score at least a 7.5, then it didn't make our list. Thus, we were left with our top products. From there, we ranked them solely based on overall potency and strength.
In case you want to know the criteria we used to analyze these products, we've written them out for you down below:
Lab Results: Does the brand have lab results readily available? Are they updated and come from accredited labs? Are they full-panel or standard-panel?
Potency: How potent is the CBD topical (mg/ml)? What are the milligrams? Did they use full-spectrum, broad-spectrum, or CBD isolate?
Effectiveness: How effective was the cream for pain relief? Did it reduce pain significantly or only a little? How long did the pain relief last? How long did it take to kick in?
Price: What is the price per milligram? Is the cream affordable or expensive? Is it worth its price point?
Formulation: What did the brand use to make the topical? Were the ingredients organic and natural? What kind of extract was used? Do any of the ingredients have the potential for harm?
Learn more about how we test products.
---
Finding the Strongest CBD Topical for You
When it comes to finding the strongest hemp CBD topicals, it's important to note that each topical works differently for every person. Thus, you can't just pay attention to numbers (milligrams). Sometimes, you may find that a full-spectrum 3,000 mg CBD cream is more helpful than a 10,000 mg CBD isolate cream. It simply depends on what works best for you and your body.
So, the next time you're feeling uncomfortable, sore, and in need of a bit of pain relief, try turning to one of the super-strong CBD creams on this list. These topicals are designed to help you feel better, whether it be reducing back pain, helping with arthritis, or even just lowering discomfort enough to fall asleep at night. You just have to find the perfect option for you — thankfully, you've got eight incredible options right here to choose from.
Related Picks