We independently test and review everything we recommend. Our reviews are completely unbiased. When you make a purchase using our links, we may earn a commission. Learn more
When it comes to CBD topicals, you have a lot of different options to choose from depending on what you enjoy most. Many people love turning to CBD balm sticks, as these products are easy to apply, don't create any mess, and you can take them with you practically anywhere you go. Plus, these specific products are great for helping with pain or dry skin, as you can apply them directly to the areas that need the most support. 
In the past, we've done a list of our favorite CBD balms, but these balm sticks are a bit different. While the formula is similar, balm sticks allow for much easier application, especially to hard-to-reach areas like the back. So, if you're interested in finding out which CBD sticks are worth trying for your aches and pains, we've got you covered.
We analyzed 23 brands and tested 7 popular CBD balm sticks, ranging from $12 to $130, to find the most effective options for targeted pain relief. (See how we test.)
7 Best CBD Balm Sticks
Below, you'll find a list of the top seven best CBD balm sticks on the market today. Some of these sticks are full-spectrum (which means they include THC), while others are broad-spectrum and entirely THC-free. There's something for everyone.
Best Overall: Batch
Batch CBD offers a few different types of CBD balm sticks, each with full-spectrum, high-potency CBD blends that are perfect for helping with pain.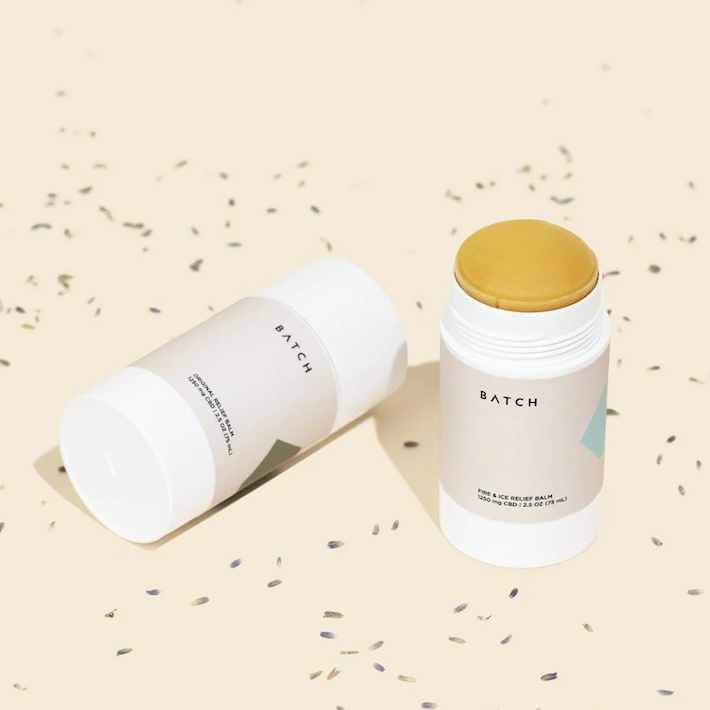 Available for $49.99 from Batch
Whether you're looking for something heating and cooling or just something that embraces the healing properties of CBD, Batch has you covered. Batch sells their Fire & Ice and their Original CBD Balms at affordable prices, with 1,250 mg of full-spectrum CBD extract in each.
The high-potency blend is wonderful for those who struggle with chronic, persistent pains and are in need of quick, easy relief. Simply put, this CBD balm stick is non-greasy, mess-free, and everything you'd ever want out of a CBD topical.
Pros & Cons
Pros
Two options: Fire & Ice and Original depending on your preference
Easy, no-mess application
Uses high-potency, full-spectrum extract to provide powerful effects
Great for reducing inflammation and lowering pain levels quickly
Helpful for those with chronic pains and arthritic pains
Subtle herbal and lavender-like scent add a calming element
Can be a period pain reliever if applied consistently
Made with natural ingredients; paraben-free and non-GMO
Comprehensive lab reports; tested for potency and impurities (view COA)
Cons
No non-fragrance options
Effects don't last too long; may need to re-apply after a few hours
Slightly boring packaging and labeling
---
Strongest Effects: Cornbread Hemp
If you want a high-potency CBD balm stick, Cornbread Hemp has a full-spectrum, THC-rich option that's great for you.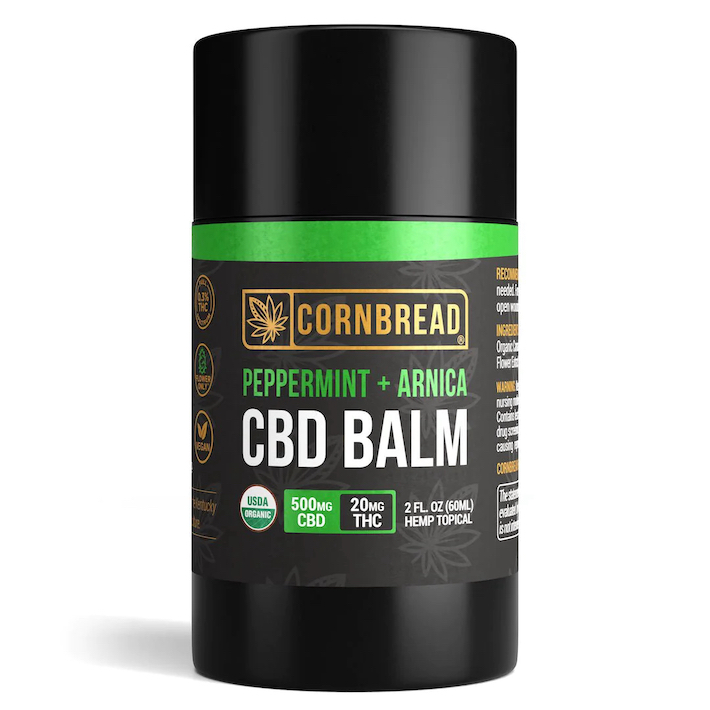 Available for $54.99 from Cornbread Hemp
Cornbread Hemp's CBD balm stick is packed full of both CBD and THC to create more potent, harder-hitting effects for those with chronic aches and pains. The balm contains 500 mg of CBD, 20 mg of THC total along with peppermint and arnica to increase therapeutic effects, helping bring all-encompassing, pain-relieving results to painful muscles and joints.
You only need a little bit of this balm to bring your body the comfort it needs, and the effects kick in after just a few minutes. Make sure to fully massage the balm into your skin for better, deeper results.
Pros & Cons
Pros
Strong blend of CBD and THC
Full-spectrum extract is ideal for pain relief and reducing inflammation
Helps those with chronic pain and discomfort
Good for hydrating and soothing the skin
Effects kick in quickly and effectively
USDA-certified organic ingredients
Comprehensive lab reports; tested for potency and impurities (view COA)
Cons
Greasy texture
Slightly gritty consistency
Takes a while to blend into the skin
Expensive at $0.10/mg
---
Best Selection: CBDfx
Whether you're looking to reduce muscle pain or hydrate and soothe the skin, CBDfx has the products for you.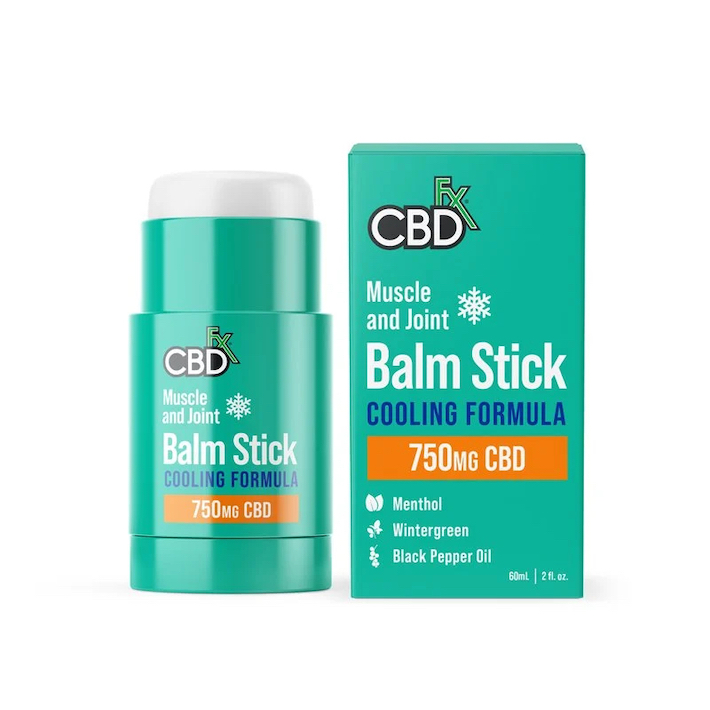 Available for $39.99 from CBDfx
CBDfx offers two different CBD Balm Sticks: one for Muscle & Joint and the other for Calming & Moisturizing depending on what you need most. Both of these CBD balm sticks come in various strengths, including a whopping 3,000 mg option if you have chronic, hard-to-manage pains or skin conditions.
These balms have some of the highest milligrams on this list, making them ideal for those who have more intense pains or conditions. But, despite being packed with cannabinoids, this great selection of types of balms and strengths is actually quite affordable, too.
Pros & Cons
Pros
One option for muscle and joint pain; another option for hydration and calming
Both CBD balms are packed with CBD; up to 3,000 mg
Affordably priced at $0.03/mg
Great for deep-seated pains
Non-greasy
Comprehensive lab reports; tested for potency and impurities (view COA)
Cons
Only provides temporary relief
Slightly wax-like residue left by the product
Messy application
No full-spectrum options for those who want it
Not certified organic
---
Best for Sensitive Skin: Charlotte's Web
Charlotte's Web is one of those CBD brands that always craft their topicals with natural ingredients, making the balms great for those with sensitive skin.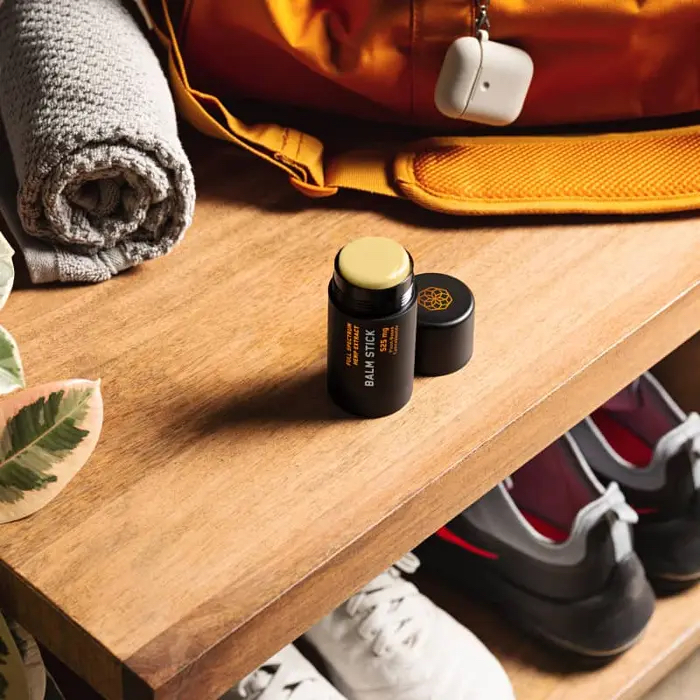 Available for $39.99 from Charlotte's Web
Finding a good CBD topical can be difficult if you're someone with sensitive skin. After all, you don't always know what a balm or cream entails. Thankfully, you do with Charlotte's Web CBD balm stick — and you couldn't ask for better ingredients.
This hemp-infused balm stick with CBD is free of eight major allergens, contains no parabens or PEGs, and is crafted without synthetic dyes or fragrances. This organic formulation allows your skin to better embrace the natural elements inside, especially the CBD. Many people find that this CBD balm is great for helping with aching, sore muscles, and it even works well on large areas of the body like the thighs and back.
Read our full Charlotte's Web review
Pros & Cons
Pros
Great for those with sensitive skin issues
Formula is free of unnatural additives like parabens or synthetic fragrances
Free of 8 major allergens
Great for reducing the discomfort of achy, stiff joints
Good for applying to larger areas of the body if need be
Provides nearly immediate relief
Comprehensive lab reports; tested for potency and impurities (view COA)
Cons
Slightly expensive at $0.07/mg
Slightly greasy
Not great for those with chronic pains
Only one strength option available
Not certified organic
---
Best Value: Lazarus Naturals
Lazarus Naturals offers a high-potency, extremely affordable CBD balm stick that's arguably one of the best values on the market.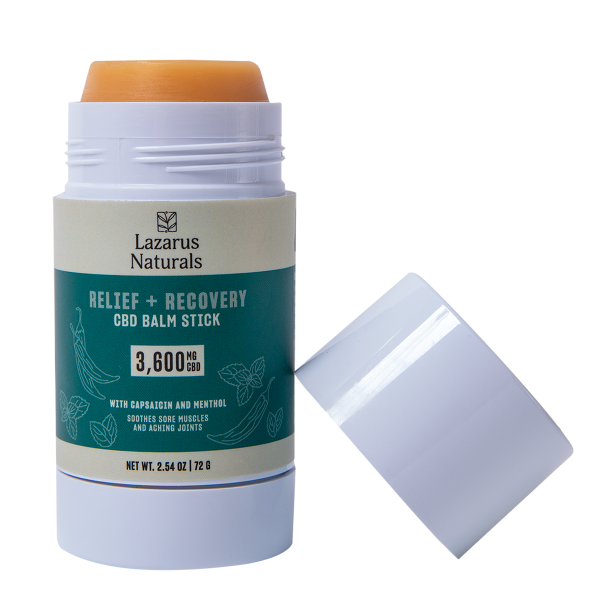 Available for $42 from Lazarus Naturals
If you want to experience some high-potency pain-relieving CBD balm sticks without spending too much money, Lazarus Naturals has the product for you. Lazarus Naturals sells two CBD balm sticks, one with 800 mg and the other with 3,600 mg of full-spectrum CBD. This means that they sell their products for between $0.01 – $0.02/mg — some of the lowest prices on the market.
These products are potent and work well when it comes to reducing pain and discomfort, though some buyers do have issues with the actual formula. Regardless, these products are powerful and affordable, a perfect combination for many customers.
Pros & Cons
Pros
Available in very potent full-spectrum options
Super affordable: $0.01 – $0.02/mg
Helps to reduce pain and discomfort throughout the body
Absorbs nicely into the skin
Provides nearly immediate effects
Great option for on-the-go relief for minor pains and headaches
Made with organic ingredients
Comprehensive lab reports; tested for potency and impurities (view COA)
Cons
Many consumers have trouble with the stick formulation compared to the previous formula
Stick often feels too dry for application
Application can feel waxy
People with limited mobility find this specific product's application difficult
---
Best for Sore, Aching Muscles: Level Select
Level Select is all about sports recovery, and their CBD balm stick is perfect for sore, aching muscles.
Available for $19.99 from Level Select
Whether you're getting ready to work out or are trying to recover from your strict exercise, Level Select's CBD Sports Balm Sticks are a good option for helping you feel better. These balm sticks are designed specifically to help reduce pain and inflammation in sore, aching muscles, making working out and even workout recovery a lot more comfortable than ever before.
You can choose between a 300 mg and 600 mg stick depending on the strength you need, and both of these come in a bright, cooling mint scent that your muscles will love.
Pros & Cons
Pros
Great for reducing sore, aching muscles, specifically before or post-workouts
Good to bring with you to the gym or when traveling
Has a nice cooling effect to help reduce muscle tension
Affordably priced at just $0.03/mg
Ideal for athletes and those who workout often
Fast-acting results
Comprehensive lab reports; tested for potency and impurities (view COA)
Cons
Very few customer reviews on their website
Low-strength options
No full-spectrum options
No fragrance-free options; mint is quite strong
Not certified organic
---
Best Application: ShiKai
ShiKai's CBD balm stick goes on to the skin beautifully, making it one of the best applications on this list.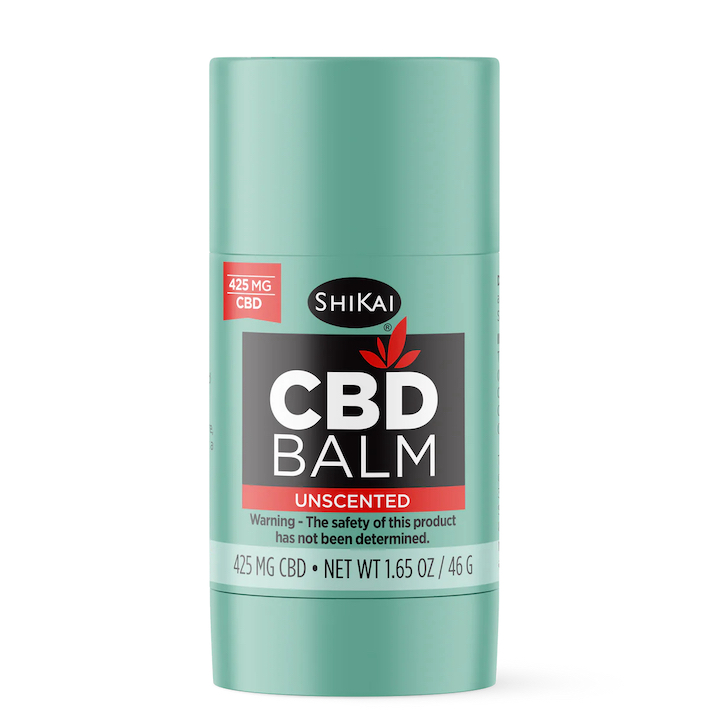 Available for $19.99 from ShiKai
ShiKai offers a huge selection of CBD topicals, including their CBD Balm Sticks. Their CBD Balm Sticks come in two different options: an unscented CBD balm, as well as a CBD balm with menthol. Of course, the one with menthol is ideal for those looking for added cooling relief for their muscles and joints, while the one without is perfect for those seeking fragrance-free relaxation.
Each balm has 425 mg of CBD, making them good for those with lower tolerances seeking mild relief and comfort. Thankfully, this balm applies on the skin beautifully, not leaving any mess, stains, or weird residue behind.
Pros & Cons
Pros
Two options: one with menthol and one without
Lower potency option is good for those with mild aches and pains
Has a beautiful application
Leaves no mess or residue behind
Provides nearly immediate relief
Paraben-free and sulfate-free
Comprehensive lab reports; tested for potency and impurities (view COA)
Cons
May not be strong enough for those with chronic pains
Low-potency
No full-spectrum options available
Results fade quickly
---
How We Tested the CBD Balm Sticks
With so many CBD balm stick products on the market, it can be hard to figure out which options are best for you and your aches and pains. In order for us to come up with this list of the top seven best CBD balm sticks, we first had to analyze all of the top brands based on strict criteria.
We evaluated the brands in every category, rating them on a scale of 1-10. Then, we averaged the scores in each category to get their overall score. If the brand didn't get at least a 7.5, we didn't include them in our list. From there, we ranked the remaining seven based on their strengths and weaknesses, coming up with their subcategories and rankings.
In case you want to know what the criteria were that we used to analyze these products, here you go:
Lab Reports: Did the brand have lab reports readily available on the website? Were the COAs full-panel or standard-panel? Are they up-to-date and come from accredited labs?
Formulation: Is the formula easy to apply on the skin? Does it have organic ingredients? Do they use full-spectrum CBD extract?
Potency: Is the CBD balm stick effective for pain relief? Is it high potency or low potency? Would it be better for a beginner or someone with lower tolerances?
Price: Is the CBD balm stick worth the value? What is the price per milligram?
Learn more about how we test products.
---
The Best CBD Balm Sticks for On-the-Go Use
If you're in need of some easily accessible, on-the-go topical products, there's nothing better than a CBD balm stick. These CBD balm sticks are perfect for giving you a dose of relief whenever you need it, wherever you are. Whether you're looking for something cooling, warming, or just pure CBD extract, we've got something for everyone on our top seven list. All you have to do is take a look into each one of these remarkable brands and figure out which CBD balm stick most appeals to you.
Related Picks