We independently test everything we recommend. Our reviews are completely unbiased. When you make a purchase using our links, we may earn a commission. Learn more
With delta-8 products becoming more popular than ever, finding the right product for you can be a bit more difficult than you anticipated. After all, there are just so many delta-8 products for you to choose from. But, that's why we've done the hard work for you.
After taking a look at over 45 different delta-8 tincture brands, we've come up with a list of the top 10 that are worth trying. These ten delta-8 tinctures and oils are not only potent and long-lasting, but they're products that you'll want to keep consuming day after day. Let's dive right into our list of the best delta-8 tinctures available.
We analyzed over 45 brands and carefully tested the most popular tinctures, ranging from $14 to $65, to find the safest and strongest options for calming the mind and body. (See how we test.)
10 Best Delta-8 THC Tinctures
After extensive testing, we've narrowed down our top picks for the best delta-8 tinctures available right now.
Best Overall: Hometown Hero
Hometown Hero makes the best all-around delta-8 tincture available.
Available for $50 at Hometown Hero
After rigorous analysis, it became clear that Hometown Hero offers some of the best delta-8 tinctures on the market today. (It did get second place in the tinctures category of the High Times Hemp Cup back in 2021, after all.) These high-quality tinctures don't give off any unpleasant tastes or textures, and you have a few different flavors to choose from to make the experience even better. The effects of Hometown Hero's tinctures are incredibly hard-hitting, but not overwhelming or intense; this creates a wonderful balance of strong support and a relaxing, euphoric high.
Read our full Hometown Hero review
Pros & Cons
Pros
Offers two strength options: 600 or 1,200 mg delta-8 THC
Strong effects
One of the better-tasting

tinctures

we've tried

Good packaging and presentation

Delta-8 extract is derived naturally from the plant, not converted from CBD

High Times Hemp Cup winner in 2021
Generous return policy
Donates to veterans with every purchase
Easy to find, reputable, and clean lab results (view COA)
Cons
Very expensive at $50 for 600mg
Doesn't clearly list ingredients on their site
Only three flavors available
Highest potency offered is 1,200 mg which may not be strong enough for experienced users
---
Highest Quality: Binoid
The D8 tinctures from Binoid have the highest overall quality and potency.
Available for $27.99 from Binoid
Binoid is well-known for its high-quality, potent cannabinoid products, and its delta-8 tincture is no exception. This tincture is easily the highest-quality on this list, as it produces powerful effects that even the most experienced canna-consumers will be shocked by. Plus, the packaging and purity of the tincture itself show you firsthand that you've got a top-shelf product. You can choose from 1000, 2500, or a whopping 5000 mg delta-8 oil depending on what strength is ideal for your health and wellness. Just keep in mind how strong these tinctures are when dosing.
Pros & Cons
Pros
Incredibly high quality product, from flavor to potency and overall functionality
Great strength options for consumers of all experience levels
5,000 mg tincture produces extremely strong results
Affordable prices ranging from $27.99 – $67.99
Long-lasting, potent results that help with anxiety, pain, and mood
Cons
Noncomprehensive lab reports – no testing for impurities (view COA)
Tincture COAs feel incomplete and bare
Strong hemp flavor that lingers in the mouth
---
Best for Anxiety: Hi On Nature
Hi On Nature is right! These plant-based offerings offer the chill high we all need – it would be a real crime to count this brand out.
Available for $25 at Hi On Nature
Just as their name suggests, Hi On Nature's delta-8 THC tincture is incredibly effective for providing a potent dose of psychoactive supplied by nature. These tinctures are designed to help you chill out, relax, and unwind even after your toughest day. The tincture itself is affordable and does offer prominent sleepy results, so your anxiety is sure to quiet down a bit following consumption. Make sure to enjoy this tincture when you have little to do, as it will have you feeling oh-so-chill.
Pros & Cons
Pros
Free shipping over $50+
Potent proprietary formulations up to 10,000 mg
Good for microdosing
Affordable
Dark bottles prevent cannabinoid degradation from sun exposure
Colorful flavor profiles
Good for those who are frequently stressed or get anxious easily
Lab results easy to locate
Offers 60 servings per container
Cons
Not lab tested for contaminants (view COA)
Little product-specific information
Product purity is a mystery
---
Strongest Effects: Koi
Koi's delta-8 THC tinctures produce some of the strongest effects.
If you're looking for super strong effects with long-lasting results, it's best to turn to Koi. Koi CBD offers their delta-8 tinctures in various flavors and with a potent 1,000 mg formula that's sure to have you feeling like you're on cloud nine. These tinctures, even though they don't have the strongest milligrams on the list, produced some of the most heavy-hitting effects from start to finish. So, if you're wanting powerful results, it's time to turn to Koi.
Pros & Cons
Pros
High-potency formula with powerful, long-lasting results
Best tasting tincture with the sweetest flavors

Cleanest quality product

Sleek packaging
Multiple flavor options (many tinctures come unflavored)
Most credible and transparent lab reports in the industry
Comprehensive lab reports – tested for potency and impurities (view COA)
Cons
Very expensive at $49.99 for 1,000 mg
Flavors are unpleasant and taste quite artificial in the mouth
Effects passed quickly
Only one strength option
---
Best Tasting: Moonwlkr
Best delta 8 tincture for mouth-watering flavors.
Available for $39.99 from Moonwlkr
Moonwlkr offers three delta-8 THC tinctures and all of them produce some of the best tasting flavor profiles you'll ever try from a tincture. These tinctures come in mouth-watering Orange Creamsicle, Strawberry Auora, and classic Vanilla flavors — all of which you won't mind consuming day after day. The effects kick in quickly, and right off the bat, you'll pick up on the potent notes of giggliness and euphoria.
Pros & Cons
Pros
Delicious flavor profiles and no residual aftertaste
Flavors are natural and distinct
Great for boosting mood and inducing euphoria
High-quality tincture bottles and eye-catching packaging
Comprehensive lab reports – tested for potency and impurities (view COA)
Cons
Expensive when not on sale
Not incredibly potent at only 1,000 mg
---
Fastest Acting: Elyxr
Elyxr's premium tinctures create potent delta-8 THC effects that seem to hit you almost immediately after dropping.
Available for $29.99 from Elyxr
Compared to other delivery methods, when it comes to tinctures, you always want the fastest results possible. Elyxr premium delta-8 tincture is a high-quality product that provides fast-acting and long-lasting effects. After consumption, you will only have to wait a few minutes for the effects to kick in, and once they do, you'll love the flavors that emit on the exhale. If you don't want to wait for hours for your tincture to give you what you want, this is a good tincture to try.
Pros & Cons
Pros
Features iconic strains
Available in a number of potencies and blends
Offer 1, 2 and 3 packs
Cohesive designs
Nano-infused
Terpene-rich
Cons
Not lab tested for contaminants (view COA)
No free shipping
Unnatural flavoring
Low potencies
Little product-specific information
---
Best Buzz: Arete Hemp
Arete Hemp has a potent full-spectrum delta-8 tincture that will give you the desired effects you're looking for all day long.
Available for $24.99 from Arete Hemp
If you're looking for a good delta-8 tincture that you can enjoy all day long, Arete Hemp has the perfect one for you. This tincture is not for the weak and gives a powerful, stimulating high – we're not kidding, the brand gives fair warning on their site. The strawberry flavor does a good job of masking the hemp taste typical of most tinctures and comes at an affordable starting price of a little over $20 bucks. Those who are experienced and well-schooled in cannabis looking for a concentrated delta-8 high ought to give these tinctures a trial run.
Pros & Cons
Pros
Very affordable
Incredibly potent and suggested for THC connoisseurs and stoners
Payment plans offered
Provides a flavorful, relaxed vibe that mellows you out
Useful product information on each product page
Comprehensive lab reports – tested for potency and impurities (view COA)
Cons
Herbaceous flavor may be unpleasant to some
One tincture option
Unappealing designs
---
Best for Beginners: Harbor City Hemp
Best delta-8 tinctures for those new to delta-8 THC consumption.
Available for $39.99 from Harbor City Hemp
Harbor City Hemp is a great brand for beginner delta-8 THC consumers. They offer low-potency delta-8 THC tinctures that give you a gentle introduction into the world of D8, and several potency options so you can slowly make your way up as you go.
Harbor City Hemp has tincture options ranging from 250 mg and 750 mg, all the way up to a whopping 12,000 mg so there are plenty of options for consumers to choose from, with the +1,500 mg options being best for those more experienced with the cannabinoid. These tinctures produce mild, supportive effects that newbies will quickly fall in love with.
Pros & Cons
Pros
Offers the highest potency tincture in the market at 12,000 mg delta-8 THC
Also offers low-potency options for beginners
Very affordable prices starting from $9.99
Good for promoting relaxation and stress relief
Lab reports are frequently updated
Comprehensive lab reports with testing for potency and impurities (view COA)
Cons
Low-quality packaging and little product information
Lower potency tinctures produce very mild results that are too gentle for experienced consumers; if you have a high tolerance go with the high potency options
Strong hemp flavor and unpleasant texture in the mouth
---
Best Sugar-Free Tincture: Canna River
Canna River makes the best sugar-free delta-8 oil with delicious flavors.
Available for $20 from Canna River
Even though they taste deliciously sweet and juicy, Canna River's delta-8 oil tinctures don't contain any sugar. These tinctures are perfect for those who want to enjoy a D8 tincture but want to make sure they avoid any excess sugar or unhealthy additives. Canna River's delta 8 tinctures are made with natural Stevia, so they still taste delicious, but they also put your health first.
Pros & Cons
Pros
Sugar-free tinctures with delicious flavor options
Two strength options of 1,500mg or 3,000mg
Can choose between Berry, Guava, Strawberry Lemonade, and Lemon Raspberry
Cons
Noncomprehensive lab reports – no testing for impurities (view COA)

Some lab reports are difficult to locate but they are there

Not as powerful as other tinctures on this list
---
Best Unflavored Tincture: Highly Concentr8ed
If you don't want any artificial flavors in your delta-8 tincture, Highly Concentr8ed is the brand for you.
Available for $14.99 from Highly Concentr8ed
Highly Concentr8ed offers their delta-8 THC tincture in 1,500 mg and a whopping 5,000 mg tincture, both unflavored to help you fully enjoy the plant benefits you're consuming. Even though this tincture is unflavored, the hemp taste is very easy to manage, and it doesn't leave any funky notes in the mouth. Plus, at only $14.99 for 1,500 mg, that's a deal that's hard to beat.
Pros & Cons
Pros
Unflavored options for those who prefer the natural taste
Extremely potent options ranging from 1,500mg to 5,000mg
Very affordable, starting at just $14.99 for 1,500mg
Lab tested for potency and residual solvents (view COA)
Cons
Test results could be more detailed
Cheap, nondescript packaging
No-refunds policy
---
How We Tested the Best Delta-8 Tinctures
We spent weeks analyzing and testing the most popular delta-8 infused tinctures on the market to determine the best options for helping with things like anxiety, sleep, and pain relief. We first start with a comprehensive list of all D8 tinctures sold on the market. From there, we analyze the lab reports for each product and eliminate any brands that don't provide credible and reliable lab reports. Finally, we conduct first-hand testing for the top options and put together the final list.
To keep testing fair for all brands, we take the same amount of tincture on a full stomach. Time of day would vary, if one made us tired at night we'd try it again during the day to see its full effects. A few tinctures were tested multiple times to make sure we could best understand each. For every test, we took four full drops (4ml) of the tincture sublingually; we found 4ml to be a good amount for our tolerance.
Learn more about our review process here.
---
Guide to Buying Quality Delta-8 THC Tinctures
Still have questions about delta-8 tinctures? We have answers.
How Are Delta-8 THC Tinctures Made?
Every company makes its delta-8 THC tinctures differently. However, most brands start by extracting the delta-8 cannabinoid from hemp plants. Then, they take that delta-8 and infuse it into a carrier oil of some type, usually an MCT or hemp seed oil. This creates a tincture that you can consume and easily breaks down the cannabinoids so they can get to work.
What Are the Effects of Delta-8 Tinctures?
The effects of delta-8 oils vary from person to person. But, many people find that delta-8 is good for providing a mild high and strong therapeutic support. Most consumers report delta 8 products being helpful for reducing anxiety and stress, as it tends to be a quite calming cannabinoid. But, you will get mildly high.
Do Delta-8 Tinctures Get You High?
Yes, delta-8 tinctures do get you high. Delta-8 THC is a psychoactive cannabinoid; however, it is not as psychoactive as delta-9 THC. Thus, you're not going to experience as strong of a high from delta-8 as you would from delta-9, but it still does produce psychoactive effects.
RELATED: How Long Does Delta 8's High Last?
Are Delta-8 Tinctures Stronger than Edibles?
Not necessarily. Edibles tend to produce stronger highs because of the concentration of THC. But, you can find tinctures and edibles that are both of the same potency.
What Is the Strongest Delta-8 Tincture?
The strongest delta-8 tincture on this list comes from Binoid. Binoid has a huge selection of highly concentrated, high-potency delta-8 tinctures that are great for the most experienced consumers. They offer their tinctures at up to 5,000 mg delta-8 THC.
How Many Drops of Delta-8 Tincture Should You Take?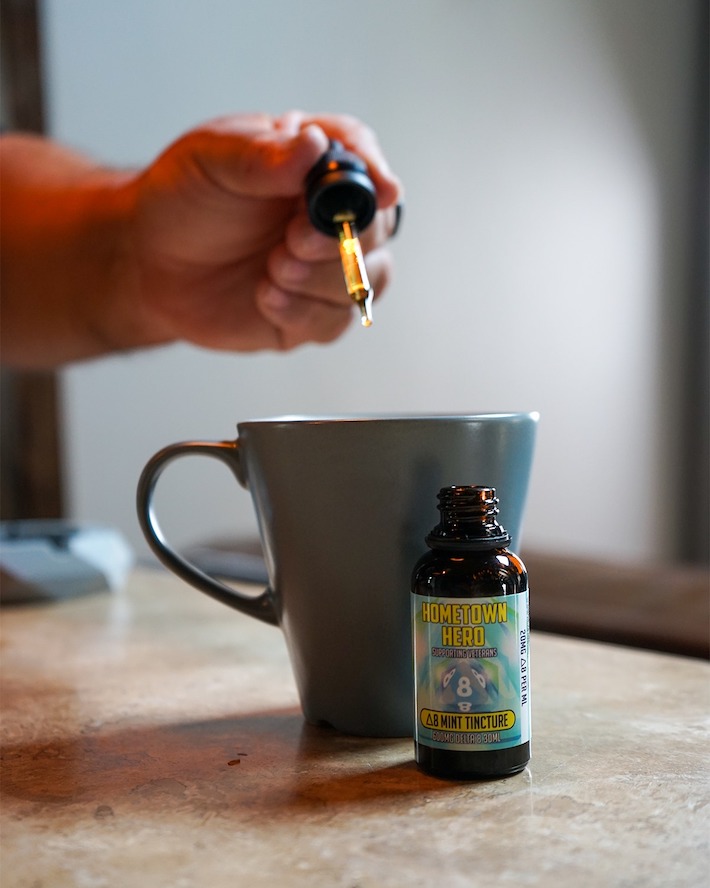 How many drops of tincture you take will depend on your tolerance level and the strength of the product. If you're new to the world of delta 8 THC, then you should start with a low dose of D8 and only fill the dropper halfway. That would be half of a dose. If you find that this amount isn't strong enough, you can fill the dropper all the way.
How Long Does It Take for a Delta-8 Tincture to Kick in?
It depends, but people can experience effects anywhere from 15 minutes to an hour after consuming delta-8 tinctures. For the quickest effects, sublingual consumption is the most effective method.
Final Thoughts
Finding high-quality delta-8 tinctures may be a bit of a process, but it's definitely not impossible. There are so many brands that offer pure, tasty, and potent tinctures that are perfect for consumers of all types, with all sorts of backgrounds — you just have to take the time to find them. Here, we've given you 10 incredible options to choose from, with each tincture offering something special. Whether you need a delta-8 tincture for a boost of bliss, one that tastes yummy, or one that's great for before bed, this list has something for everyone.
Related Picks
---
Editor's note: We updated this list on October 3, 2023, to remove seven of our initial recommendations from Delta Munchies, Delta Extrax, Chill, Cycling Frog, 3Chi, Plain Jane, and Premium Jane which have been discontinued. Additionally, we included three new product recommendations from Hi On Nature, Arete Hemp, and Elyxr.