Each ceramic bong recommended here has been independently researched by our product research team. If you make a purchase using our links, we may earn a small commission.
Ceramic bongs are arguably the most aesthetically pleasing type of bong. While glass has many benefits and glass bongs also look pretty cool, ceramic offers many of the same benefits in terms of flavor and their style is impossible to replicate. You can stick many of the best ceramic bongs on a shelf in your house and your grandma would just assume it's a nice vase or ornament.
But when it comes to smoking, they perform as well as glass and usually cost a little less too. But which is the best ceramic bong to pick up? While there are lots of different options out there, here are our picks for the cream of the crop.
What Are the Benefits of Using a Ceramic Bong?
Ceramic bongs offer many of the benefits of glass bongs, but usually at a lower price. The most important one when it comes to performance is that ceramic has no impact on the flavor of your herb, and in this regard they're on par with glass.
They're also generally really well-made and presentable, with many working as legit mantelpiece items or at very least making your bong collection look much cooler.
There are a couple of downsides, though. Ceramic bongs are the most fragile of the commonly-used materials, and are heavier than glass too. However, if you don't intend to take it around with you too often, they're great for both display and general use.
10 Best Ceramic Bongs
10 – Pistol Grip Ceramic Water Pipe
You can pick up the Pistol Grip Ceramic Water Pipe for $36.95.
While it might not be as "classy" as many of the ceramic bongs on this list, the Pistol Grip has the look you'd expect from the name.
The pistol grip element largely comes from the section below the downstem, which has a few ridges cut into it to make it comfortable to hold, but it also vaguely resembles a joystick. This is especially true because of the ashtray base at the bottom, improving the functionality of the bong and also helping it stand reliably.
The body of the bong is completely ceramic, standing 8.5 inches tall, and the downstem and bowl are made from stainless steel. Overall it looks pretty cool and for the price it's a fantastic deal.
Pros
Cool black ceramic body
In-built ash tray
Comfortable grip design
Affordable price
8.5 inches tall
Stainless steel bowl included
Cons
Not the classiest design
No color or design options
---
9 – Skeleton Cupbearer Ceramic Water Pipe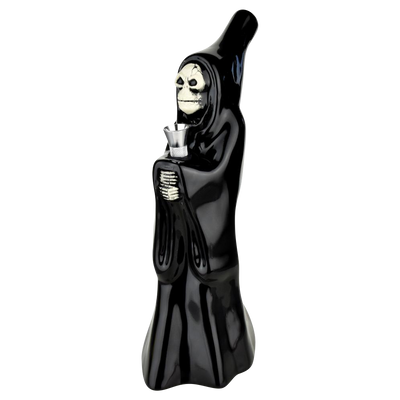 The Skeleton Cupbearer Ceramic Water Pipe costs $32.95.
Although the Skeleton Cupbearer's design won't suit everyone – it's basically Death holding your bowl – it's a great all-ceramic bodied novelty bong that makes a great conversation piece.
It stands 10 inches tall and is definitely a unique looking bong, but there's still plenty of space to add water to the bottom. The shape also makes it pretty comfortable to hold, although the bowl is a little closer to the mouthpiece than with most bongs.
The fixed downstem is diffused, which gives a smoother smoke and attaches to a threaded metal bowl which is also included. We're not saying this is the very best ceramic bong out there, but it's fun and works great, and comes for a very affordable price.
Pros
Unique design
Affordable
Black ceramic body
Fixed diffused downstem
Threaded metal bowl included
Conversation piece
Cons
Design isn't for everyone
The bowl sits a little close to the mouthpiece
10 inch size makes it hard to move around
---
8 – The Magic Potion Ceramic Water Pipe
The Magic Potion Ceramic Water Pipe costs just $35.95 ($40 usual price).
If you're in the market for an affordable ceramic bong, the Magic Potion is a well-designed but simple option that's well worth considering.
In all-black ceramic, the bong has the shape of a big-bottomed chemistry flask, with a kind of alchemist aesthetic that gives the whole thing a very cool look. The rounded bottom is designed to make it comfortable to hold, and the entire thing stands 7 inches tall.
It comes with an aluminum bowl and a fixed downstem, so it's ready to smoke with as soon as it comes out of the box. It's another great option if you're on a budget, but they use high-quality materials throughout and the performance is hard to fault.
Pros
Excellent price
Alchemist flask design
All-ceramic body
Aluminum bowl included
7 inches tall
Comfortable to hold
Cons
Simplistic design
No color options
---
7 – Iro Recycler Rig
The Iro Recycler Rig costs $168 new ($200 regular price).
The Iro Recycler Rig is a beautifully designed ceramic bong and rig, with a shell-like recycler section attached to a bell-like base.
The bong is made from porcelain with a white ceramic glass glaze coating the inside and outside, and everything is hand-crafted. The recycler section brings water up from the base and allows it to drain back down to double up the water filtration for your inhales.
The design is really awesome, with the tube feeding the recycler doubling up as a handle, making it super convenient to use. The whole thing stands 6.5 inches tall, and either comes with a glass bowl or a quartz nail, so you can use it for bong rips or dabs depending on your preference.
Pros
Excellent design
Recycler system for better filtration
Comes in a range of colors
Glass bowl or quartz nail included as standard
Replaceable downstem
Glazed interior to help with cleaning
Handcrafted
Cons
Expensive
Small tube sections make it difficult to safely transport
---
6 – Crackling Lava Bong
You can pick up the Crackling Lava Bong for $95.
This is a one-of-a-kind item and a great choice if you're looking for the best ceramic bong.
The piece is a real work of art, with the look of an artifact that washed up on a sun-drenched beach somewhere. The ceramic itself has a cracked, aged look and the rounded bottom section is partially covered with igneous rock-like lava stain.
The bowl is also ceramic and built in to the body of the bong, which is a nice feature aesthetically even though it does reduce the flexibility of the system a little. There's a small carb cap beside the bowl that's convenient to cover with your finger or thumb as you smoke.
While the specific bong might be out of stock soon, they have a range of similar options in store, including a few with the same general look.
Pros
Amazing, one-of-a-kind design
Good price considering the uniqueness
Comes with several screens
Well-positioned carb cap
Genuine show-piece
Very portable
Cons
Can't replace the bowl
Very limited supply
---
5 – Pineapple Express
The Pineapple Express costs $75 new.
The Pineapple Express is an excellent bong either named after the classic stoner movie or the strain the movie itself references.
In any case, the bong has a standard beaker-style bong shape and stands directly upright, made entirely from wheel-thrown ceramic, aside from the glass downstem and slide-style bowl. The bong stands around 7 inches tall, with the stem widening out a little at the top for the mouthpiece.
It's decorated with a pineapple ring design, with a black-grey background that combine to make the bong stand out from the crowd. The functionality might be pretty much par for the course, but the design and reasonable price make it a solid option if you're looking for a ceramic bong.
Pros
Wheel-thrown ceramic bong
Glass downstem and slide-style bowl included
Great appearance
7 inches tall
Sturdy design helps with portability
Affordable price for the quality
Cons
Straightforward design with no extra features
---
4 – Allora – Stone II
The Allora – Stone II bong costs $125.
ABLauren's Allora Stone II bong is a wheel-thrown, hand-crafted and painted ceramic bong that uses speckled stoneware and looks classy enough to be an ornament without the downstem and bowl.
It has a classic beaker bong design, with a slightly wider-than-average base section (up to 4 inches at the base) and a slide-style glass bowl. It stands 6 inches tall, with most of this occupied by the thin tube and mouthpiece.
The design is really the major selling-point here, not to mention the inherent uniqueness of any hand-made piece, but the performance is just what you'd expect from a high-quality ceramic bong. It's also glaze-fired around the rim and on the interior, making it much easier to clean.
You can pick it up in "Misty Mountain" or "Sun Stone" color schemes.
Pros
Breathtaking design
Wheel-thrown and completely hand made
Slide-style glass bowl and downstem included
Glazed rim and interior
6 inches tall
Sturdy design
Color options
Cons
A little expensive if you don't value the craftsmanship
Basic features
---
3 – Hexagon
The Hexagon is one of the most modern-looking ceramic bongs out there, eschewing the vase-like aesthetic of many of the options in favor of an angular, modern look.
It has the overall form of a regular bong, except it's as if someone has made it out of polygons, all glazed in either black, white or red. It's a little bigger than most ceramic bongs, standing 9.5 inches tall, but it still fits comfortably in your hand.
The bong comes with a glass downstem and bowl as standard, and it's designed to be stain-resistant and easy to clean (you can even put it in the dishwasher). The downstem also filters smoke, making the whole experience smoother than an average bong without the need for recyclers.
Pros
Unique design
Stain-resistant and easy to clean
Glass bowl and downstem included
Comes in black, white or red
Dishwasher and freezer safe
Downstem also acts as a filter
Banger attachments available
Cons
A little bulky
Not much of a show piece
---
2 – My Bud Vase Mermaid Water Pipe
The Mermaid Water Pipe from My Bud Vase costs $134.10 ($149 regular price).
The Mermaid Water Pipe takes design cues from the mythical creature that gives it its name, but the overall look is something like a mermaid crossed with a flower vase.
It uses crackle-glazed blue, green and brown colors to evoke the ocean while still maintaining a classy look, to the point where it would be nice as a genuine vase. The mouthpiece is fin-shaped, with a stable base and a cut-out section at the front, with a green glass bowl included and a fixed downstem.
The bong is pretty tall, at 10 inches, but it's presentable enough that you can easily leave it on your mantle without arousing suspicion. It hits great, and even comes with a coral-themed cleaning poker to help with maintenance.
Pros
Eye-catching, mermaid-inspired design
Beautiful color scheme
Comes with matching glass bowl
Themed cleaning poker included
Premium ceramic construction
Glazed finish
Cons
Fin mouthpiece isn't the most practical design
Quite tall at 10.5 inches
A little expensive – worth it for a show-piece but it's worth noting
---
1 – Chongo
On the face of it, the Chongo by Summerland looks about as basic as a bong can. But behind the apparent simplicity is high-quality construction and dependability above all else, and this earns it our pick as the best ceramic bong.
The bong has a flat-bottomed spherical lower section, with a matching ceramic bowl and downstem. The archetypal appearance means you can't exactly disguise it as a vase, but it uses food-grade glaze and ceramic, and high-quality silicone for the grommet.
Each one is also hand-made, so even though it will look basically like the others, every single one has some unique elements and is one-of-a-kind. It's pretty big, at a foot tall, but it's stronger and more dependable than the majority of ceramic water pipes.
It's available in five colors – glossy white, charcoal, dust, blue lake and terracotta – but at time of writing only the white is in stock. They even plant a tree for every one sold.
Pros
Simple but effective design
High-grade materials used throughout
Beautifully hand-crafted
Excellent carburetion and all-round performance
Solidly-built
Glazed interior and exterior
Ceramic bowl included
Cons
Expensive
Not the most exciting design
Some colors not currently available
---
Bottom Line
Ceramic bongs aren't for everybody, and they might not even become your everyday smoking companion, but they offer tons of benefits in terms of both design and functionality.
There are options to suit most budgets, and even though the quality definitely improves as you pick up more expensive bongs, even the more affordable ones pack a punch. So if you're looking for a show-piece, there are plenty of options in the list and alternatives from the same sellers. Now you can smoke in style.
Related