Pure Beauty is a brand that knows how to create an image that says "we're cool" while also creating some of the best cannabis items currently on sale. The brand is Latinx and woman co-owned, and delivers style to your cannabis routine. Each item's packaging is sleek, fun, and modern. The price point is competitive and is not the most wallet-friendly, but the quality is impeccable and leaves most other brands in their dust at just how perfectly curated their flower is.
Through each different item we tested, the experiences were unique and well worth the cost, but hoping Pure Beauty starts to have more products available. The selection is great but small, and it can get hard to find the product you fell in love with again. I had to search a few stores before being able to buy more than one or two products at the same place – so some consistency in stock is needed too. However with the introduction of a drink, they are expanding, so here's hoping more strains are created and that eventually some oils and concentrates follow.
Highlights
This weed is potent and is felt almost immediately. After about three hits, the feeling of each item envelops you and keeps you on a high for several hours. Each inhale is smooth, and full of flavor. The potency is not for beginners and packs a big punch even for daily smokers like myself. However, you can smoke Pure Beauty day in and out, and it won't be harsh on your throat like some lower quality herb.
What's Good
Premium flower
Hemp-paper used in their pre-rolls and joints
Beautiful, and simple packaging
Easy to find, and good strain variety
Environmentally conscious
Woman and minority owned
What's Bad
Only flower and prerolls (though they just added a drink!)
Editor's Pick
Pure Beauty Lobo Loco is by far my favorite item in the brand's lineup. The floral and woodsy aroma is potent, delicious, and warm. Perfect for a night inside from the cold winter, inhaling from a bubbler, and reading a good book.
---
Pure Beauty 'Babies' Pre-Rolls Review
Don't let these mini-sized joints fool you. Each tiny joint is filled with about a third of a gram of Pure Beauty's Indica flower. I'm not usually an indica fan, however, these "babies" won me over. Yes, they are adorable and the packaging is very cool looking but the true selling point is the punch they deliver. Though they be little, they be mighty! Even sitting at only 20%, this indica baby had me sunk onto my couch, and I felt my body turn to jello. Though still a bit on the costly side, Pure Beauty defines quality.
Highlights
The "baby" sized joints are perfectly sized to deliver a quick, intense, and swiftly felt high. Pure Beauty's indica flower is relaxing but allowed me to actually feel the full benefits of being relaxed before putting me to sleep for the night. The taste itself is a bit fruity – a bit berry-like even, which is pleasant but not overwhelming.
Effects
Effects felt: Sleepy, Relaxed, Bliss, Calm
Good for: Insomnia, Anxiety, Stress
Not good for: Working, Physical Activities, Daytime
Specs
Strain Type: Indica

CBD:

0%
THC: 20.19%
Price: $40 ($4/mini)
---
Pure Beauty 'Lobo Loco' Flower Review
Pure Beauty's Lobo Loco is one fantastic journey in cannabis. It's euphoric yet relaxing, with an even balance of focus and calm falling from your head to your toes. Be warned, this hybrid is strong. My friend is more of an occasional smoker and she was asleep within minutes – but she said it was one of the most restful nights of sleep of her life, so take with that what you will! For me, the daily, multiple times a day smoker, it was a great way to let my mind wander and escape the daily obligations of an overworked mom.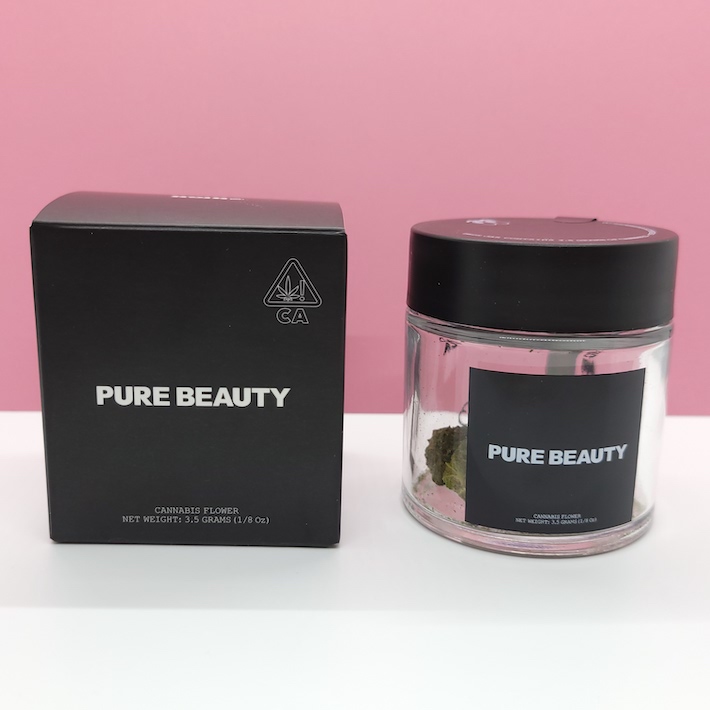 Highlights
The floral and woodsy aroma is pretty spectacular and it contains a very heavy head high and warm sensation that is almost like an old, familiar coat. You know – the coat you forgot at the bottom of your closet from a year ago, but the second you put it on, it warms you all over and that memory of a perfect winter evening comes running across your memory. And the nuggs? Oh they are just too pretty to look at.
Effects
Effects felt: Relaxed, Happy, Head buzz
Good for: Evenings, After Dinner, Inspiring
Not good for: Outdoors, Physical Activity
Specs
Strain: Old Man's Purp x OGKB x Wet Dream
Type: Hybrid

CBD:

0%
THC: 28.60%
Price: $45/3.5g
---
Pure Beauty 'Threesome' Pre-Roll Review
Pure Beauty's "Threesome" pack is convenient, sleek, and potency guaranteed. Perfect for any time of day, each half gram pre-roll holds just the euphoric and creative boost you need throughout the day. Though a little on the costlier side at over $8 per 0.5g pre-roll, you really only need half the pre-roll to get very high. It's a strong high that lasts for at least an hour or two, but you'll be reaching for this herb anytime you want to get a smile on your face.
Highlights
The aroma is sweet and tropical, and the happiness will keep washing over you for a good couple of hours. And consistent with Pure Beauty's aesthetic, the look is clean, and with its defined style. Each pre-roll has the tip marked with Pure Beauty's eyes, and the clean look of the hemp wrap completes the signature appeal.
Effects
Effects felt: Uplifting, Euphoric, Happy
Good for: Outdoors, Creativity, Energy
Not good for: Sleep, Anxiety, Pain
Specs
Strain Type: Sativa

CBD:

0%
THC: 24.74%
Price: $25 ($8.34/preroll)