Papa & Barkley is more than just a CBD brand: they're one of California's leading cannabis topical brands. With this, it's obvious that this company knows a thing or two about high-quality products.
Papa & Barkley has a wonderful reputation for both their products and customer service; they have options for everyone and will help you find whatever you need. Even though the brand is nationwide and quite well-known in the canna-community, Papa & Barkley still manages to give off a small business vibe that's impossible not to enjoy.
Honestly, it's hard to say any negatives about this brand. They have an incredible selection of CBD products that allows you to find the perfect product for you. I will say, though, that the flavors of some of their products are a bit strong and may be unpleasant for beginners. Also, the CBD potencies aren't as strong as some (more experienced) consumers may like.
Also, check out our review on Papa & Barkley cannabis line of products.
Highlights
Papa & Barkley is one of those brands that you have a hard time not loving. Their products are well-made, look high-quality, and produce beneficial, well-promoting effects. Though the flavors of these products are a bit strong — and they don't have the potency range I'd like — the overall result was still more than worth it. If you're looking for a genuine, down-to-earth brand, Papa & Barkley is the company for you.
What's Good
Potent, highly concentrated CBD
True full-spectrum, rich in terpenes
Chemical-free extraction
Effective for relieving stress
Different formulas
Beautiful packaging
What's Bad
Strong flavors
Selective range of potencies
Technical Details
| | |
| --- | --- |
| Availability: | Nationwide |
| Price: | $$ |
| CBD Strength: | 225-1800mg |
| THC Content: | <0.3% |
| Extract Type: | Full-Spectrum |
| Extraction Method: | Whole Plant Infusion |
| Product Types: | Oils, Edibles, Vapes, Capsules |
| Hemp Origin: | California, Oregon, Vermont |
| Promo (15% Off): | ORACLE |
| Similar Brands: | Charlotte's Web, Joy Organics, Mary's, Bloom Farms |
Editor's Pick
Papa & Barkley's CBD Releaf Body Lotion is the perfect option for on-the-go, quick relief from muscle and joint pains. I get a lot of pain at the base of my neck and shoulders from work, and having this body lotion on hand is my saving grace. The smell is calming and pleasant, and the texture isn't messy or oily. It absorbs fast and gets to work even quicker, providing me noticeable relief within about five minutes.
---
Papa & Barkley CBD Releaf Balm
Papa & Barkley CBD Releaf Balm is (supposedly) the product that got them on the market. When I tried it, I definitely saw why. Compared to other topicals I've purchased, I couldn't believe the quality of the packaging itself. It looks elegant and top-shelf. The product itself smells incredibly pleasant, and — even better — it applies like a dream. You don't have to worry about any oily residue.
Within a few minutes, I noticed that sore muscles post-workout weren't giving me nearly as much grief. With its affordability and potency, I found myself buying this topical regularly to use after exercising. At 600mg total, this CBD balm is perfect for all kinds of consumers — experienced or not. (Keep in mind that, within the Releaf Kit, your balm is only a sample size at 5 mL.)
Highlights
Packaged better than any CBD balm I've had yet, Papa & Barkley CBD Releaf Balm has quickly become my favorite product out of the entire Releaf Kit bundle. The balm smells herbal and floral, and it doesn't create an oily mess when you put it on. Instead, you get almost instant, deep-seated relief that's perfect post-workout.
Effects
Effects felt: Soothed, moisturized, reduced pain
Good for: Muscle and joint relief, relaxation
Not good for: No negatives here!
Specs
CBD: 600mg
THC: <0.3%
Extract type: Full-Spectrum
Price: $29.99 ($0.05/mg)
Lab report: COA
---
Papa & Barkley CBD Releaf Drops (Natural)
Papa & Barkley Natural Releaf CBD oil is the perfect option for CBD newbies. This oil is completely natural, containing only MCT oil and full-spectrum hemp extract; plus, it has been tested for purity and potency, ensuring that it doesn't contain any distillates, isolates, or solvents. Within the Releaf Kit, the sample size is (obviously) small, but it still gets the job done. For more experienced consumers, you won't get too many uses out of it.
However, from the doses I did get, I noticed the strong full-spectrum formula working well throughout the body, helping with body pain, stress, and anxiety. Even at such a low dose, I was surprised I still experienced the benefits I did — and I wasn't complaining. The only thing I did complain about, though, was the intense flavor.
Highlights
Once again, the packaging of these products just boasts quality and care. Though this is Papa & Barkley's lowest potency CBD oil, I still found relief from both my anxiety and physical stress. The flavor is a bit strong but easily worth it for the comfort this oil brought me.
Effects
Effects felt: Relaxation, comfort, balance
Good for: Stress relief, pain relief, full-body support
Not good for: Experienced consumers, those who don't enjoy the taste of hemp
Specs
CBD: 450mg (30mg/dose)
THC: <0.3%
Extract type: Full-Spectrum
Price: $34.99 ($0.08/mg)
Lab report: COA
---
Papa & Barkley CBD Releaf Drops (Lemongrass Ginger)
Alongside their natural Releaf Drops, Papa & Barkley CBD also includes their Lemongrass Ginger Releaf Drops within the bundle. This CBD oil acts just like the original Releaf Drop, offering full-body relaxation and support with mental anguish. The only difference is the flavor!
This CBD oil is a bit more palatable with the natural Lemongrass Ginger flavor profile it boasts. So, if you're someone who struggles with the taste of CBD, these Releaf Drops may be the perfect option for you.
Highlights
The Lemongrass Ginger Releaf Drops work just as well as Papa & Barkley's original CBD oil. The potency is nice and robust but not too overwhelming, and the taste of the oil is incredibly pleasant — especially when added into tea. I felt all-over pain-relief and reduced stress, helping me to completely relax after a few drops.
Effects
Effects felt: Relaxed, calm, comfortable, pain-free
Good for: Reducing anxiety, lowering pain, creating all-over comfort
Not good for: No negatives here!
Specs
CBD: 450mg (10mg/dose)
THC: <0.3%
Extract type: Full-Spectrum
Price: $34.99 ($0.08/mg)
Lab report: COA
---
Papa & Barkley CBD Releaf Body Oil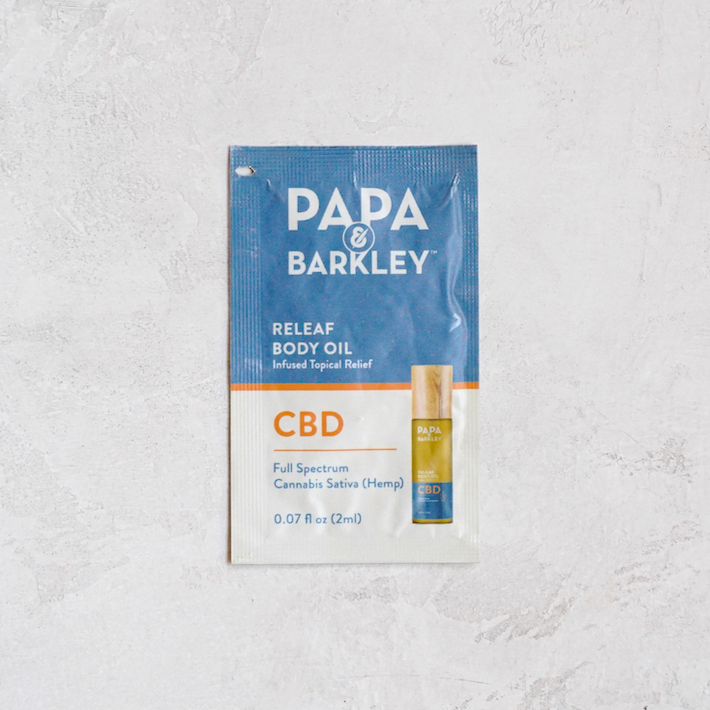 What else is included within Papa & Barkley's Releaf Kit? Two sample sizes of the CBD Releaf Body Oil. These body oils work beautifully for relieving everyday comfort, muscle and joint pains, and workout recovery.
The texture is a bit strange at first, and it does take more time than their balms to actually rub into the skin. However, once the skin absorbed it, the relief I felt was nearly immediate. The cannabinoids worked directly on my points of pain, providing relaxation after even my most challenging workouts. The full size comes in at 400mg, which is great for consumers of all experience levels.
Highlights
Good for helping with muscles after your workouts, Papa & Barkley CBD Releaf Body Oil is quite pleasant. As always, the packaging is beyond compare, looking incredibly high-quality as soon as you open it. The texture of the oil is a bit odd and takes some getting used to, but the efficacy is still there: I felt deep-seated relief almost immediately.
Effects
Effects felt: Calm, comfortable, pain relief
Good for: Relaxation, muscle and joint support, post-workout recovery
Not good for: Those with a super-high tolerance
Specs
CBD: 400mg
THC: <0.3%
Extract type: Full-Spectrum
Price: $39.99 ($0.10/mg)
Lab report: COA
---
Papa & Barkley CBD Releaf Softgels
Finally, the last component of Papa & Barkley's Releaf Kit is their CBD softgels. These softgels don't smell like anything, and they go down just as easily as any other pill or vitamin. I noticed effects starting to work after about 90 minutes, which was a bit slow for me. However, there was clear anxiety relief and a sense of relaxation from my dose, making me a happy camper throughout the day.
Even though I had to be patient, I didn't mind too much once I experienced the strong effects of Papa & Barkley's whole-plant-infusion blend. At 30mg each, I wouldn't suggest these capsules for beginners: they might be a bit too strong!
Highlights
Even in a pill bottle, Papa & Barkley's CBD softgels still look high-quality and tempting. The full-size version comes in at either 30mg or 60mg each, depending on how strong you need your CBD dosage. These capsules have no residual flavors, but they did take a bit longer than I'd like to kick in: about 90 minutes.
Effects
Effects felt: Calm, relaxed, comfortable
Good for: Pain relief, relaxation, stress relief
Not good for: Beginners
Specs
CBD: 300mg (30mg/dose)
THC: <0.3%
Extract type: Full-Spectrum
Price: $19.99 ($0.06/mg)
Lab report: COA