We independently test everything we recommend. Our reviews are completely unbiased. When you purchase through our links, we may earn a commission. Learn more
Looper is a cannabis brand that's all about minor and rare cannabinoids. They offer various products like gummies, disposables, and cartridges, and all of the products come in eye-catching, artistic packaging. When you're high, you'll get a kick out of just staring at the packaging itself.
You can find THC-O, THC-P, HHC, HHC-P, and more when shopping on Looper's website, allowing you to try out cannabinoids that you never have before. These products are both incredibly tasty and highly potent, making them ideal for those with plenty of experience in the world of cannabinoids.
While Looper's products are absolutely top-notch, they could do a bit better in the transparency department. The brand recognizes the importance of full-panel COAs, yet they don't test all of their products for impurities. There isn't a separate section with the COAs compiled, either, making them a bit more difficult to access than they should be. Looper also doesn't offer any information about the brand's mission, values, or even who is behind it.
Highlights
The products from Looper taste and work beautifully, and they provide strong, full-bodied effects that are great for those with higher tolerances looking to try something new. Unfortunately, they don't seem to test all of their products for impurities — only some — as many of their COAs are only standard-panel, while others are full-panel. Consistency here would go a long way.
What's Good
Large product selection with unique cannabinoids
Eye-catching, unique packaging and branding
High-quality product design
Products are potent and provide novel full-bodied effects
Great for those with high tolerances wanting something new
Fairly affordably priced
What's Bad
Not all products have been tested for impurities
COAs can be tough to find on the website
Brand offers no information about mission statement, values, founders, etc.
Few customer reviews
Brand Specs
| | |
| --- | --- |
| Availability: | Nationwide |
| Price: | $$ |
| Strength: | Medium – Strong |
| Product Types: | Pre-Rolls, Cartridges, Disposables, Edibles |
| Cannabinoid Types: | HHC, HHC-O, HHC-P, THC-P, THC-O |
| BBB Rating: | Not Rated |
| Similar Brands: | Binoid, The Dopest, 3Chi |
Editor's Pick
For many people, the energizing properties of HHC make it ideal for daytime consumption, and I found this true for Looper's Blue Raspberry HHC Sour Belts. These sour gummies were absolutely delicious, crafted just like your favorite candy. Each gummy had 25 mg of HHC, and I found that two gummies were great for helping me feel euphoric, motivated, and comfortable. I would recommend these sour belts to anyone experienced with THC who wants to feel a bit more energized and motivated after consumption than usual.
---
Looper Caviar Blunts: Gelonade
If you want to experience flower in a brand-new way, Looper's Gelonade Caviar Blunt is the product for you. This pre-roll is packed with hemp flower that contains D9-O, HHC-O, and THCP-O; then, it's dipped in extract and coated in potent kief to create the ultimate smoke. Each one of these blunts is a hefty 3 grams, and you get two in each pack. Currently, Looper sells the fruity Gelonade Caviar Blunts for $27.99.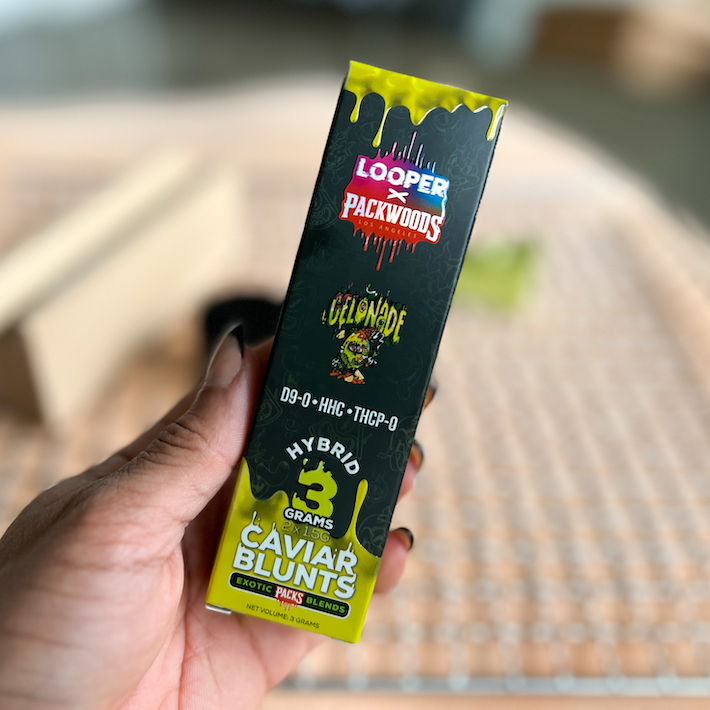 Highlights
Consumers beware: Looper's Gelonade Caviar Blunt is not for the faint of heart. This hard-hitting blunt is packed full of some of the most potent cannabinoids on the market, all while being coated in kief to add even more strength. The Gelonade strain had a strong lemon flavor with slight hints of pepper, making it quite enjoyable to puff on. However, if you have high anxiety levels normally, this blunt may be too strong for you. I'd recommend only a few puffs of this blunt at a time, and it's best for those who aren't prone to high anxiety or paranoia.
Effects Felt
Effects: Happy, energized, social
Good For: Boosting mood and energy, social situations
Not Good For: Those with anxiety; those with lower tolerances
---
Looper Melted Series Vape: Purple Punch
The 2-gram Purple Punch disposable vape from Looper may be one of the strongest disposables you try in a while. This vape is made with a live resin blend that contains THC-JD, THC-H, and THC-P — some of the most potent THC derivatives available today. Looper crafts this disposable using the classic Purple Punch strain to create fruity flavors and more relaxing effects. You can pick up this disposable for $39.99 on their website.
Highlights
The Purple Punch disposable vape from Looper smokes beautifully, both because of its flavor and quality. The vape is made well and produces full, milky hits that taste absolutely fantastic. You can pick up notes of blueberry and grape in each hit, leaving you loving the way that the vape feels in the mouth. And, after just a few minutes, it's obvious that this vape works — and works well. I found myself feeling heavy from head to toe (as well as incredibly hungry), and my anxiety subsided quite a bit. If you're someone who needs to fully decompress at the end of a tough day, this is the disposable vape for you.
Effects Felt
Effects: Calm, relaxed, comfortable, hungry
Good For: Promoting relaxation, reducing pain, lowering stress levels
Not Good For: Boosting energy, morning consumption
---
Looper Lifted Series Vape: Miracle Alien Cookies
The Miracle Alien Cookies disposable vape from Looper contains 11-hydroxy-THC (the metabolite that THC breaks down into when in the body), THC-H, and THC-P. Together, you get the recipe for a super-potent, ultra-unique cannabinoid experience. The disposable contains a total of 2,000 mg, and you can buy it on Looper's site for $39.99.
Highlights
You've heard of THC, but you've probably never tried 11-hydroxy-THC before. This unique cannabinoid is said to be stronger than delta-9, producing full-bodied effects that are both calming and euphoric. The Miracle Alien Cookies vape contains high levels of 11-hydroxy-THC, as well as other THC derivatives for a hefty experience. This vape is great for getting you high and giggly, but it's also helpful for reducing stress and anxiety overall. The hybrid strain Looper uses is well-balanced and enjoyable, but should probably only be puffed on by professionals — not newbies to the world of weed.
Effects Felt
Effects: Happy, relaxed, balanced
Good For: Reducing stress, lifting moods, promoting comfort
Not Good For: Beginners or those with low tolerances
---
Looper Melted Series Vape: Starfighter GSC
A hybrid cross of the popular GSC strain and Starfighter strain, this unique disposable vape from Looper is a powerful one. It contains 2,000 mg of THCP-O, THC-H, and THC-B in a live resin blend. The flavor of the vape is sweet yet slightly pungent, reminding me of a lavender-based substance. Similar to the other vapes on Looper's site, you can get your hands on this potent blend for $39.99.
Highlights
Out of all of Looper's disposable vapes, the Starfighter x GSC vape is the best for full-body relaxation. This vape provides a strong body high that's great for those with chronic aches and pains. The powerful calming sensation is ideal for end-of-the-day consumption; otherwise, you may find yourself feeling too sleepy to get anything done. The strain itself is tasty and unique, and the vape produces milky hits that are very enjoyable. However, this particular strain may be way too calming for some, simply making them feel sleepy more than anything.
Effects Felt
Effects: Sleepy, calm, comfortable, pain-free
Good For: Lowering pain levels, reducing anxiety, strong body highs
Not Good For: Morning or daytime consumption
---
Looper Lifted Series Vape: Lava Cake
The Lava Cake disposable vape from Looper is mouth-wateringly delicious and a great option to end your day with. This dessert-like strain is known for providing relaxing effects, helping to lower anxiety levels, and even helping with sleep. This two-gram vape contains 2,000 mg of both D9-O and THC-P, making it strong but not overwhelmingly so (at least compared to some of the brand's other products).
Highlights
If you're looking for a tasty and potent vape that's not too strong for someone just moving up in the world of weed, Looper's Lava Cake disposable vape is a great option. This vape is slightly stronger than your typical delta-9 THC vape, so it makes a good choice for consumers who want to try something different but don't want to consume anything with too high of a potency. The Lava Cake strain is known for being very relaxing and supportive, and you may find yourself feeling pretty sleepy after a hit or two. With that in mind, I'd highly suggest enjoying your puffs before your head hits the pillow.
Effects Felt
Effects: Sleepy, relaxed, comfortable, hungry
Good For: Sleep support, reducing pain, promoting comfort
Not Good For: Boosting energy, morning consumption
---
Looper Melted Series Vape: Pineapple OG
The Pineapple OG disposable vape from Looper produces the classic citrus notes that many old-school smokers are used to. This disposable vape contains 2,000 mg of THCP-O, HHC-P, and 11-hydroxy-THC to create a potent, full-bodied experience. As the name suggests, the Pineapple OG strain produces scents of pineapple, citrus, and other tropical notes — and the whole vape is priced at just $39.99.
Highlights
Looper's Pineapple OG disposable vape is a good choice for those looking for powerful results alongside uplifting, creative effects. If you're stuck in a rut and are wanting to put a smile on your face, then a few puffs of the Pineapple OG vape might be a good option — just don't be surprised if you find yourself feeling a bit more energized, too. Some consumers find this disposable good for helping with focus, so it could be a nice choice for daytime smokers. However, I did find it a bit too stimulating, and it made me feel more jittery than I'd liked. So, if you're a high-anxiety person, you might want to avoid this disposable.
Effects Felt
Effects: Happy, focused, motivated, jittery
Good For: Boosting mood, promoting creativity, clearing the mind
Not Good For: Those with high anxiety levels