Apollo is a cannabinoid company that's all about bringing you products that are out of this world. The brand offers products with different cannabinoids such as delta 8 THC, delta 9 THC, delta 10 THC, and even HHC, so you have various options to choose from. Not only are there plenty of product options, but Apollo also provides several strain options, too. This way, you can find the perfect product with the perfect flavor profile for you.
The flavors that Apollo's products bring are bright and distinct, though they may not be as flavorful as other brands I've tried. The products also produce slightly harsh hits, which isn't always pleasant when you're trying to just relax.
Apollo does offer third-party lab-test results, which get updated every few months — they even claim to triple-test their products. However, as an avid cannabis consumer, their COAs don't offer any information on purity. While not a total deal breaker, the full panel testing of products is definitely becoming an industry standard.
Highlights
The Apollo brand has a large selection of various cannabinoid products for you to choose from. These products are triple-tested, and the brand always has the COAs available and up to date. Apollo's products themselves could be a bit better in terms of quality, as the flavors aren't the best and some vapes produce pretty harsh hits. However, the brand is affordable and offers various popular strains in their carts and disposables.
Pros
Great product selection with fun strains
Various cannabinoids to choose from
Product quality is triple-tested
Affordable products
Edibles are vegan
Organically-grown hemp
Cons
Some products produce harsh hits
Flavors aren't the most appealing
Some products may be too mild for experienced consumers
Packaging feels cheap
Vape products are not tested for impurities
Product Specs
| | |
| --- | --- |
| Availability: | Nationwide |
| Price: | $$ |
| Strength: | Medium |
| THC Content: | <0.3% |
| Extract Type: | Full-Spectrum |
| Product Types: | Vape Pens, Cartridges, Gummies |
| Cannabinoid Types: | Delta-8, Delta-9, Delta-10, HHC |
| Hemp Origin: | USA |
| BBB Rating: | Not Rated |
| Return Policy: | 30-Day Guarantee |
| Similar Brands: | Delta Munchies, Binoid, Moonwlkr |
Editor's Pick
HHC is quickly becoming one of my favorite cannabinoids, so I instantly gravitated (no pun intended) toward Apollo's HHC vape in the Rainbow Sherbet strain. I will admit that the vape didn't have the dessert-like flavors I was hoping for, but I was very impressed with the clear uplifting effects that the disposable gave me. It was easy to hit and didn't feel too flimsy in the hand, either. The strength of this product was actually quite potent, making it ideal for those experienced smokers who may be on the go.
---
Apollo Delta-8 Gummies
Apollo's delta 8 THC gummies are a great way to get a nice dose of D8 in a pleasant fashion. These gummies do come with a bit of a medicinal aftertaste, but the texture and consistency of the gummies themselves are very palatable. Plus, you have two flavors to choose from: Very Berry or Mango Passion.
After about an hour, I noticed the effects of the gummies start to kick in, as my pains were less intense and I felt more comfortable overall. After two hours, I was much more relaxed and stress-free, completely engulfed in my TV shows.
Highlights
If you want to relax at the end of a hard day, then Apollo's delta 8 THC gummies are a wonderful option. While the flavor of these gummies isn't the most mouth-watering, their effects are potent and effective, especially for stress and pain relief. These gummies are packaged well and have a pleasant texture, and they're best for more relaxation situations. (So, don't try taking one of these before a party.)
Effects
Effects Felt: Relaxed, calm, decompressed, comfortable
Good For: Promoting relaxation, end-of-the-day consumption, pain and stress relief
Not Good For: Social events, morning consumption
Specs
Delta-8 THC: 500mg (25mg/dose)
THC: <0.3%
Price: $39.99
Lab report: COA
---
Apollo Delta-8 Vape Pen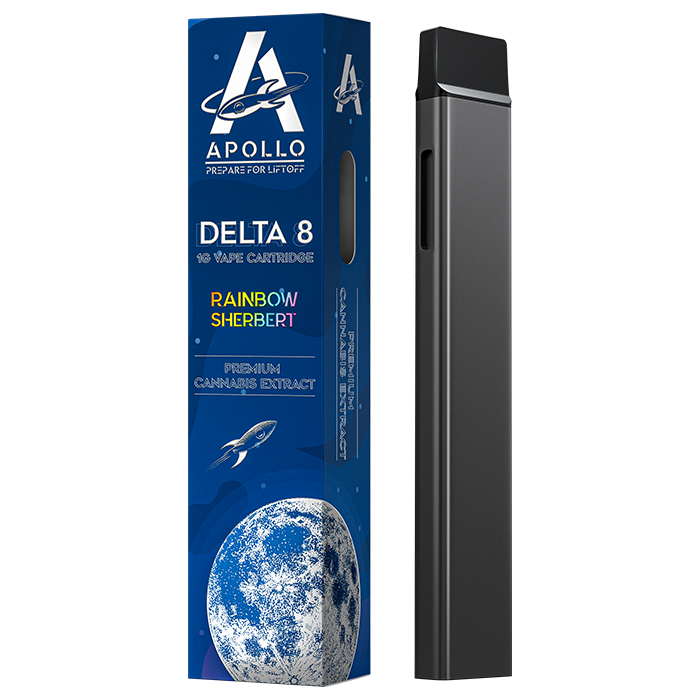 The delta 8 disposable vape from Apollo smokes well, hits hard, and doesn't feel flimsy in your hand. Apollo's D8 vapes come in four different strains, each one with unique flavor profiles. The actual flavors within these vapes are nice, but they could be more distinct and palatable. However, the disposable hit beautifully, allowing for full, milky puffs each time.
At 1,000 mg, the effects of these disposable vapes were pretty potent, helping me feel more balanced and blissful. After a few hits, I was in a better mood overall and my stress levels subsided significantly.
Highlights
Apollo's disposable delta 8 THC vapes are made well and come in eye-catching packaging. You don't have to worry too much about the vape overheating, and I didn't struggle with clogging as I did with the carts. The flavors of these vapes are nice, but they aren't the best; you definitely will still notice the hemp tastes. But, the effects were potent and helped me feel more positive and relaxed at the same time.
Effects
Effects Felt: Happy, positive, relaxed, stress-free
Good For: Reducing stress, boosting mood
Not Good For: Those with very high tolerances
Specs
Delta-8 THC: 1000mg
THC: <0.3%
Price: $39.99
Lab report: COA
---
Apollo Delta-9 THC + CBD Gummies
Apollo's delta 9 THC gummies are similar to their delta 8 gummies in the sense that they have a nice texture and composition, but the aftertaste they leave is quite medicinal. However, this is easy to get over, as the delta 9 gummies were great for leaving a smile on my face and not making me too sleepy.
You can choose between the Watermelon or Blue Razz (I prefer the Blue Razz), and each chewable contains 10 mg. For experienced consumers, this may not be strong enough; I found that two gummies were ideal for giving me the effects I wanted. The effects were fully present after 90 minutes, and I enjoyed consuming these before heading to the great outdoors (but staying inside would be nice, too).
Highlights
The delta 9 THC gummies from Apollo are mildly potent but provide a nice cerebral buzz to your everyday activities. These gummies don't have the best aftertaste, but it quickly fades. The effects themselves kicked in fully after an hour and a half, and I found these stimulating gummies ideal for outdoor activities and being social.
Effects
Effects Felt: Blissful, social, comfortable
Good For: Social events, boosting mood, enhancing stimulation
Not Good For: Before bed, those with high THC tolerances
Specs
Delta-9 THC: 200mg (10mg/dose)
CBD: 0mg
Price: $39.99
Lab report: COA
---
Apollo Delta-8 Cartridge
If you have a go-to vape battery and are looking to puff on some D8 extract, Apollo has the vape cartridge for you. These delta 8 carts come in four different strains depending on what your preferences are, and the flavors are distinct, making them enjoyable to smoke.
Unfortunately, I did find that the vape cartridges clogged pretty easily, but they also smoked very nicely and didn't produce as harsh of hits as the disposables. The effects of the delta 8 vape cartridges were mild and effective, leaving me feeling more comfortable and leveled out, despite having a stressful day. I would say these carts are great for beginner consumers looking to feel a bit calmer throughout the day or week.
Highlights
Apollo's delta 8 vape cartridges come in four different tasty strains, and they produce smooth, full hits that you'll greatly enjoy. Despite getting clogged a few times, the cartridges themselves were pretty effective when it came to stress and pain relief, though the results may be a bit too mild for those with super high tolerances. Overall, though, I was happy with the relaxation and comfort I got from these easy-to-use carts.
Effects
Effects Felt: Calm, comfortable, content
Good For: Reducing stress, promoting internal balance
Not Good For: Promoting energy
Specs
Delta-8 THC: 1000mg
THC: <0.3%
Price: $34.99
Lab report: COA